Last night I met with a business partner named Scott.  Scott is an engineer and his engineering brain loves SEO.  I've been teaching SEO 101 while we build Scott's website.  Last night as we moved from SEO 101 to SEO 201, Scott couldn't understand why I didn't do this with every client.  The truth be told, 99% of my clients don't care.  They pay me to make sure their website and SEO are taken care of and they don't want to worry about it.
We All Make Mistakes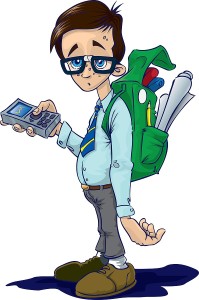 Very few clients have Scott's thirst for knowledge.  They don't understand it, or care, or have the time to listen to me ramble about SEO and website design.  Their confident my team will manage go-live and do so properly.  And we do, because we have a project plan that we walk through and I check off as the project progesses.  But not every web design firm or SEO consultant uses a checklist or project plan.  They miss things and these "things" become opportunities for their client's competition because it is the little things that win in SEO and website design.
Three weeks ago I was researching competitors of a prospect and I discovered one of their local competitors had every page on their website blocked to search engines.  Only the home page was in Google's index and the company was paying heavily for pay per click campaigns.  The company didn't know their web designer or in-house webmaster left the noindex tag on all their pages.  It was everything I could do to stop myself from calling the firm to let them know.
The point I am trying to make here is that many consultants and marketing firms miss things.  We're human and we make mistakes.  Not like a doctor leaving a medical device in a patient type of mistake, but pretty big mistakes nonetheless.  If you're the client or the DIY web designer, you need to protect yourself.  You need to have some education and you should do a quick run through of your website before and after go-live.  And of course, well before you pay that final invoice.
Go-Live Checklist for Web Design Projects
Test Your Website Against All Browsers – Just when you think everything is perfect, in walks someone using IE (Internet Explorer).  Older versions of IE have produced many of grey hairs for me over the last few years.  Things tend to break in IE, so double checking the new website in it right before go-live is critical.  While not as buggy as IE, other browsers such as Firefox, Chrome, and Safari should also be reviewed.  They are more robust, but older versions can also be problematic. My beloved iPhone and iPad are newer arrivals and they too should be checked.
Add a Favicon – A favicon is about branding.  It adds a little image to the tab or window of the user's browser and it is saved with the bookmark in a favorites list. While this isn't a critical element, it does provide a nice polished look to your website and I have many clients who get big smiles when they see their logo pop up as a favicon.
Create an HTML Sitemap for Visitors – Much to my disappointment; sitemaps are ignored by many developers.  I still create one and while I don't put it proudly in the main navigation, I do try to make it available in the footer.  Most people don't use sitemaps, but for those of us who are impatient (that would be me) they're important.
Create an XML Sitemap for Search Engines – A sitemap.xml file should be created and placed in your root directory.  This simple little file allows major search engines to easily index your website.  In WordPress, generating this sitemap is as easy as adding a plugin and clicking the generate button.  WordPress will automatically update this file with every new page or post addition or content change.  It is a simple way of reaching out to search engines and letting them know you have fresh content available for their review.  While this is simple, it is many times forgotten.
Prepare a Redirect File – The redirect file is the bane of my existence.  It simply tells search engines and users that an old page or post is no longer available and it redirects them to the current page or post.  It is important for usability and SEO.  So why do I hate it so much?  It is time consuming and it is one of the last things we do before go-live.  Not only do we create the redirect file for the client, we generally have to audit their existing pages and provide a cross reference between old and new.  My clients don't know what pages they have, so I end up becoming an internet detective in my efforts to locate a complete list.  Once you have the list of old and new matched up, you simply add the directory to the .htaccess file.  Or in my case, you use a WordPress plugin like Redirection.  I love the Redirection plugin because I can upload all the links right from a CSV file.
Create and Review a Robot.txt File – The robot.txt file blocks spiders or instructs the search engines to ignore certain file folders on your server.  For most clients this generally means keeping spiders out of the WordPress core and theme files.  For others it may identify a protected directory of white papers or files that are restricted.  Simple, yet important for protecting your website and your high value web assets.
Double Check Your Submission Forms Are Working – The simple checking of submission forms may seem like a no brainer, but you'd be surprised at the amount of problems that can result from a simple contact form.  Email and forms can work differently from server to server, so you absolutely need to recheck forms after a website is moved from a development server to a live server.  One woman told me her company had broken forms for an entire year after they launched their website because no one remembered to check them.  When inquiry forms are your lead source, this is disastrous.
Double Check Your Meta Titles and Descriptions – Yes I know I just blogged about this in my last post (Web Design Ain't Over Until the SEO Sings) and we've really already done this twice, but it I still double-check high value pages after go-live.  I use the toolbar from SEOmoz to view the meta title and description outside of WordPress just to make sure I didn't miss anything.  And sometimes, the meta title or description that sounded great a week ago sounds incredibly stupid at launch.  So I go back and edit it just to make sure my pages are well represented in the SERPs.  This is where my OCD personality is highly visible and beneficial.
Double Check Your Index Settings – Didn't I do that with my Robot.txt file above?  Well yes and no.  The robot.txt file looks at folders and is server based.  CMS packages like WordPress allow you to block search engines at a site or page and post level.  While we are in development, we have a site wide block of search engines so our clients do not run into issues with duplicate content.  Our go-live plan includes removing this setting.  That being said, not everyone has such as policy and I've noticed new websites blocking search engines more times than I have time to discuss in a blog post.
Check Your RSS Feed and Sign Up for FeedBurner – An RSS feed is a techie term for a page that lists your most recent blog posts.  You can use this feed to automatically populate other websites or profiles on the internet.  It is a must have for link building efforts.  Feedburner is a service that allows visitors to subscribe to your RSS feed via email.  It is offered by Google, it is 100% free, and it makes a great tool for building engagement.  Some people even show off the number of RSS subscribers they have as if it is a badge of honor.
Add Google Analytics – I virtually force Google Analytics on every client.  I set it up even if they don't care, because I think some day they will care and I want them to have data available.  Google Analytics is a free application that tracks visits to your website and the corresponding activity.  It can tell you where people came from, what keyword they used, how long they stay, and when they left.  Good website design and SEO requires analytics.  Since GA is free and powerful, it makes a great tool.
Submit Your New Sitemap.xml File to Google, Yahoo, and Bing – Use Google Webmaster Tools, Bing Webmaster Tools, and Yahoo Site Explorer.  Doing so will not only allow for very rapid indexing of the new website, it will provide very valuable tools down the road.  I use Google Webmaster Tools every week and find it a critical tool for evaluating website and SEO success.
Review Speed and Performance – After your website is live on your server, you need to review performance.  You'll be able to verify speed immediately from viewing the website live on the internet and you'll receive performance reports from Google via Webmaster Tools.  Remember that speed alters search results and conversion rates, so make sure your website performance is up to par.  If you're live and you're living with poor performance, don't be fooled into thinking it is temporary.  Some hosting companies are just horrible, so get out as quick as you can.
DIY Designers Take Note
Winning (not the Charlie Sheen kind) isn't easy.   Most people are not like my pal Scott and their minds do just magically sponge up SEO knowledge.
Each week I receive calls from a lot of DIY website owners.  Virtually every time my heart goes out to them, because they're really trying.  But trying and succeeding are two different things.  Website design and SEO is hard work.  Competing on the internet is difficult and there are reasons why most websites get virtually no traffic.
If you are considered the average Joe and you've undertaken at DIY website project, take a moment and reread the above list.  If you've reviewed my thirteen items and you only "get" about five of them, you're setting yourself up for failure.  Take the time to research them further and postpone your website launch until you've made sure you've thoroughly covered your to do list.  If you're feeling overwhelmed by the list, then seek out a professional.  The few hundred dollars you spend for the last minute help will be well worth it in the end.
Whether you're the DIY website designer, a marketing manager, or a small business owner – double check your website and efforts at go-live and make sure you and/or your website design firm have everything in working order.