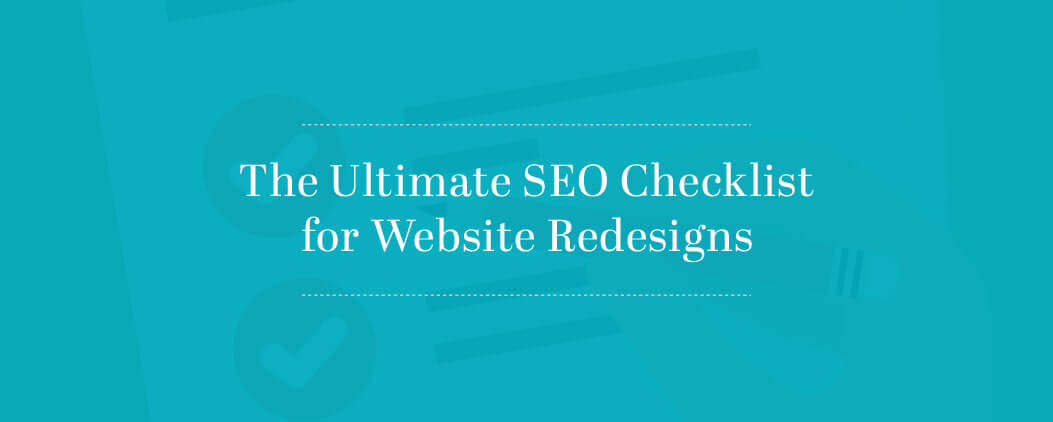 This week I had a call with a small business owner who is launching a website redesign in WordPress. He asked me how can we best preserve his existing SEO and makes sure he doesn't lose any search ranking in the transition.
Right away I replied that this was a fabulous question. We then chatted about common mistakes that occur and how we can prevent them from happening with this website redesign project.
Here is the scary part about this conversation: I rarely am asked about this until the website is redesigned and launched and the damage is done. It's only then that I receive a website inquiry or Facebook post asking for assistance.
Sadly, that is way too late in the process to protect your SEO, your ranking in search, and your website traffic. By the time you notice a dip in ranking and traffic, the damage is done and it's really hard to fully recover.
Since this is such an important topic and one that is many times ignored, I thought I would write about it and create a handy website redesign SEO checklist template that can be downloaded and used by website owners and developers.
My Website Redesign SEO Checklist
The best SEO checklist will blend content planning and execution with technical aspects like code and schema. You can't have solid SEO without combining traditional content marketing with a solid process and a very strong codebase.
You'll see my below list combines multiple elements before and after the go-live to make sure website owners have thoroughly reviewed the new website and validated that the existing SEO will survive the transition.
Initial Website Set Up
Set development website to no follow, no index
Validate search engine friendly URLs are in place
Content Planning
Use Dyno Mapper to crawl the existing website to obtain a complete URL list
Review Google Search Console or SEMrush to document list of top landing pages
Map focused or targeted keywords to URLs and create an SEO sitemap
Review content silos and validate proper parent/children relationships exist
Content Creation
Write updated content that is a minimum of 1,000 words
Proofread new content for spelling errors and grammar
Style new content for readability (i.e. small paragraphs, subheaders, bullets)
Review content for proper meta title and description usage
Double check top landing pages to validate quality content and SEO is in place
Technical SEO Review
Review header usage to ensure a proper outline structure exists for search engines and human visitors
Check website across mobile devices to validate responsive design and coding is in place and working properly
Validate template coding to W3 standards
Check code to text ratio on live pages
Check and validate schema and structured data
Check images for proper usage of alt text
Optimize images for load times
Update internal links to accommodate the new URL structure
Create 301 redirects for any URL changes to existing content
Create a new XML sitemap
Check the Robots.txt file and validate
Website Go-Live
Remove no follow, no index on the live site
Review Google Analytics goals to validate the URL structure and flow match new website
Upload the new XML sitemap to Google Search Console and Bing Webmaster Tools
Check Google Search Console for any errors and address as needed
Use Dyno Mapper to crawl the new website and report errors
Hopefully my website redesign SEO checklist didn't frighten you and you noticed it was filled with standard items that virtually any developer or website owner can execute.
Many of these steps are done by a human or with a free SEO tool like Google Search Console. I like free and I like the human touch when working with something as critical as SEO and website traffic.
How Website Design and Development Goes Terribly Wrong
I've been working with internet marketing for about fifteen years and I've owned a website design agency for almost eight. In that time I've witnessed a lot of good, bad, and really ugly when it comes to process flow for SEO and website development.
In most cases, the process fails not due to someone being lazy or malicious. The process fails due to lack of education and lack of communication.
Here are some real-world examples of where I've experienced SEO derailing due to a website redesign:
The wrong people are involved in the website redesign project. By the wrong people I mean either the project is left to the IT department or marketing management and the actual employees who work on SEO are completely left out of the process. You can only protect your SEO if the people responsible for the SEO are active participants in the redesign process.
Pretty was deemed more important that usability and information. I've watched companies hire a high priced web developer who only focused on large images, white space, and today's trends in design. In doing so they literally removed ¾ of the content, which left nothing for search engines or human visitors to read and digest. Pretty is great, but it only really works if people can actually find and visit the website.
A firm who relied heavily on SEO hired a New York based design agency that dealt largely with big brands. These brands had decades of exposure and didn't rely on SEO. Due to this enterprise client list, the agency completely forgot about SEO and hard coded critical elements like meta titles and descriptions. Not every website needs SEO but if your lead funnel depends on it, you have to select a design firm that understands what SEO is and how their tasks plays a critical role in protecting it.
The agency created a template based on the client PSD files and moved into a soft launch where the client took over the development website and made content updates. The agency created 301 redirects but these were irrelevant once the client modified the URL structure during soft launch. This meant the hard launch at go-live missed a lot of 301 redirects which resulted in 404s and a loss of search ranking and referral traffic.
In another soft launch scenario the client used a page builder to create lots of pages but in doing so created a mess of subheaders and massive confusion for content hierarchy. If you decided to use page builders or even H1 headers in your CMS editor, make sure you are adhering to best practices and you are using headers to set up an outline for your human visitors and search engines.
The website design and build process was handed off to someone who didn't fully understand the CMS software used – in this case WordPress. The freelancer added in page builders and oodles of plugins that overwrote the stock theme's solid coding and created a cluster of code and low quality SEO. Page content was very heavy in code with little content, CSS formatting was overrode which created accessibility issues, and multiple SEO plugins were creating conflicting information for search engines. Don't just go for the cheapest freelancer you can find. If SEO helps drive your revenue stream make sure your freelancer understands SEO and the impact their actions will have on your ranking and website traffic.
Did my examples scare you or make you cringe a little? Excellent! Than I have done my job and I've educated you enough to ensure you'll watch your SEO closely and you won't repeat the sins of other website owners.
Are You Considering a Website Redesign?
If you're considering a website redesign we'd love to help. We're able to create a professionally designed website while still making sure the SEO checklist is in place to protect your existing rank in search.