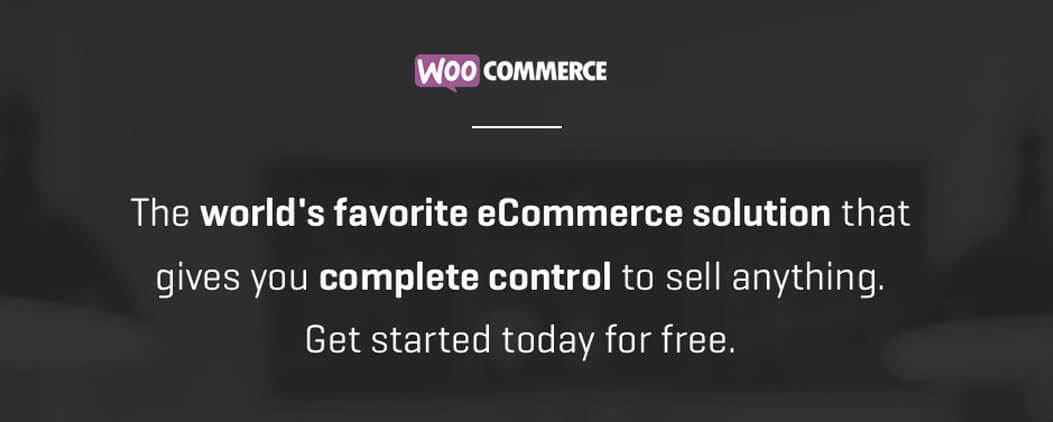 If you're considering launching an online store, you'll be presented with many software options for building out your storefront. These choices, while initially will feel like a windfall, can quickly feel overwhelming due to the multitude of ecommerce options available.
Today I'd like to walk through one very popular solution and present an overview of what is WooCommerce and why you might want to consider it for creating an ecommerce website.
So What is WooCommerce Really?
WooCommerce is a free plugin, or functional extension, for WordPress. It has been downloaded over thirteen million times and operates over 37% of all online stores. When installed into a WordPress website, WooCommerce adds in basic product management, order processing, and shopping cart functionality.
WooCommerce can create a basic online store and sell a variety of products and services that include physical goods, digital goods, affiliate transactions, and ongoing memberships. The core software can manage essential ecommerce features like international customers, inventory management, sales tax management, shipping cost calculations, and coupons.
WooCommerce's base functionality can be augmented with over three hundred extensions that can add in additional features such as bookings, product bundles, composite products, EU VAT calculations and tracking, customer documentation, returns and warranties, as well as a number of learning management systems for selling courses.
You can find examples of two live WooCommerce stores by visiting our Web Savvy theme store or our DIY SEO courses website. The first example sells digital downloads and the second example sells online courses.
Top WooCommerce Competitors
WooCommerce has a plentiful supply of competitors that can range from free, open source software to large enterprise level solutions. The most popular and closely related shopping cart packages such as:
Magento: Non-WordPress
Shopify : Non-WordPress
iThemes Exchange: Free WordPress plugin
WP e-Commerce: Free WordPress plugin
Ecwid: Non-WordPress
You can learn more about additional ecommerce software package and usage statistics at BuiltWith.com.
WooCommerce Developers
WooCommerce was originally created by the team at WooThemes back in September of 2011. In May of 2015, WooThemes was purchased by Automattic and WooCommerce was placed within the Automattic family of products.
There are over 350 contributors to the WooCommerce code base. These developers are part of the Automattic team, as well as independent programmers in the greater WordPress community.
This diverse group of WordPress developers is actually an even larger number. There are many WordPress agencies and developers working along side the Woo team to build plugin extensions and stock website templates for storefront presentation, performs storefront installation and set up for clients, as well as offer custom code and theme tweaks.
WooCommerce's Pros and Cons
Just like any piece of software, WooCommerce has a variety of pluses and minuses when working with it. These vary by individual, but they should be considered prior to selecting WooCommerce as your ecommerce solution.
Pros
The core WooCommerce software is open source and free.
The plugin is fairly easy to installed into WordPress.
There are lots of WordPress themes available for building out the storefront. These can come from WooThemes directly or from hundreds of independent theme developers.
There are over 300 extensions available for making the base functionality more robust.
WooCommerce has over 1,200 5 star ratings and reviews on WordPress.org.
The software is frequently updated for new features and functions.
There are lots of WordPress developers available to provide assistance.
Cons
Virtually every storefront will require an extension and these plugins cost money and require an annual license purchase.
People new to ecommerce completely underestimate the time involved in setting up an online store. There are a lot of usage considerations, settings, and functionality decisions required for managing customers, orders, inventory, sales tax, and shipping.
Not all WooCommerce themes are coded well and/or are robust. This is the nature of WordPress and theme buyers need to make sure they purchase templates from trustworthy theme developers.
Software updates can be major endeavors which can sometimes require a developer to assist in execution, testing, and troubleshooting.
The support forum on WordPress.org is not well maintained. There are over 1,000 support tickets entered in the last month that have not been responded to by the Autommatic support team.
Not all developers who say they know WooCommerce are of high quality.
WooCommerce Extensions
One of the great advantages to WooCommerce are the extensions. WooCommerce extensions are add-on plugins that allow website owners to augment the functionality of their online store. There are hundreds of extensions available, which makes it easy to take a basic store and increase the functionality ten fold.
Our online stores use a variety of extensions to help increase the basic feature set and improve overall customer satisfaction. Our WooCommerce extensions include:
AutomateWoo – Sends follow up emails with coupons for theme license renewals.
Follow-Up Emails – Sends automated emails for customer on-boarding.
Genesis Connect for WooCommerce – Connects WooCommerce with the Genesis theme framework.
LearnDash WooCommerce Integration – Connects WooCommerce with the LearnDash LMS (training) plugin.
Web Savvy WooCommerce Bridge – A custom plugin that connects WooCommerce to the Simple:Press forum.
WooCommerce Google Analytics Integration – Connects WooCommerce to Google Analytics and allows for more advanced website reports.
WooCommerce MailChimp Subscribe – Connects WooCommerce to MailChimp to automatically sign users up for our newsletter. This is permission based.
WooCommerce Menu Extension – Adds additional menu functionality to the store area of our website.
WooCommerce PDF Invoices – Provides a downloadable or printable invoice for customers.
WooCommerce Stripe Gateway – Connects WooCommerce to the Stripe payment gateway. Stripe is a very easy to set up credit card processor.
WooCommerce Subscriptions – This extension is used to set up annual theme licenses and generate recurring income.
Yoast WooCommerce SEO – Sends schema data for products to search engines like Bing and Google.
The above extensions are only a sampling of what is available. WooCommerce extensions allow website owners to take a basic store and convert it into a robust, highly functional portal.
WooConf
The WooCommerce community has grown so strong, it has a conference dedicated to the plugin.
WooConf is an event where storeowners, WordPress developers and ecommerce experts come together to collaborate about the software and it's usage. The event is designed to allow attendees opportunities to grow their knowledge, master sales techniques, listen to top developers, and network with other WooCommerce users.
While WooConf is a live event, the organizers do record presentations and live stream them for those unable to attend.
WooCommerce Resources
Is WooCommerce Right for Your Online Store?
No ecommerce software will be ideal for every user or situation. Because of this, it is best to use a structured process to determine what ecommerce solution will work best for your individual needs.
Don't just ask yourself what is WooCommerce and can it help me. Instead of jumping into the review of WooCommerce as a solution, start by documenting your individual needs. Consider functionality, theme availability, documentation, and support. Once you have this list well documented, compare it to a variety of solutions to see if WooCommerce meets your requirements.
Not sure how to document your requirements? You can read through our post 25+ Considerations for Selecting a WordPress eCommerce Solution to learn more about WordPress ecommerce and what you should review for purchase.