This month the Rainmaker Digital team is rolling out a brand new offering called "StudioPress Sites and holy cow they might just have something special here.
I've long been a fan of StudioPress and the Genesis Framework and was even a beta user for Genesis back in the day. When the Rainmaker Platform arrived I dug into that as well and was highly impressed with the beautiful admin panel and ease of use.
Let's hit the hottest questions on StudioPress Sites so you can get the rundown on what they are, who they are designed for, and why you might want to use them.
What are StudioPress Sites?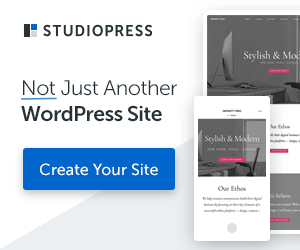 StudioPress Sites are built on the WordPress software platform, but they are different in the fact that they don't reside within WordPress.com and they don't have to be hosted with WordPress.org software at a third party hosting company. Say what?
In other words,  StudioPress Sites have the power of WordPress but they don't require the maintenance and upkeep associated with self hosted websites or blogs.
This distinction is important because it means StudioPress is providing a hosted version of the Genesis Framework. So users will have all of the power of Genesis, but won't require any of the upkeep associated with running their own website.
This new website builder is built on my beloved Genesis Framework and it comes with a lot of built-in options with the flexibility of adding your own themes and plugins.
Top Genesis Themes Ready for Install
As part of the service, users can load one of twenty popular Genesis themes for free. This means you do not need to purchase or maintenance additional software licenses. With their built-in theme library you can install any of the following themes for free and with just one click:
What makes StudioPress Sites different than the Rainmaker Platform is you are not restricted on the themes you use or the customizations you make. You can upload any Genesis theme and customize it was needed.
One-Click Install of Top WordPress Plugins
I love Genesis because it already offers great options like top notch speed, strong security, HTML5 coding, and oodles of great built-in features. Now combine all this power with the ability to have all of this hosted for you with a one-click install of popular plugins like:
AffiliateWP
AMP
Beaver Builder Lite
Design Palette Pro
Easy Digital Downloads
OptinMonster
Ninja Forms
Restrict Content Pto
Soliloquy Lite
WooCommerce
WPFirms Lite
OptinMonster
And you always have the option of upgrading to the premium version of Beaver Builder, Design Palette Pro, OptinMonster, Restrict Content Pro, or Soliloquy.
Built-in SEO Functionality
If you know me well, you know my first concern with this entire roll out would be SEO. But I don't have to fret because the Rainmaker Digital team is promising a lot of SEO functionality without a lot of work. StudioPress Sites offers some impressive SEO features such as advanced schema control, XML sitemap generation, robots.txt generation, asynchronous JavaScript loading, enhanced Open Graph output, and breadcrumb title control.
While I'm not a fan of themes controlling SEO, I know the reality of WordPress is that a lot of users fail to ever install SEO plugins. This is a big issue and it equates to many WordPress users missing out on critical SEO features and functionality. For those who fall into that bucket, StudioPress Sites SEO works and works well.
What impresses me more is SEO consultants (like myself) are not restricted to StudioPress' SEO features. I can still add populate SEO plugins like Yoast SEO or All in One SEO. This would have been a deal breaker for me, because I heavily use and rely on the Yoast SEO plugin.
With the current set up of StudioPress Sites the Rainmaker Digital team caters to both novice users who don't know a lot about SEO and advanced users who require very robust SEO plugins like Yoast.
Support for Google's AMP
What absolutely floored me is the support for AMP. AMP is Google's new mobile friendly endeavor for speeding up the web for mobile devices. Google is pushing more and more towards mobile usability so AMP is going to be a must have feature in the coming months. It appears the StudioPress development team knows this and they are already preparing for it.
StudioPress sites offers the WordPress AMP plugin with a one-click install and you can augment that functionality by adding in Yoast's plugin for AMP. Between these two options, you'll be Google friendly and ready to take on 2017's changing SEO landscape.
Who are StudioPress Sites Geared Towards?
According to the Rainmaker Digital team, they are perfect for bloggers, podcasters, and affiliate marketers. These websites would also work well for people who are selling physical products, digital downloads, and membership programs.
Looking at that another way, StudioPress Sites would work great for someone who just wants to sell something online and doesn't want to hassle associated with any of the software updates, hosting requirements, or even time involved in reviewing and looking for solutions.
That means these websites are designed for entrepreneurs who are working independently and don't have internal tech support or even large budgets. The starting price for StudioPress Sites is $27 per month. That is a significant savings when you compare this all-in-one price to the combine cost of hosting, themes, plugins, and updates.
I would quickly add that these websites are designed for micro businesses or solopreneurs and their usage is not intended for mid-market or enterprise companies. While StudioPress Sites would technically work for larger organizations, I don't see those types of website owners running to StudioPress Sites and adopting this new offering.
Why Would Someone Opt for StudioPress Sites?
This is the magical question and it's the key to selling StudioPress Sites to the masses. These new websites are ideal for those people who are just plain tired of technology. The people who want the easy button for website design, which would allow them to focus on the things they want to do like creating great content, products, or podcasts.
As I gave a recent SEO webinar for iThemes I had to chat about XML sitemaps, AMP, hacked websites, and manual penalties from Google. This new offering from StudioPress helps take care of many of those concerns. You'll have a Robot.txt file and XML sitemaps ready to go and you don't need to add any additional plugins.
While this isn't the ideal solution for me, it is an ideal solution for anyone who doesn't want to pay a monthly hosting and maintenance fee for their website or blog.
Let's breakdown the costs for a self hosted Genesis website:
Genesis Framework + Wellness Theme = $99.95
WP Engine Hosting = $29.00/Month
Monthly Maintenance and Support = $99.00 – $199.00/Month
Let's breakdown the costs for a StudioPress Sites website:
Now compare that above figure to the $27 a month fee for StudioPress Sites and you see why it looks attractive to a lot of users. You're saving at least $100 per month and you're also getting a twenty high quality themes to pick from and use.
My Top StudioPress Sites FAQs Answered
Brian Gardner was kind enough to do a little question and answer session with me, as well as show me what was hidden behind the technology curtain. This sneak peek answered a lot of my questions and I'd like to share these answers with you.
Will the backend look and feel like WordPress?
It looks just like a regular WordPress installation that is loaded with Genesis. You have all of same options, but just a few more features.
Am I limited to certain Genesis themes or can I load any child theme I want?
You can select one of the free themes provided in the dashboard or you can upload your own Genesis child theme. You are not at all restricted. Heck you can even load one of our stock website templates if you'd like.
Can I customize my Genesis theme?
You sure can and this is an advantage of this platform versus the Rainmaker Platform. You'll have access to the theme editor as well as FTP.
Am I limited to certain plugins or can I load any plugin I want?
For the most part you can load any plugin you would like. StudioPress will throw up the red flag to rouge plugins or those that are problematic. This is expected with any quality host. So based on that minor restriction I believe you'll have a lot of freedom and you can dig through WordPress's 48,000+ plugins at will and select the best one that works for you.
Can I turn off the built in SEO features and use my favorite SEO plugin?
Yes! This was my big questions since I would do this immediately. I was assured novice users can leave the built in SEO options and more advanced users can opt for Yoast SEO or All in One SEO. Thank you StudioPress for thinking ahead on this one!
What if I want to upgrade a lite plugin to a pro plugin?
No problem. Users may to continue using the free version or upgrade as needed.
What if I'm an existing StudioPress customer or developer? Will things change?
Nothing should change for existing StudioPress customers or Genesis developers. This is just an optional service for micro businesses.
Are StudioPress Sites Right for You?
StudioPress Sites aren't for everyone, but they would make an awesome alternative to website builders like Wix, SquareSpace, or Weebly. They'll also make a great option for the busy entrepreneurs who want to run their business and not their website.