This week Brian Clark reached out to me and asked if I'd like to review the New Rainmaker platform from Copyblogger. Me, being the ultimate Genesis fan girl, didn't think twice about jumping at the offer.
After all, I've been using StudioPress themes since I started with WordPress and we use the Genesis framework in everything with do here at Web Savvy Marketing. If these folks are releasing something new, I knew it had to be good and I wanted to take a look.
I accepted the invitation and exchanged a some emails with Brian and a few of the other Copyblogger guys. Then I went off to eat dinner and forgot about it for the night. The next morning I had Rainmaker access arrive to my inbox.
They gave me access in the morning and by lunchtime I was doing the Rainmaker happy dance.
Why? Because it's a great content marketing platform and it is an amazing solution for a lot of WordPress users. Not every WordPress user, but a big bunch of them.
I Did Not Start My Morning Dancing
I'm not a morning person, I'm coming down with a cold, and I was on my first cup of coffee. This means I was crabby and my husband couldn't wait to get out the door and start his morning commute.
Then that little email came in with my access information to preview the New Rainmaker platform. I'll admit that I was a little excited, because by default, I love software and I love to jump into it and poke around.
Yes I literally poke and peck. Don't give me a manual, podcast, video, or how-to guide. I won't use it. I have to be able to hunt and peck and discover at my own pace. This is how my mind processes new software. With the New Rainmaker Platform I could poke and peak and I was like a kid in a candy store.
This ability to discover a new way of looking at WordPress took my grumpy old self and turned it into a curious user who needed another cup of coffee.
The New Rainmaker Platform Extends the Beauty of WordPress
All of the WordPress goodness I love was in a pretty user interface (that means dashboard) that was more beautiful than WordPress itself. You know I love WordPress, so me saying anything is better than WordPress is rare for me.
The Copyblogger team transformed the base WordPress dashboard and morphed it into an easy to use, very intuitive platform for people who would otherwise feel overwhelmed by WordPress.
Now before you argue with me on WordPress' ease of use, I do feel WordPress is the best CMS available and it is very user friendly. That being said, it can be overkill for people who just want to create content and not worry about anything beyond publishing. For those type of people, the New Rainmaker platform will be a great fit.
Rainmaker Offers a Ton of Marketing Goodness All Under One Umbrella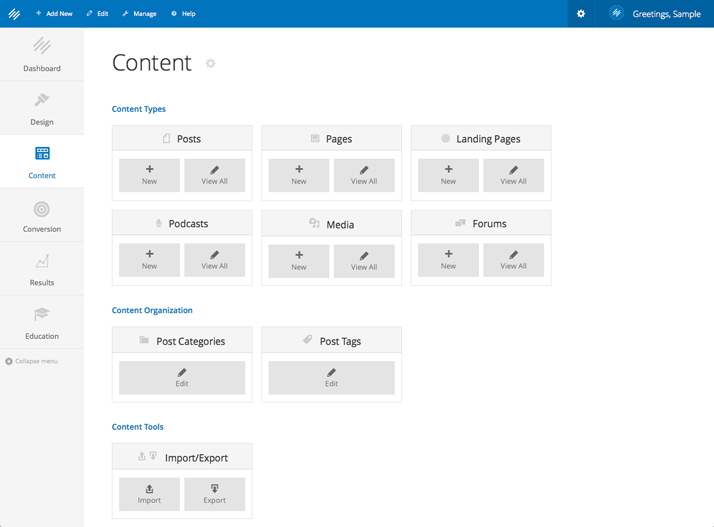 We receive a lot of inquiries from people who have an idea and they want to explore launching a new website. For many people their ideas are good and their intentions honorable, but their technical abilities are limited.
Now lets take this a step further and consider expanding that group of people into a more eager group who want to take their core idea and make it better by adding a forum, podcast series, membership site, or an ebook. Any of those items requires additional plugins and many people simply don't have the technical capabilities to install the plugin, configure it, and possibly style their theme for it.
WordPress users who need assistance with advanced functionality can call on people like us to help take care of it for them. But people like me and my team come at a price and project budgets might be limited. Or even when we do get everything installed, these plugins need to be maintained and updated.
The New Rainmaker Platform is going to find a sweet-spot with these type of WordPress users, because it offers a huge amount of functionality and presents it in an easy to use and intuitive dashboard.
The reason it will work for this group of WordPress users is because it is designed by content marketers for content marketers. This is the key difference you'll find with Rainmaker and something you need to keep in mind when considering it as a solution.
Here are many great reasons I suggest content marketers consider the New Rainmaker platform:
The simplistic user interface makes it easy to navigate around the WordPress dashboard
Site set up is a very easy, stepped out process
The built in preview option makes it painless to move from staging (development) to a live website (deployment)
The Rainmaker platform adheres to best practices in SEO, call to actions, and landing page creation
The design section allows users to pick a theme from the StudioPress collection and modify it with custom CSS
Websites are built with HTML5
Websites are responsive and ready for mobile out of the box
The entire platform is built on rock solid hosting from Web Synthesis
Cache is part of the package and you don't need to sift through confusing configuration settings (W3 Total Cache made me want to cry)
Nightly backups are included
Security is part of the dream package (they work with Sucuri to ensure this)
Users can quickly integrate to Infusionsoft, AWeber, or MailChimp
The e-commerce portion offers easy integration to payment processors like Authorize.net, PayPal, and Stripe
The platform supports SSL (remember Google's recent announcement of this being a search ranking factor)
There are built dashboards and integration for Google Analytics
A knowledge base is available for people to review (not me because I like to poke and peck)
Users get ongoing content marketing education from Copyblogger's Authority team
Who is a Perfect Fit for Rainmaker?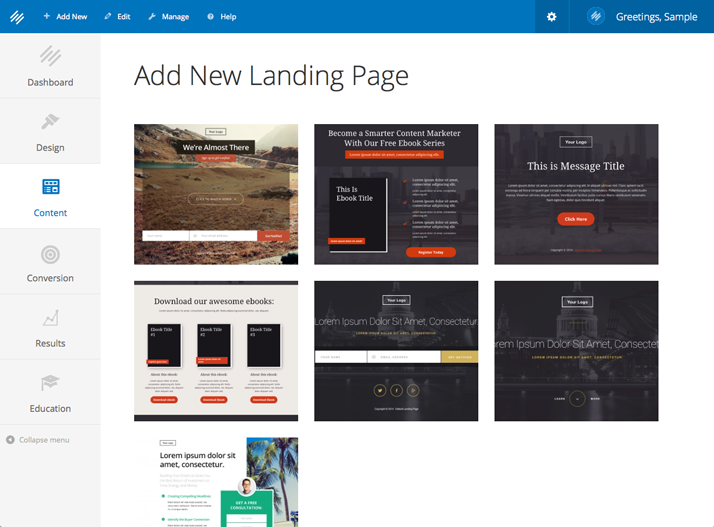 As I said earlier, Rainmaker isn't for everyone. But is does offer a great fit for a certain segment of WordPress users.
Here is an example of a perfect fit:
A while ago we built a custom WordPress theme for a lawyer. He fell in love with WordPress and wanted to create more websites with it, but was limited on his time and his technical expertise.
Rainmaker is perfect for him, because everything is built in and ready to go. He doesn't need to learn about plugins or code, he just needs to start using WordPress and publishing great content.
He gets to focus on cool features like podcasts and videos and landing pages while not having to worry about anything else. And he gets a ton of free education in the process.
If this list describes you, then you are a perfect fit for the New Rainmaker platform:
You want a fully functional website without spending a lot of your time or money
You'd like to create podcasts for your website and you don't want to install third party plugins
You'd love a robust forum like bbPress, but don't have the coding chops to integrate it on your own
You want to focus on content and not design or deployment
You want to set up a portfolio without a lot of muss or fuss
You need the ability to set up multiple landing pages and have them look great, while also being positioned to convert
You want to set up a membership site with subscriptions, but you don't want to install or configure a heavy plugin
You need an easy way to sell an eBook
You'd like to have in dashboard keyword research that goes above that of Yoast's SEO plugin
You need an impartial tool to review your content and grade it for it's SEO effectiveness
You know website analytics are important, but you forget to review your Google Analytic data
You need someone to hold your hand and guide you through an educational path for content marketing excellence
Again, if you answered yes to many of those questions, then you should at least preview the New Rainmaker platform and give it a try.
Who isn't a Perfect Fit for Rainmaker?
We've deployed websites and blogs for people and organizations all over the world. While I've spent many paragraphs talking about the joys of Rainmaker, it isn't for everyone. There are a lot of our customers where Rainmaker won't fit.
Examples of people who are not a fit would include a university, a credit union, or really anyone in the mid-market to enterprise space. The reason for this is these types of organizations need to be able to have flexibility and control over their WordPress installation. They have internal IT staff and don't need easy. They also need to focus on a lot more than content marketing.
Ask yourself these questions to determine if you're not a good fit for Rainmaker:
Do you need multiple languages?
Do you need to load oodles of plugins?
Do you need complex contact forms?
Do you need to have physical goods shipped with shipping rules, configurations, and fancy groupings?
Do you need to support a multisite environment?
Do you need to install a specific WordPress theme you purchased from ThemeForest? Just an FYI – it won't pass the coding requirements of Rainmaker.
Do you need to host your website or blog on your organization's internal server?
Do you need to connect to an external API or system?
If you answered yes to any of those questions, then the New Rainmaker Platform isn't for you. And that's okay, because WordPress firms like ours are here to help and we'll take care of you.
Rainmaker Isn't for Everyone, But I'm Still Dancing
So Rainmaker isn't for everyone, but for those people where it is a fit, it is a perfect fit. This is why I'm doing the happy dance. The platform will serve a niche market and it will serve it very well.
Here's the cool part, I've only scratched the service of cool stuff Rainmaker can do. You have to actually sign up for a free trial to get a true feel for its power.
If you sign up for Rainmaker and you'd like assistance customizing one of the available Genesis themes, head on back and let us know. We're happy to help.