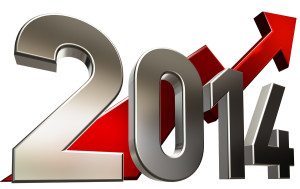 It's mid-December and everyone is busy with year-end preparations. Projects are wrapping up and new ones are kicking off as companies try to execute their 2013 goals or begin to prepare for 2014.
This flurry of activity has kept us all very busy. My calendar is constantly full of calls or meetings, while my email seems to be a never-ending circle of activity.
As I push forward through prospect and client discussions, I myself look back at 2013. I think about what we've accomplished and I try to envision what 2014 might look like for us. I also contemplate our corporate goals and objectives for the coming year.
What's on Your List of 2014 Marketing Objectives?
Is your marketing plan solidified or just a few random ideas floating in your mind? Do you know what you'll focus your efforts on or are you overwhelmed with the massive amounts of internet marketing changes that have occurred over the course of 2013?
If your answer is overwhelmed, you're not alone. Without doubt, 2013 has been an active year and changes have been plentiful. But fear not. There have been many companies and websites that have stayed steady during this craziness. Those who have stayed the course of pure white hat SEO have been unaffected. Those who have tip toed into the grey or black areas of SEO not so much.
We Will Stay the Course in 2014
For us, we will continue to stay white hat and we will continue to push forward as we always have done in the past. We will focus on what we believe is important and "safe", while we simultaneously shy away from what feels like hype or a mere fad.
If you were to ask me what is important for internet marketing in 2014, the response would be quick and specific. I'd rattle off a list of things I personally feel are important and things I personally know will work.
My suggested list of 2014 marketing tactics include:
Responsive design
HTML5 and schema
Website speed and performance
Keyword focused content
On-page SEO
In depth articles
Authorship and authority
Social media sharing and engagement
As you see, my list isn't all that big. It is simple and focused. It includes items I believe are important and it ignores many other tactics that I've been uneasy about or have viewed as little value.
As I look at the 2014 list above I see this is a lot of the same items we implemented in 2013:
We focused on our target market and rewrote content to focus on website personas.
We converted our website to responsive design.
Once Genesis 2.0 came out, we converted the design to include HTML5 and schema.
We moved to a dedicated server so page load was at it's best.
We established authorship with Google.
We used social media to build an audience for our product and service offering.
We updated old content and we created new content via in depth blog posts.
We became more engaged in our community on and off line.
Here are some marketing tactics I did not target in 2013 and will not target in 2014:
Directories of any kind
Blog commenting for the sake of link building
Guest blog posts
Publishing thin content in an effort to increase traffic
Anything geared towards a quick return of rankings or designed to distort search
Similar to my focused items above, the list of things I don't recommend in 2014 are the same things I avoided in 2013. I'm thankful our company went this route, because we have been rewarded and our business has continued to grow as a result.
Staying the Course in 2013 Led to Some Great Results
Did it make a difference? Yes it made a huge difference. I'm sure I could have done a lot more right, but overall I'm happy with what we did do and the outcome I see from our efforts.
Let's compare November of 2012 and November of 2013:
Website traffic increased 126%
Page views increased 333.36%
Average visit duration increased 204%
Bounce rate decreased form 41.36% to only 8.93% (78.41% improvement)
Total email subscribers increased 412%
Stock theme sales increased 670%
2014 Should be About Doing the Right Thing
If you were to ask me what is the one thing you can do to succeed, my simple answer is to focus on your ultimate visitor. Do what you can to provide the best possible experience for your website visitors. Publish content and use social media to educate your web visitors and provide them with a positive experience.
Doing the right thing is easy, it is safe, and it works.