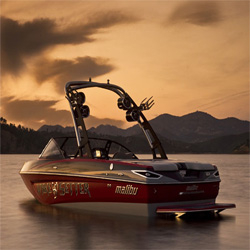 When I met my husband many years ago, I quickly became painfully aware of his two loves: hunting and boating. No matter how great his love for me, I could not interfere with his beloved hobbies. In 2008 we purchased a new Malibu Boat to continue his tradition of summer days spent on the water. Our Malibu Wakesetter was a major purchase and something I personally struggled with until I realized we spent every weekend on the boat and dragged along numerous friends and families with us. We are now known for our "super cool" Malibu boat that produces "monster waves" and our desire to get everyone and anyone surfing behind it.
Earlier this summer we experienced some problems with our Malibu Wakesetter. While it sat in service, by husband called the owner of Skiers Pier, our local Malibu dealership. My husband had know Ron, the owner, since he was a kid and Ron was a major factor in us buying our Wakesetter back in 2008. He had complete confidence in Ron addressing our concerns. I, in turn, vented my frustration on Twitter. My tweet was:
Skiers Pier please finish my @malibuboats Wakesetter so I could enjoy the sunny weather this week! Stuck in service hell for weeks. #fail
I did not expect any action on this, I was just venting. I spend the majority of my day on Twitter managing social media accounts for my clients. Complaining online is normal for me. My husband just about died when I stated what I had done.
But something magical happened. I say magical, because it is rare. Within thirty minutes I had a direct message on Twitter from Malibu Boats. They had already called Skiers Pier and left a message with Ron about my boat. They promised to help resolve whatever issues I was encountering.
Before I knew it, they did. In fact, Malibu Boats and Skiers Pier were so great at their customer service; my husband and I traded in our two year old Wakesetter for one that could hold three more people. Our "super cool" boat became even cooler because we could hold more people and spread our boating love even further.
While Skiers Pier may not have a clue about social media and Twitter, Malibu Boats makes great use of their Twitter account. And while Ron may not be a computer guy, my husband and son love him and he is one of the best examples of good old fashion customer service. That is a rarity these days.
After all this played out, I had to publically thank Malibu Boats for their exceptional customer service on and off the computer. Skiers Pier could not have taken care of us as well as they did if Malibu Boats was not supporting their efforts from afar. I may be quick to vent on Twitter, but I'm also quick to compliment and provide praise. My next tweets were:
Off to Skiers Pier to pick up our new @malibuboats Wakesetter! Many thanks to Ron and Malibu Boats for such excellent customer service!
@malibuboats – The new Wakesetter made the perfect Father's day gift. Surfing in the Michigan sun is the best way to spend the day for Dad.
So Malibu Boats, I salute you and your entire team. Not only are you great at customer service, you are great at social media. You may have won my husband's heart back in 1985, but in 2010 you won mine. And quite frankly, you've also won the accolades of everyone we invite to share our love for Wakesetters, lake surfing, and long summers days spent enjoying the warmth and sun in Michigan.