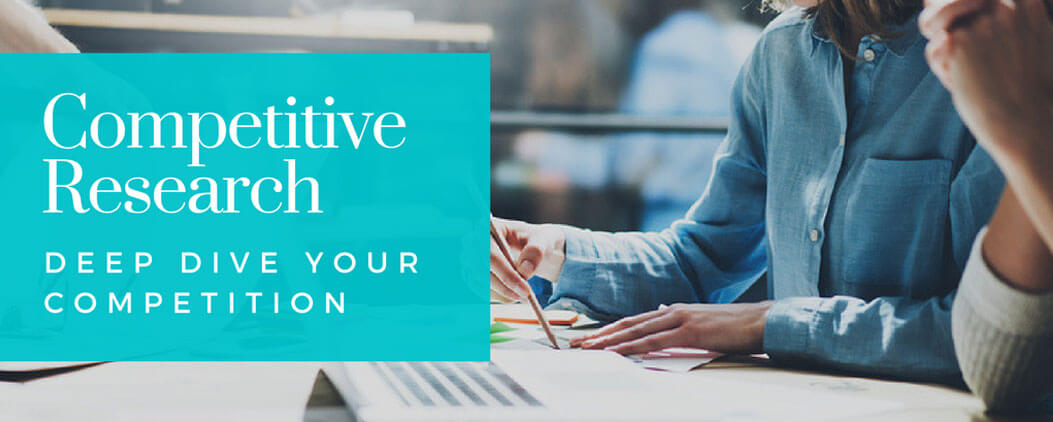 SEO competitor research is a process that reviews existing and future competitors. This is something that has been done in traditional marketing for a very long time. When you weave SEO into the competitive research mix, you will expand your existing traditional competitors with additional online competitors.
You might be asking why you would have both traditional and online. That is a great question.
Many times the people/websites you compete with in real life are not the same people/websites you compete with online. This is because not all traditional competitors will be good at SEO and online marketing. As you remove out under performing traditional competitors, you'll replace them with online competitors.
Your online competitors are really important, because it is often these websites and blogs that are creating unknown havoc on your efforts. This is because they are competing for the same search traffic and you might not even be aware of it.
Online Competitor Research is Super Important!
You can't do a well organized SEO campaign without having strong competitor research in the mix. You have to have a solid understand of what is happening around you so you can ascertain your strengths, your weaknesses, and where you need to make short-term and long-term improvements.
This process can also be good for the soul as it can completely energize you and inspire you to forge ahead.
The task of competitor keyword research is going to do ten very important things:
You'll discover who your top online competitors are and you'll realize they are many times not the ones you expect
You'll see what keywords your competitors are trying to rank for
You'll discover your competitors' top ranking keywords
You'll discover your competitors' top ranking content
You'll be able to explore your competitors' backlinks and referral traffic
You'll learn more about your competitors' social media activity
You'll discover some great keyword options for writing future content
You'll have a much better idea of how often you need to write content and how long this content needs to be
You'll be able to see how good a competitor's on-page SEO efforts are in real-world usage
You'll realize they have SEO issues too
The last one if the most important one, because you'll see your competitors are not as savvy as you think and you'll feel empowered to push ahead with your SEO efforts.
My Favorite Tools for Researching Competitors
There are lots and lots of options for SEO software and tools. There isn't just one tool to use in performing competitor research. The problem won't be finding available tools, the problem will be finding the best tool for you and how your mind processes information.
I like to find really good software packages and stick with them. While I embrace change in many ways, I do not embrace changes to viewing data.
My favorite software tools for digging into competitors and their data includes:
What Should You Do With Your Data?
So let's do a quick recap of competitor reviews and when and where you should use them.
When should I use these reviews?
I perform competitor reviews in the seed list building phase of keyword research. If you've take my course to learn SEO, then you saw the lesson topic I had that gave an overview of this process within the lesson on Keyword Research and Selection. This is where I spend the majority of my time on this task and using these tools.
That said, I also like to use this process – in part – at the end of my SEO process when I'm checking ranking status. It helps me see what gaps I have and where I need to work further on optimization and link building.
Should I use this data to focus on keywords or competitors?
In my opinion it is keywords and phrases. The ultimate goal of SEO is to help your target market by creating content that helps solve their problems and provides them with solutions. In doing so you are using keywords and phrases to help these people find your website or blog.
The reason we review competitors is to help us see the full universe of available keywords opportunities and to better understand how we can rank on page one for these phrases or topics.
What are my next steps?
As a take away from this process, you should have three core components of output:
Seed list of potential keywords
Short-term tasks
Long-term tasks
Your short-term and long-term tasks are going to vary by website or blog. These could be related to new or improved content or they could be associated with social media usage and link building outreach.
The important thing is that you have better direction on where you stand against your competitors and where you need to actively make improvements.
Want to Learn More About Performing a Competitive SEO Audit?
Take My New Course on Competitive Research
I recently released a new online SEO course dedicated to the process of competitive research. This two hour course is designed to introduce you to the process of competitor analysis and provide demonstrations of our favorite SEO reporting tools. It also provides templates for using in your own research.
While you can perform your own audits without the course, the two hour lesson plan will guide you, help make sure you are looking at the right data, and utilizing your time in the most efficient manner.
Watch a Recent Webinar of Performing Competitive Research
If videos are your thing, you can watch a recent training webinar I did for iThemes on this subject. While it doesn't go through everything that the course offers, it does give a great overview of the process and how you can weave this into your SEO efforts.