I've always been a fan of blogging and social media, however I've lately found myself drawn in by the growth of WordPress podcast sites. I'll admit that I was a bit anti-podcasting at first. I wasn't sure it would stick and I really didn't see the value of it.
And then something changed. I was invited to be a guest on a number of WordPress podcast shows and I realized this new type of marketing had something to offer.
Podcasting can have a reach that is unique and unlike that of blogging, social media, or email. It connects with a different type of audience and it allows you to reach people who would never sit and read a blog post or follow you on Twitter.
Over the last year I've watched WordPress podcasts explode in our community. Podcast shows have come and shows have gone, but many have stayed and they have very solid audiences.
I am now one of those loyal WordPress podcast listeners.
The Growth of the Podcast
Why is podcast interest growing at such a rapid pace? Because technology has made it much easier to create and to listen to podcasts.
More and more people have access to low cost equipment that allows the easy creation of podcasts. By default, this opens up the creation of podcasts to the masses.
The next game changer is high speed internet. Consumers and businesses have access to high speed internet and instant streaming. You can download a podcast in seconds or listen to one while surfing around the internet.
Now add in mobile devices and the podcast is thriving. My new favorite luxury is the ability to connect my iPhone's podcast app to my Yukon via Bluetooth.
Don't believe me? Well, let me give you an example of real world usage. My daughter recently went to theater camp on the west side of our state. I had to drive over three hours each way to drop her off at camp, then another three hours each way to pick her up ten days later. How did I spend the time? I listened to WordPress podcasts in the car. My son was in the back seat and he listened along too. And at only eight, he enjoyed it.
I've also spun up a WordPress podcast on my iPad while cooking dinner. It is multitasking at it's best!
Our WordPress Podcast Q & A
I am not an expert at WordPress podcasting, so I thought I would connect with my friend Jason Tucker who is an expert. He produces a WordPress podcast called the WPwatercooler and they just hit their 100th episode. Jason and I sat down and talked about podcasting and about how you, my readers, can begin to harness to power of it.
What are the benefits of podcasting for a blogger or business?
I believe podcasting allows you to share your content in multiple mediums, which is similar to sharing your content on various social networks. The key to internet marketing is to share content in the places where you can find your target audience. Audio podcasts are a great way of talking to your audience when they don't have time to sit at a computer and read. You can reach them while they are in their car driving to work or anywhere else for that matter.
What type of audience best responds to podcasts?
Podcast listeners are of all ages, genders, and geographical areas. The last data I read said that at least 25% of the people online have listened to a podcast.
According to a 2013 survey of Americans, 46% had heard of podcasting and 12% had listened to a podcast in the last month. (Source: PewResearch)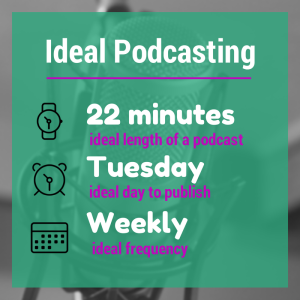 How long should a podcast be as a best practice? Is there a minimum or maximum amount of time you recommend?
On my show WPwatercooler we record for 30 minutes. I feel like this is a good amount of time to be respectful of the listener and allow them to listen to the entire thing all in one sitting.

My commute to work is 30 minutes, so for me 30 minutes works. Plus I don't like listening to a 2 hour podcasts.
Ideal Podcasting image source is Buffer Blog.
Can you walk us through the process of starting a podcast?
If you're just starting out with podcasting, come up with a timeline of how you want your show laid out. To do this, ask yourself a few questions:

• Do you want to do segments or just one set of content?
• How long your show will be?
• How much content you will be recording?

Answers to these questions will help frame out your podcast. Next you'll want to hit the record button and do what I call "record your episode zero" which I outlined this on my WPMedia.Pro site.
Jason's website offers a great list titled the 10 commandments of podcasting that work:
Record an "episode zero" before going all in
Crap in crap out
Keep it clean or at least warn your listeners if not
Structure
Don't over use the sound effects
Don't be afraid to blaze your own trail
Have your own style
Listen to your listeners
Don't go overboard on equipment
Album Art
Voices.com offers a great podcast show outline which includes:
Show intro monologue (who you are, what you're going to talk about): 30-60 seconds
Intro music jingle (repeat for each show so listeners identify the jingle with your show): 30-60 seconds
Topic 1: 3 minutes
Topic 2: 3 minutes
Interlude (music or break): 30 seconds
Topic 3: 3 minutes
Topic 4: 3 minutes
Closing remarks (thank audience, thank guests, talk about the next show): 2 minutes
Closing music jingle (suggest same as Intro music jingle): 2 minutes
How do you come up with such great topics on the WPwatercooler?
I'm the show host and production guy on the show, which means I'm the guy behind the scenes making things happen while the show is happening. All of our show topics come from the show producer Chris Lema. He is the king of titles and topics I let that man come up with all of them.
If you've ever watched or listened to the WPwatercooler, you'll know the show is education mixed with entertainment. Sé is my personal favorite (sorry guys) because she is just plain funny. If you've ever talked to Chris (he's another favorite) you'll know Chris has endless ideas, can talk for hours, and always has great stories to share. This combination is a good platform for a podcast. You learn something and you laugh all within the same thirty minutes.
What equipment does a new podcaster need to purchase to create a high quality podcast?
There are lots of ranges for equipment. You can go high end or you can go cheap. On the WPwatercooler we use Google Hangouts, which means I have almost zero control over the way in which the show is recorded. We have people using various types of mice and Internet connections so the sound and video quality varies.

If you want to have total control over your environment, I'd suggest a pop filter, a quite room and a decent mic like the Røde Podcaster.
Where can I hire a professional to help create a cool intro for my podcast? How much should I expect to pay?
There are many people that you can hire to create podcast intros and voiceovers for a fee. Steve Webb is one that I would recommend as he was an early adopter of podcasts and he has a great voice. AudioBag did the Dradcast intro.

I wouldn't pay any more than $100 for an intro or outro. You can find quality work or that price and this is illustrated with AudioBag who charges $79 for this type of work.
Can I hire someone to help edit my podcasts?
Editing is tricky and it really depends on how perfect you'd like your recording. An example is do you need major issues removed or do you want to remove the um's and ah's sounds from someone that says um and ah over and over again?

The cheapest way to solve that issue is at it's source, as Chris Lema put it in his post about public speaking.

It takes some time to tighten up and ditch the um's and ah's but it's worth it. As for audio editing there are many places you can do this but none I can suggest.
What are the best WordPress plugins for podcasting? 
I really like Blubrry's Powerpress plugin, it's free and gets the job done.
Do I need a CDN (content delivery network)?
It's a great idea to use a CDN to host your media files. I'd recommend people use a podcast friendly one that provides good statistics.

If you are using PowerPress, then Blubrry.com is a great place to host the files. They have awesome stats for downloads and plays and they are also are priced competitively.

WPwatercooler use to be hosted there but we moved over to SoundCloud.com and their beta podcasting offering.
How long should a podcaster give before they know if it is really working? Or in other words, how many podcasts does it take to know if you have a hero or a zero?
Like with most things, it depends. Podcasting requires some leg work to get the ball rolling.

Ask all your friends to download the show and listen to it. Ask their opinion on it and if they would spend some time listening to it.

Having good stats will help with figuring out what is working and not working.
How the heck do I get my new podcast on iTunes?
Ohhhhh iTunes!!! It's easy actually. Just login to iTunes and find the link titled "submit a podcast" and provide them with the RSS feed for the show. Next you wait 1-3 days and boom you are in. You'll want at least 1 podcast recorded and in the feed in order to get accepted.
What kind of files and graphic do I need for iTunes?
I talked about this at the WordCamp Orange County 2014. But to summarize: MP3 for audio, MP4 for video and album art at 1400×1400 square, you can read more about the expected specs on the iTunes site.
Jason's WordCamp presentation:
Where can readers find some great resources to learn more about podcasting?
If I can self plug I'd say WPMedia.Pro, but I'm biased. PodcastAnswerGuy.com is another great resource. iTunes has a lot of this laid out in their official documentation.
Are You Ready to Start Your Own WordPress Podcast?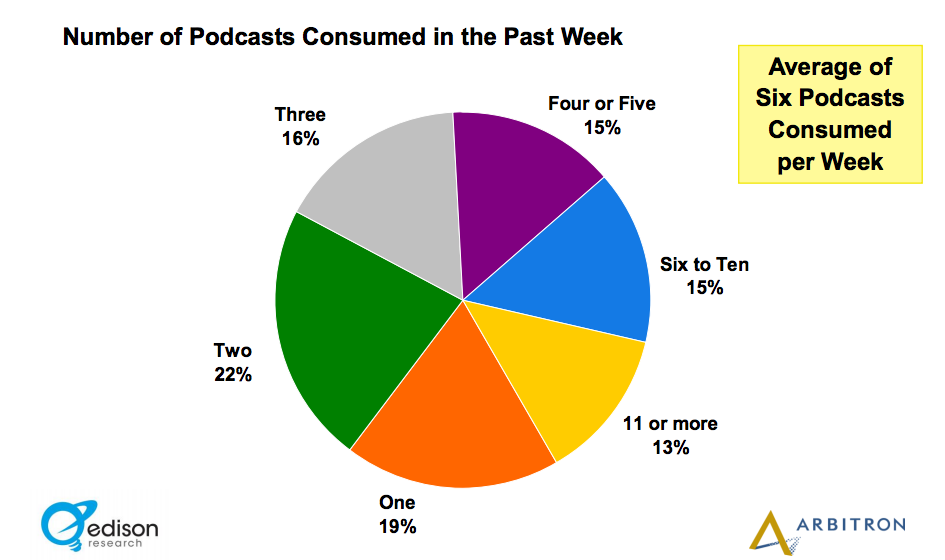 Before you answer this question, let me provide a few data points for you from Edison Research:
In 2013, 27% of Americans have listed to an audio podcast.
An estimated 32 million Americans have listened to a podcast in the past mont.h
More than a quarter of weekly podcast users consume six or more podcasts a week.
I'm betting that was a lot more activity than you imagined!
Remember, utilizing podcast files in WordPress is easy. It is one of the reasons I love WordPress as much as I do.
And if you are still concerned about this leap into audio, remember this: 
If you don't record, no one will ever hear you.
In our next post, I'll give you a list of my favorite WordPress podcast sites. Stay tuned.
---
A Little More About  Jason Tucker

You might be wondering why I picked Jason for this podcasting discussion. Jason is a WordPress web developer that works for a non-profit. He loves working with audio and video in his spare time and he kind of lights up when the subject comes up.
I also know him as the host of WPwatercooler, which is a web based show and audio podcast talks weekly with WordPress developers and designers. I've been on the WPwatercooler multiple times and each time Jason is the calming force behind the antics of Se, Steve, and the rest of the cooler gang.
When I asked Jason specifically why he loves podcasting as much as he does, he answered with:
I love podcasting because it allows for the content creator to share their passion for the subject matter in a more emotional setting. Text tends to lose emotion and feeling.
And that is a perfect response and one I could not have said better myself.
So as you contemplate taking the leap into podcasting, know that when you do decide to jump in, Jason Tucker is there to help.
For questions and a quick way to pick his brain you readers can hire him on Clarity.fm or via his website.