Many of my website design prospects frequently ask me "what they can expect" when we discuss converting their static website into a dynamic WordPress website.  I answer them honestly by saying it depends on a lot of variables because no two projects are exactly alike.  While this answer is not a concrete one, it is the best one I can give because I don't yet know the variables.  What I can tell them is that there are great examples of success when the process goes right.
Does SEO Really Matter in Website Design?
Yes, yes it does.  My project plan doesn't allow for website design to begin until we've gone through keyword discovery, created a keyword rich sitemap, and defined our call to actions.  Only after we know the full scope of the project does the graphic artist and coders begin work.  It is that patience and due diligence that makes the project a success.
The below graph shows a large increase in website traffic two months after go live.  The website went live September 30th and by the end of November the website traffic had increased 353%.  That's a pretty big shift in traffic in just sixty days.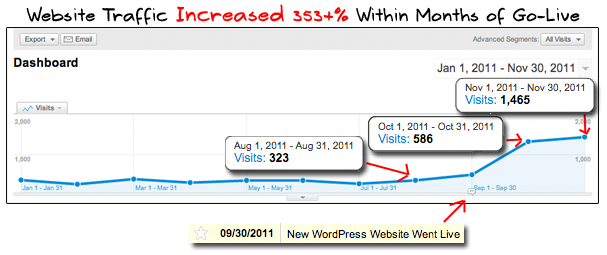 The below graph separates out the traffic increase into traffic that is solely based on keywords (or organic search traffic).  In this example, it is showing just Google search traffic.  This illustrates that huge traffic gains can be obtained by good old fashion content creation and focused web design and blogging.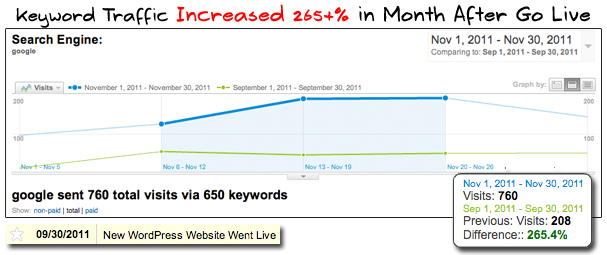 What Else Was Included in the Project?
My client is someone who originally approached me a year before we actually started the web design project.  He had known of my work through his competitors and others within his industry.  At our first conversation, he told me I was too expensive.  I'm okay when people tell me this and it does happen a lot.  I know I am more expensive then many other web designers – especially WordPress designers.  This is because my team makes sure we design and build websites with personas, organic SEO, and conversions in mind.  We don't just customize an existing WordPress template, we create one from scratch and we make sure it is 100% designed to the client's needs.  We also make sure the entire project is based on search engine optimization, a competitive analysis, and hours of keyword discovery.
A year after turning down my pricing this client resurfaced.  I believe he had tried some lower cost SEO options and some website tweaks that didn't quite work.  His traffic was still low and his visitors were not converting.  This time around he was willing to invest both time and money into the project.  This time around he obtained results that included a 350% increase in traffic.
Our website design project included:
New logo
Complete keyword discovery
Website pages were created based on keywords
New custom design for the website and blog
Design built out in WordPress via the Genesis framework from StudioPress
Each website page and post were given optimized meta titles and descriptions
Performed an inbound linking campaign
Integrated social media to help build branding and inbound links
Professionally designed newsletter
And the Winner Is?
Both the client and I are winners in my mind.  The client may have paid more than he originally anticipated, but the initial outcome if most likely better than he expected as well.  I win because I was able to stay true to my methodology and keep SEO closely tied into the web design process.
If you'd like to learn more about how Web Savvy Marketing can help with your website, visit our website design or WordPress portfolio pages for more information.