WordPress theme frameworks are not new, but their usage is growing in popularity.  As the WordPress community grows and the usage rate of WordPress escalates, our collective skill-set builds in sophistication.  With this growth comes the ability to create, deploy, and utilize advance features and functions.
When I first started working with WordPress, I taught myself about components of themes and their basic usage.  I next migrated to creating my own themes with a software package called Artisteer.  Next I moved into hacking themes already created by firms like StudioPress.   Finally I learned about creating child themes via the Genesis framework.  As a marketer, my migration and increasing sophistication, followed the same path as many other website developers and WordPress firms.  It's a walk before you run type of process.  While some of us may learn to run faster or may be able to run a marathon, all of us stumble and fall along the way.
The remarkable thing is how quickly the WordPress community and the toolbox of resources have changed over the last few years.  I love the WordPress community and the software it creates.  I am often touched by the generosity of those within it and their undeniable ability to love and be passionate about what they do each day.  I found myself quickly being sucked in and now my firm is engrossed with WordPress 24/7.
As you migrate through the 1,500+ free themes available via WordPress.org or the unknown number of premium WordPress themes available for sale, you have to take a step back and be in absolute wonder at the rapid growth within the community.  From frameworks and child themes to responsive designs, we're evolving at an extremely fast pace.  That evolution means options are never-ending.  One framework grew to twenty and one hundred themes grew to a number I doubt any of use can even quantify.
Look for Good Bones When Selecting a WordPress Framework
WordPress Codex defines a WordPress theme frameworks as: "A Theme framework is a Theme designed to be a flexible foundation for quicker WordPress development, usually serving as a robust Parent Theme for Child Themes. Some Theme frameworks can also make theme development more accessible, removing the need for programming or design knowledge with options pages."
As the owner of a WordPress design firm I view it a little bit differently.  The framework gives users powerful functionality and options.  For me the business owner, it puts my WordPress coders and me in a box – the same box.  It keeps us inline with best practices and it allows me to have multiple WordPress developers working together in harmony, because all of us share the same skeleton structure or bones.  The skin or child theme may look and act differently, but our core is the same.  And the better your core, the better your end project.
I love old houses.  In my mid-twenties I purchased my very first home.   It was a 100 year old home in the middle of a little, but growing town.  I fell in love with it because it had what I considered to be good bones.  My original Anderson windows, French doors, and glass doorknobs were still as beautiful as the day they were installed.  It is that timeless beauty and robust functionality that creates the solid foundation and good bone structure.  I view WordPress frameworks the same as my old house.  We use the Genesis framework from StudioPress because it has good bones.
I'm loyal to Genesis and it is now all we do.  Some of my existing non-Genesis clients have not taken this news very well, but it was a decision I needed to make and a path I needed to put our company on.  I remember using Genesis while it was in beta and I'll be honest, I didn't know what the heck I was doing but I could see it had good bones just like my old house.  Now I have a graphic designer and rock star WordPress coders who specialize in Genesis so my bones are not only functional, they're beautiful.  With Genesis they can take my vision and create cool websites that use everything from BuddyPress and bbPress to WooCommerce and WordPress multisite.  I also know everything is backed by the StudioPress team, who have proven themselves as superior providers of support and WordPress best practices.
What Google Tells Us About the Four Main WordPress Frameworks
Curiosity recently made me wonder about the other WordPress frameworks and how they compared to my beloved Genesis.  So I did some reading and some research.  After all, I've not only focused our firm on WordPress, I've narrowed it even further to Genesis.  A little part of me just wanted to make sure my strategy was as solid a business decision as my I thought my framework was for functionality.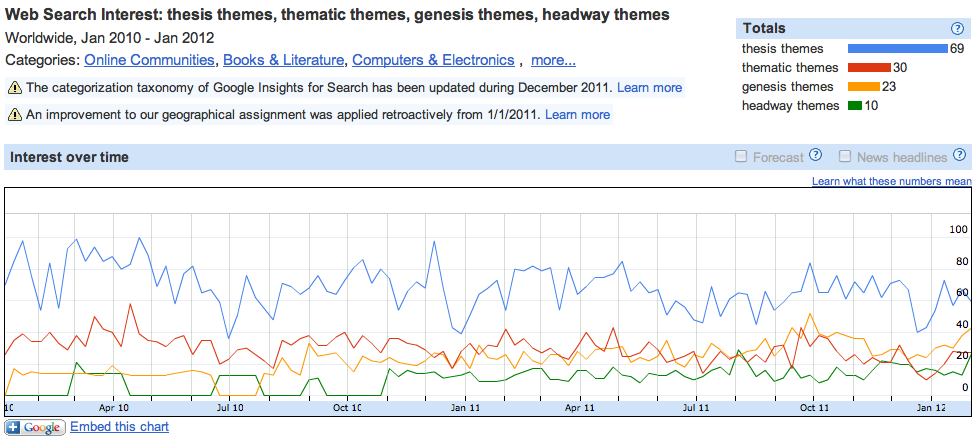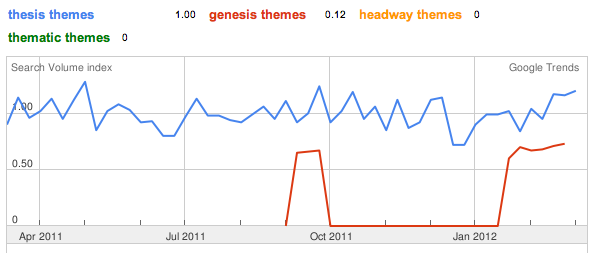 So my research and Google made me feel better.  I'm not exactly sure how much I believe the website visit data, but I can tell Genesis is a solid contender and a major competitor in the war of WordPress theme frameworks.
Highlights of the Four Major WordPress Frameworks
Well over 20 theme frameworks are available, although four core frameworks really stand out.  Those are Genesis, Headways, Thesis, and Thematic.
Of the four core frameworks, WordPress.org only lists Thematic.  But Thematic is also the only free one, so I suspect this is why.
WordPress.org does, however, list Headways and StudioPress under commercial themes.
I always feel like PageLines attempts to be a Genesis, although search traffic shows they are not even on the same planet.  Thus they were removed from my comparison.
Thesis had highest search volumes per Google Adwords on two of the three search groups I tried.  This tells me a lot of people know about Thesis.
Google Adwords' competition for the main three frameworks is comparable, although Thematic had the highest estimated cost per click rates.
Google Insights shows Thesis and Thematic search traffic peaked in April of 2010, while Genesis and Headway peaked in the fall of 2011.  This shows a shift in popularity and overall internet buzz.
When performing a query for all four theme developers on Google Trends, only Thesis and Genesis produced substantial results.
Thesis and Genesis proudly show user numbers, although I did not quickly find any usage numbers for Thematic or Headways.
None of the developers' websites push their social media accounts, although StudioPress clearly dominates on Twitter and Facebook.  This lack of social media presence totally baffles me, as I know a lot of WordPress users and theme buyers are adopters of social media.
So Why Did We Pick Genesis and Not Another Framework?
I'll be honest – it was the support forum at StudioPress that captivated me.  I bought their theme package years ago to help out a family member and the support kept me coming back.  They literally taught me how to hack away at WordPress code.  Visually speaking, I don't think they have anything exceptional that comes from their standard theme pack, but it is a solid base for customizations.  And while their standard themes are not breathtaking, their showcase of Genesis websites shows the wonderful range of capabilities the framework offers and the beautiful websites that can be created as Genesis child themes.  Thanks to Brian Gardner and his team, we have a number of our own website designs listed there too.
I knew if I was going to expand our business and employ multiple WordPress coders, I had to have a box for us to play in together and without conflict.  Genesis seemed like a natural box.  I had built websites on their themes already and they were very successful.  I knew the themes and framework could cover me on the SEO front, so this made me happy.  I also knew they could cover me on the security front.  Of all of websites we've designed and built, Genesis has been rock solid when it comes to security.  Performance was another criteria.  I've found Genesis and a child theme have significantly superior performance over themes you'd buy at ThemeForest.net or other developers.  I've replaced other themes with Genesis and I've watched page load time improve dramatically.  Both with my own eyes and through the eyes of Google Webmaster Tools.
The downside has been access to WordPress developers.  I've encountered a lot of WordPress coders who just don't get child themes or the Genesis framework.  They try to use old school WordPress coding that negates the cool functionality offered by Genesis.  Those programmers do not last with me and they are quickly replaced.  They simple "don't know what they don't know" and it hurts the clients and my firm.  But the good news is by forcing them to use Genesis, I can see where their core WordPress skills lack and I quickly know they do not fully grasp WordPress best practices.  It shows me who is a rock star and who is a wannabe rock star.  As a business owner, this knowledge is priceless.
Who Wins the WordPress Framework War?
I think that debate is still out for discussion.  I know I'm loyal to Genesis, but I'm sure there are plenty of other views that counter mine.  My loyalty to Genesis is matched by someone else's loyalty to Thesis or another framework.
Learn more about WordPress frameworks and options by visiting one of these three blog posts I found while researching the other framework options.
Whether you're a marketer or design firm, pick your framework wisely.  Take the time to explore the frameworks, their reviews, users, and support offering before diving in.  Do a little research to make sure your chosen path is a good one.