Over the last few months my friend Chris has been pushing me to create a WordPress theme that would support DIY author website design. I was a little hesitant about this idea because I already had other products I wanted to create in my head.
Chris knew it was a good idea and he knew this was a niche that was underserved by WordPress, so he continued to bring it up in conversation. After a while he created the base design for a template and sent it over to me.
I'll be the first to admit, his design was not only really good, it was perfect for creating an author website design that was both professional looking and budget friendly. His design was the origin of our new Fernando theme. Our graphic designer and I tweaked it, but the core design came from Chris, a speaker and author.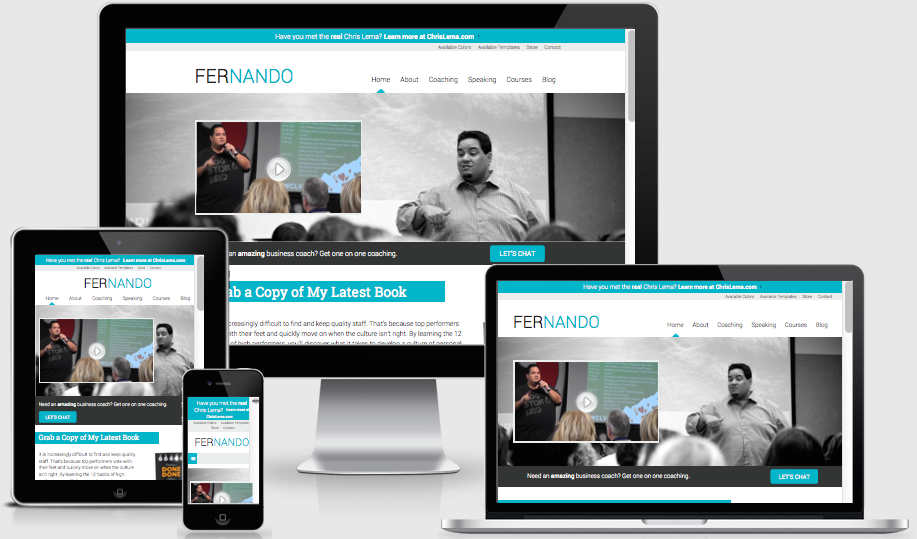 Fernando was developed specifically for authors and speakers. Since many authors are also speakers, we felt it was necessary to support both and make sure the design and plugins would help promote both written and spoken words. In creating Fernando, we tried to keep in mind the core functionality authors need while leaving enough flexibility that users can add or subtract features as needed.
I believe the best author website design will include the following items:
Professional logo
Clearly defined navigation
Killer hero image
Great bio page
Targeted call to actions
Videos
Podcasts
Photo galleries
Integrated blog
Shopping cart
Professional looking inquiry forms
Press page or media lists
Mailing list management
Social media integration
Testimonials and social proof
Events calendar or list
Analytics for tracking website activity
Mobile responsiveness
HTML5 coding
Schema support
Our Fernando theme supports all of those features. Our theme is pre-styled for using popular WordPress plugins like Soliloquy, Gravity Forms, LearnDash, FooGallery, TubePress, and iThemes Exchange. You can extend this even further by adding a podcast plugin like Blubrry or The Event Calendar for highlighting speaking engagements.
Who is the Real Fernando?
Fernando is named after the friend, Chris Lema, who I mentioned above. You'll see some of his eBooks, images, videos, and presentations in our Fernando demo. The real Chris blogs daily about WordPress over at ChrisLema.com. When I say daily, I mean almost every weekday, all year round.
The below picture was taken at PressNomics, which was the weekend I met Chris in person. We nerds refer to that as IRL or in real life. Let me just say I do not dress up. Not as a child and not as an adult. That being said, Chris has a gift for persuasion and Karim, Debbie, and I all knew we were not getting out of this picture. I am on the left and Chris is behind me. To the right is Karim, the CEO at Crowd Favorite and Debbie, a member of the Web Savvy team.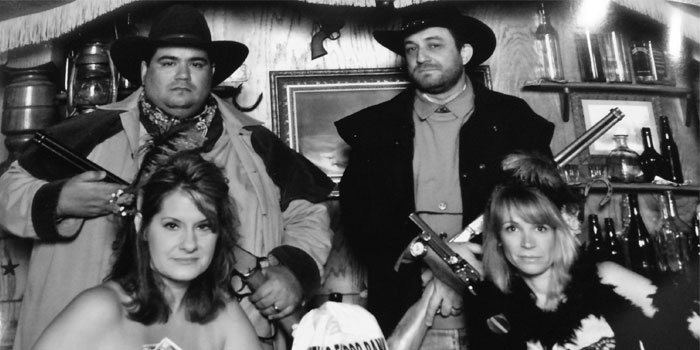 This next picture was taken at CaboPress this last spring. Chris arranged this event and it was a great mini-conference in Cabo San Lucas, Mexico. I'm on the far left and Chris is the guy wearing the hat in the middle of the group. I love WordPress events, but this was by far one of my favorites. It was filled with beauty, warmth, WordPress, and a number of people I like and respect.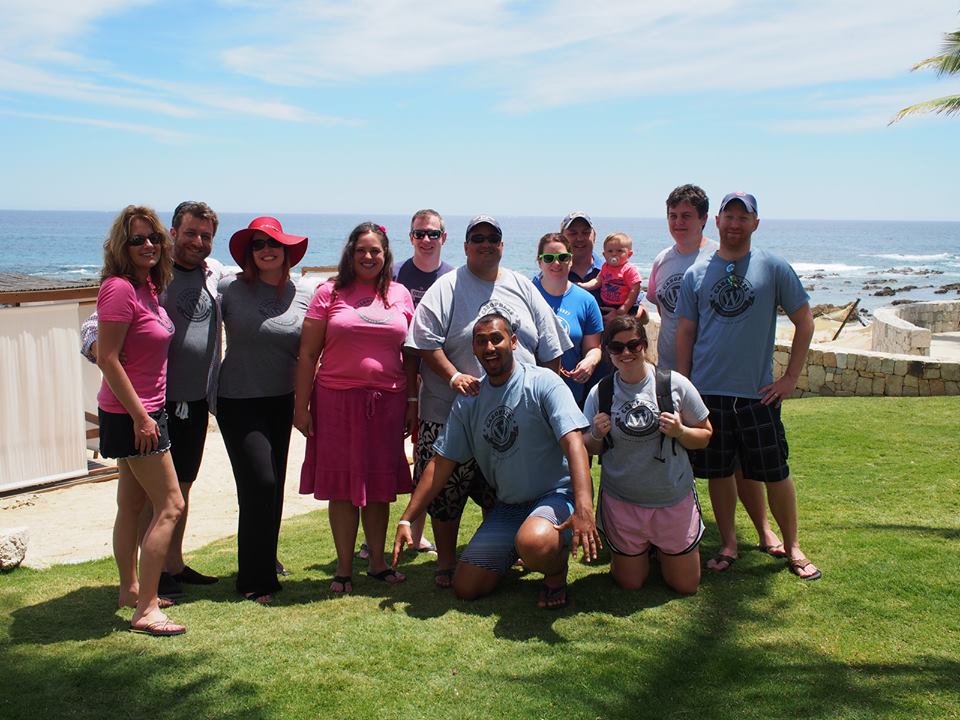 Chris Lema is one busy man. Besides being a husband and father, he is also all of the following:
While Chris has given me some awesome business advice, I consider him as my friend first and foremost. He has a very big heart and truly cares about the WordPress community at all levels.
After WordCamp Las Vegas, I wrote a blog post about the experience and talked about the people I spent time with while there. I started with Chris and this is what I wrote:
Knowing I was new to WordCamp Las Vegas, Chris took the time to personally introduce me to as many people as he could. Each time he started the introduction with "meet my friend" and each time he remembered to include some tidbit that illustrated why this person should want to know me. Throughout our industry Chris is known for his generosity, but this generosity goes much further than many realize. He frequently offers gifts of food, drink, introductions, business wisdom, or simply his time. And while all of those are wonderful gifts, his greatest offering is the genuine smile that comes to his face when he sees you approaching. That smile comes from his core and it is what drives his generosity. If I asked a room of people what Chris' superpower was, the group would most likely provide a mixed response of generosity and intelligence. While both are accurate, I believe the greater superpower is the purity within his core. I once overheard someone ask what was Chris' end game. If you knew him well you'd see that the end game is irrelevant. What is important is the genuine nature of his personality because that is who he is and his actions are based upon these core values. That is a true superpower.
If I tried to sum him up, I don't think I could do better than what I wrote almost a year ago. He is a great family man, business coach, and community leader all wrapped up into one.
Grab a Copy of the New Template for Author Website Design
If you're an author with a lackluster web presence, consider upgrading your digital profile with our new Fernando theme. It will give you a professional website, but at a fraction of the cost you'd pay for custom website design.
If you are considering Fernando to jump start your author website design, you can learn more about our theme by visiting the online demo or product page:
Visit the Fernando demo site ->
Purchase the Fernando theme ->
If you've purchased our Developer Pro Pack, Fernando is already waiting in your account and is ready for download.