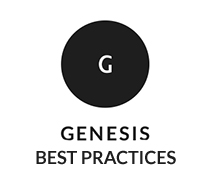 There are tons of tools that can help simplify the process of customizing WordPress themes. In fact, the tools are far better than they were just a few short years ago.
If you are kicking around the possibilities of starting to customize themes then this list I've put together will save you some headaches. Hopefully you will be able to avoid some of hassles that I went through over the years.
These days I work exclusively on Mac's. In fact, I made the decision when I got to the point where I was seriously considering leaving my previous career to do this work full-time (back in 2007) to buy an inexpensive Mac Mini.
Now I'm not trying to start a Mac/Windows debate here. All I know is the day my Mini first arrived my productivity shot up because I wasn't having to reboot multiple times a day like I was with my (admittedly aging) Windows XP machine.
I did ante up for a nicer display at the time. And I'm glad I did. When you're staring into a computer screen for 10+ hours a day (often heavy on the plus) it's worth making it easier on your eyes with a higher quality screen. Today I'm using that same original display as a second screen with my iMac.
Even though I don't think I'll ever consider switching back, I totally understand that folks chose Windows over Mac for a number of reasons. So I'll do my best to make sure I list some comparable Windows alternatives when the ones I use are Mac-only products.
I'll also list the prices when I can find them along with whether or not I have personal experience with each tool.
Let's dive in.
FTP Clients
One of the first things you're going to need if you do any kind of serious WordPress work is some way to get files back and forth to your (and your clients'!) web servers. That's the job of an FTP client. It's one of the most important tools in your tool belt.
Text Editors
Customizing WordPress themes involves lots of looking at php files and CSS stylesheets. A solid text editor can really make that so much better.
And please, for the love of everything cute and cuddly, never, ever, edit your code in Microsoft Word. Or any other word processor for that matter. But especially not Word. Word is notorious for adding code that you can't see to files. The code it adds chokes web servers and crashes websites of naive folks who try to use it to edit their themes.
Instead use a text editor that is designed for code. One advantage is that they colorize your code to make it both easier to read and easier to avoid mistakes. (I could tell you about the time early on I spent two days bashing my head against the screen working on a crashed website all because of a missing semi-colon.)
Notepad++ – Notepad++ seems to be the free text editor for Windows that I hear most about. It's pretty powerful for a free text editor. In fact, it's probably a bit more feature filled than the free text editor I use most for Mac…
TextWrangler – When I was looking for a free text editor for my Mac, TextWrangler seemed like a good choice. In fact I still use it most every day for little things. When I want to whip up a quick function to answer a support forum question I'll use TextWrangler because it is faster and easier for those small tasks than other apps I have.
Coda – These days I use Coda 2 for most of my coding work. It costs $99 (though at the moment they have it discounted to $75). That may seem like a lot for a text editor. But Coda is so much more than a text editor. For example it has an FTP client built in. So with a keystroke I can upload my edited file to the server without ever leaving the app. That's faster. And don't get me started about the live code hints. As you are typing, say in CSS or PHP, the software unobtrusively pops up hints that you can select with either the enter button or the down arrow and enter when there are multiple options. When you're in code all day long that feature alone saves thousands of keystrokes. Plus it does a whole lot more too.
Note Taking
Whether you are working with just a handful your own sites or you have a slew of client sites to keep track of you are going to need something to jot down notes and keep track of things.
TextEdit (Mac) / Notepad (Windows) – When I first started with my theme customization I just used the app that came with my computer's operating system to create .txt files with my notes. I had text files scattered all over my harddrive. But I could usually find things eventually. Assuming I was sitting at the right computer, that is. When I was going to a lot of face-to-face meetings early on invariably the info I wanted would be on my desktop instead of my laptop or vice-versa. Even today I use TextEdit quite a bit, mostly for transient things that I don't need to save beyond the day I'm working on them.
Evernote – Oh, what a blessed day that was back in August 2010 that I discovered Evernote for the first time. I have hundreds of notes all organized into notebooks for different areas of my life (keeps my client related stuff separate from my Bible study notes, which is a good thing). And everything instantly and automatically syncs between my desktop, laptop, iPad and iPhone. All the notes I need are now wherever I need them. I never even have to think about it. It just happens! Evernote is free, with paid upgrades. I never even come close to needing the extra capacity that upgrading provides. Free is good.
Image Manipulation
Project Management
As your theme customization business grows you are going to need some way to keep track of everything that is going on with each of your projects. This is especially true when you start collaborating with others. Project management software will help you keep everything straight with all your information in one place.
Pro tip: Freelancing is a great way to get started in this business. But the real power to generate wealth is in finding the part that you do best (and enjoy the most), focusing in on that piece of the puzzle while teaming up with others who excel at the things you aren't as strong in.
This pro tip applies to freelancers, but also regular people who purchase themes for their own use. For example, a lawyer may purchase a premium WordPress theme and spend two hours installing and configuring it. If he wants customizations done, he is far better off paying someone to do it, then wasting his valuable (billable) time searching for information on the internet to do the customizations himself. If he finds this process enjoyable, then power on and customize at will. Otherwise, he should do what can and let others (like our team) focus on the tough stuff.
Basecamp – Here at Web Savvy Marketing we live in Basecamp. There we list out tasks for each of our team members, track the time it takes to accomplish each task, upload files associated with projects, keep notes, keep a record of client communication, and much more. Basecamp is not cheap. But it's invaluable for keeping track of everything in one place. Price: varies from about $30 per month to $300+ per month.
ActiveCollab – A solid alternative to Basecamp is ActiveCollab. It is a very comparable software. In fact I personally like it better. Plus it is much lower priced than Basecamp. However, like WordPress ActiveCollab is something you have to download and install on your own server. That means you have to keep up with maintenance and updates. And if anything breaks with it, it's up to you to fix it. If, like me, you're good with that it's a great product. Price: $499 one time plus $199 per year for optional support and upgrades.
Misc
Whew! There's my list for you. What is the one tool you can't live without with your theme customization work?
---
This is the third in our series of articles on Best Practices for Genesis Theme Customization.