At the start of 2013 I set a goal of actually producing and sending a weekly newsletter. I had been collecting names for months via Constant Contact, but hadn't quite sent anything out. Call it procrastination or time constraints or just a complete distaste for newsletters. I think it was a combination of all three. If I had to pick between a dentist visit and a newsletter, I'd probably pick the dentist.
I suspected I was missing out on revenue due to my hatred for newsletters so in a New Years lapse of judgment I made this one of our company goals for the 2013 calendar year.
But finally I did it. In April I broke down and signed up for a MailChimp account. Then I actually started to use it. Shocking right?
Guess what happened? The results were great and I'm now kicking myself for putting it off for so long. I mean really kicking myself.
Three Tools For Effortless Newsletter Management
I've been working in Internet marketing for a decade. I dig SEO and I love web design. Unfortunately I would rather go see my dentist than create a newsletter. Yes I'm saying this again, because my utter distaste for newsletters is an important part of my story.
The sad part is that MailChimp, WordPress, and Gravity Forms made this process easy. Had I known this, I would have been sending out newsletters for long time.
I didn't have to do much to get things rolling along. I just needed to jump in and not look back. So that is what I did. I'm not a watch a video or read a tutorial kind of gal. I'm a jump into the software and figure it out girl. So I did.
My quick process was fairly painless:
I opened a free account on MailChimp.
I created a contact list on MailChimp.
I exported my existing my existing Constant Contact and Feedburner subscribers to Excel.
I imported these contacts into MailChimp.
I then added a plugin called Gravity Forms MailChimp Add-On and connected my existing Gravity Forms activity to my MailChimp account. When someone sends me a contact form request, they are now required to state if they'd like to subscribe to my newsletter.
I then added a plugin called WooCommerce MailChimp Subscribe to connect my existing WooCommerce theme store with MailChimp. I did the same thing here as I did in my contact form.
I then returned to MailChimp and set up an automated newsletter. Each time I create a new blog post, my RSS feed connects to MailChimp and the newsletter is sent for me. I've set this up to mail every Wednesday, but it could go at any interval.
The first newsletter didn't quite look like I wanted so I added another plugin called WP RSS Image. This used my posts' feature image and made the newsletter look much better.
Finally I used WordPress to blog and create fresh content. I was already doing this, just not as often as I would have liked. I now try and create one or two new blog posts per week.
The Results Speak for the Potion
I was very surprised by the results. I figured I would get a lot of unsubscribe requests and that my newsletter would go out and I would see no activity. Okay I was wrong – really wrong.
After just three months of effort, here is what I've noticed:
People actually subscribed to the newsletter. I had always had a sign up box in my website's sidebar, but no one really used it. Give people an option at checkout or when sending in a contact form and shazam it works. My contact list has doubled in size in just three months.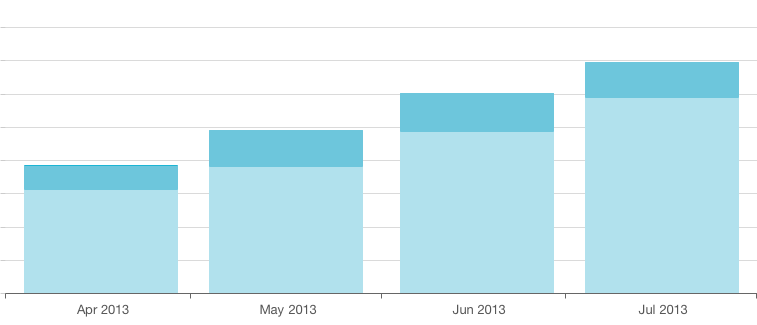 I have above average open and click through rates. Between 30-37% open the newsletter and 7-16% click through to my website.
Traffic on my website surges on Wednesdays. Yesterday, in particular, the newsletter accounted for about 10% of our traffic. Yesterday we had released three new themes, so it was a record day with tons of social media driven traffic. This means the newsletter did much better than expected or the percentages really even show.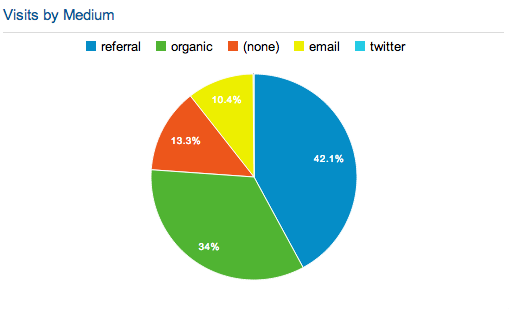 The newsletter lets me stay in touch with known prospects. I've noticed long-standing leads tend to convert to contracts shortly after newsletters are sent out. The newsletter is like a nice nagging tool to remind them they need a new website.
We sell more stock WordPress themes on Wednesday and Thursday. People receive the newsletter, visit the website, and buy themes.
I see people clicking through to the website (via Google Analytics) all through the week. Traffic isn't just isolated to the first few days after it is sent.
I blog more often because I'm forced into thinking about what is going to show up on the newsletter.
Don't Be a Sissy Like Me
This isn't as hard as you think. I was being a sissy by putting it off for so long and I'm highly annoyed with myself for not making this happen a year or three ago. I did everything on my own, without my graphic designer or coding team. MailChimp, Gravity Forms, and WordPress make it that easy.
My advice is to sign up, jump in and get blogging. You'll see results and you'll be loving the magic potion MailChimp, Gravity Forms, and WordPress collectively create.