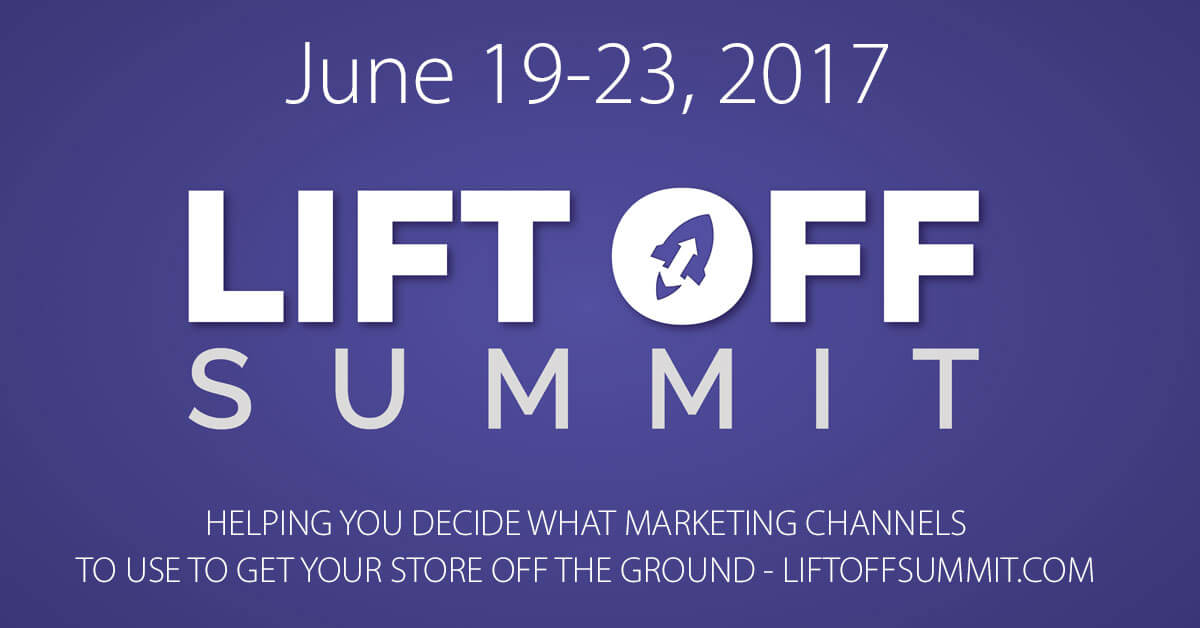 Lift Off Summit is the perfect education event for e-commerce store owners. This five day event will feature 21 speakers and cover topics ranging from SEO to affiliate management.
Why Should You Attend the Lift Off Summit?
Great Speakers – This online event has some of the best names in the e-commerce and marketing world. Many of them have online courses, write books, or perform their own multi-day workshops on their respective subject areas.
Free Admission – Watch 4-5 live interviews each day for free. You can watch them when they're first released or catch the replay later that week!
No Travel – This virtual summit is held entirely online. All of the presentations will be broadcast – that means you can watch this from your desk, or even better, from your couch.
June 19-23's Awesome Schedule
Monday – Content Strategy
Why You Need to Choose a Channel – Patrick Rauland
SEO – Rebecca Gill
Content Marketing – Nicole Kohler
Newsletter Marketing – Paul Jarvis
Video Marketing – Kyle Adams
Building Trust – Chris Lema
Tuesday – Social Media
Facebook – Megan Adams
Twitter – Maddy Osman
Pinterest – Dustin Stout
Instagram – Allie Barke
Wednesday – Unique Channels
Affiliate Marketing – Pippin Williamson
Kickstarter – Khiersten Ross
Retail – Jenn Epstein
PPC – Amber Turrill
Thursday – Marketplaces
Amazon – Kenn Kelly
Local Events – Jeremiah Prummer
Etsy – Jeff Daigle
Wholesale – Dave Bayless
Friday – Retaining Customers
Customer Retention – Nathan Barry
Google Analytics – Edward Upton
Conversion Rate Optimization – Talia Wolf
Postcard Marketing – Dustin Laverick
Two Ways to Attend
The online summit offers live, basic attendance for free. If you'd like recorded videos and/or advanced sessions, you can upgrade your experience by purchasing the All-Access Pass for $97.