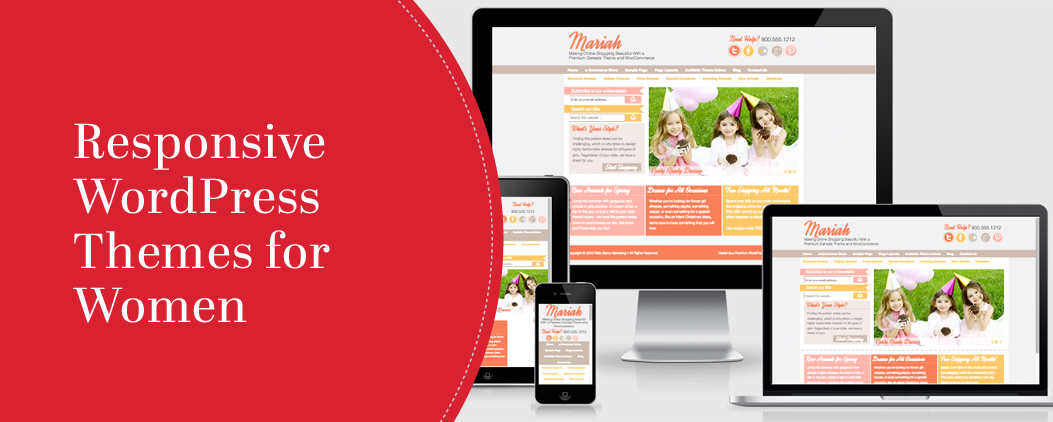 Up until last year, the WordPress community has been a fairly male dominated population.  Or at least, as a woman, that is my opinion. The growth of the mommy blogger has forced the community to begin viewing women and themes for women in a new light.  Theme developers are beginning to realize that female buyers want WordPress themes that were developed specifically for women and not just a pink color option thrown onto a masculine WordPress theme.  I think it is a natural progression, as mommy bloggers and our followers are a very powerful buying demographic.  The WordPress community, and particularly the theme designers, need to recognize that female WordPress users want to see more WordPress themes designed by women for women.
Our custom website designs have been a perfect fit for B2B websites, because of my comfort level with it.  With the launch of our premium theme store, I've had the pleasure of partially stepping away from our B2B clients and work on three WordPress themes for women.  Carla and Mariah, two of my female graphic artists, designed these premium themes for us to sell in the store.  While the "guys" coded the actual themes into WordPress, it was the women who crafted the look and feel.  In my opinion, you can really tell that two women designed these themes.
I won't deny it – I'm become slightly addicted to creating new designs for our theme store.  Instead of having a client dictate the direction of these themes, I get to spearhead the development and make them my own.  It's fun, enjoyable, and I get to create what I want and what I think the marketplace needs.  Being able to get my "girly" on, makes it even more fun.
Women Want More Than Masculine Themes With Lipstick
Do female designed WordPress themes look any different?  Yes I believe so.  Prior to launching themes in our store I spent a great deal of time searching for feminine WordPress themes.  What I found were masculine themes with lipstick.  Red, pink, and purple lipstick, but just a light overlay on what was primarily an average theme.  StudioPress and Allure Themes both have some solid themes designed by women for women.  My goal was to add a few more into the theme pool and in doing so, provide a few more options for the women of WordPress.  Since the first of the year we've launched three premium WordPress themes for women.  Each theme is responsive (100% mobile friendly) and has a look and feel that is geared towards the female website owner and/or website visitor.
Carla Anna and Elsa are blogging themes that can convert to CMS websites as needed.  Mariah was designed for WooCommerce so it has out of the box e-commerce functionality, although it too could be a stand-alone website or blog.  All of the themes are designed with feminine fonts and color schemes.
My sister Susanne, a WordPress user and fancy chicken farmer, was my sanity check and beta tester.  She is much more "girly" than I am, so I knew if I could make her happy, other women would be happy too.  Her Silkie chicken farm has been using the Carla Anna theme since we released it in beta.  Since then she has since added WooCommerce to it and is selling her high-end eggs and hens to buyers in and outside of South Carolina where she lives.  Who knew people would buy chicken eggs over the internet and drive hours to pick them up?  Well apparently she did and she just wanted a feminine theme to match her fluffy chickens.
As we created the original themes, I would call my big sister and ask her to look at designs and provide feedback since she is a good example of today's smart, tech savvy women.  I would repeatedly ask her if she would buy the themes and use them.  She'd always say YES! This made me happy and made me excited, because I thought we would have some solid products for our theme store and the WordPress community.
It doesn't matter if you're selling chickens, dresses, posting recipes, or just blogging for your own enjoyment – if you're a woman talking about female topics, you most likely want a feminine looking website.
What's Your Favorite WordPress Theme for Women?
I'm obviously partial to our website themes, although I do know more exist and I'm sure many more have popped up since my original research a few months ago.  What's your favorite WordPress theme and/or theme developer for women?  Leave a comment and let us know, because I would love to help support the WordPress community and the growing population of female WordPress users.