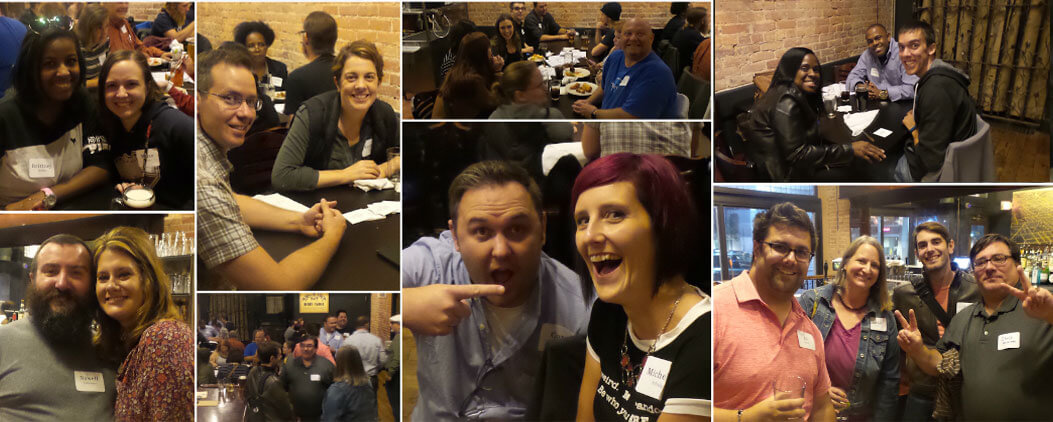 This last week I had the pleasure of attending WordCamp Ann Arbor and organizing the WordCamp WarmUp event. I spent Thursday through Sunday in Ann Arbor and the time flew by quicker then I thought was possible.
Thursday started with an airport run to pick up some iThemes folks then we were off to WordCamp WarmUp that evening. My Friday included two business panels and one SEO lunch. The speaker dinner was that evening, but I was a little too pooped to attend. Saturday continued with me presenting on WordPress SEO and then I held another SEO lunch for 25 people. Sunday rounded out WordCamp with a trip back to the airport to drop off some WordPress friends.
Did I mention it was a busy weekend?
A Bit About the WordCamp WarmUp Event
Our little WordCamp Ann Arbor event had grown from a small group to well over 300 attendees in just a few years. To say I'm proud of the organizing team would be an understatement. They not only scaled the event, they did so without road bumps or issues.
While my part was much smaller, I was able to organize and execute the WordCamp WarmUp event.
To recap, WordCamp WarmUp took place before the actual WordCamp started and it was designed to make introductions to new attendees or those who felt they were a bit introverted. We set registration at 50, but surpassed that amount and I had to close registration a few days before the event.
Not only did most WarmUp guests arrive right on time, we had a full room of WarmUp attendees and even had a few unexpected friends show up.
In preparation for the event I had prepared a list of interesting things about our WordCamp attendees. Some of them were just great.
Here is a sampling of some of my favorite things our WordCampers said about themselves:
I was an extra on Married With Children.
I wrote Bible study aid on the entire Bible.
I was an award-winning baby.
My tiny company was just included in the GHP Magazine 2016 International Life Sciences Awards and it's probably mainly due to my WordPress blog.
I coded an entire NES game (6502 ASM) in two weeks when I was in high school.
I'm a non-licensed lawyer managing a legal blog from home (often in my pajamas).
I once spent two months in almost-Siberia living on a food budget of $12/wk, and worked my way out by doing English-language voice recordings for a technology company who wanted to put their tutorial videos on YouTube.
I coach roller derby.
I have a milk cow.
I served in Vietnam.
My upcycling business saves everyday items from the trash and ultimately the landfill by recreating, reinventing, and repurposing these pieces into art and useful household items.
This above list demonstrates something I've long known – we have super cool people within the WordPress community.
Next I created a list of people with their talents and another list of people and their interests. This was to allow attends to self select people to talk to based on interest level and experience. I'm not sure how many people used my lists, but I will say most people took packets with them when they left hte event.
I also provided some conversation starters for WordCamp and I presented the WarmUp attendees with a challenge to meet 20 people over the course of the weekend. I greeted everyone who arrived, so that left them with just 19 more people to meet.
Attendee Feedback on WordCamp WarmUp
I sent out a quick poll yesterday and I received 15 responses. While it isn't everyone who attended, it does provide some good insight on what attendees thought of the event.
Here is the feedback (from the 15 people that replied to my poll) on their progress in meeting the Rebecca Challenge:
Met 20 or more people = 7
Met 10 or more people = 4
Met less than 10 people = 4
In actuality, I really don't care how many people an individual met. My goal was to get them to meet more then they would without WarmUp and to encourage them to get to know others if their personalities allowed. I have met dear friends from WordCamps and I wanted them to have the same opportunity.
Here are responses to specific questions asked within the poll:
Did the event meet your expectations?
60% Exceeded Expectations, 33.3% Met Expectations, 6.7% Failed to Meet Expectations
Would you recommend we schedule another WordCamp WarmUp next year?
100% Yes
Would you recommend other WordCamps hold similar events?
100% Yes
If we hosted a WordCamp WarmUp next year, would you want to attend?
93.3% Yes, 6.7% No
Here are some responses that were give for the question How did the event make your WordCamp experience more meaningful?:
Recognizing a few people made it easier to talk to people at the event for me and I found myself meeting just more and more people because of it. It did actually warm it up for me.
The challenge of meeting 20 new people and the sheet of information that was provided made the event fun! It was great to put a face to the internet personality and to meet so many new people.
I enjoyed being able to interact with the people I met over the weekend. Felt even more connected to the WP community.
It was nice to see familiar faces the next day. I could get a feel for what other types of people were attending and for what reasons. I also learned about some local meet-ups that happen.
It was nice to come on Friday and already recognize some people
I was able to connect with other WordCamp goers, which made the following days more exciting. It helped me orient myself mentally to think ahead about what I wanted to learn and what I wanted to get out of the event as a whole.
I met some people! So then there were familiar faces at the actual WordCamp.
As Rebecca knows, I'm fairly outgoing and with that, my goal was to meet new people at the event, thus allowing them to feel connected and see a friendly face at the WordCamp itself. I'd like to think that it worked.
The event was a great ice breaker to WordCamp.
It helped me get better acquainted with organizers and attendees of the event beforehand, and made me feel more connected throughout the weekend.
Having that head-start of making some new friends before the conference started made it easier the next day, I saw lots of familiar faces already.
While we didn't hear from everyone who attended, I'm very happy with the feedback we did receive. And it gave me a few lessons learned to take forward with us next year.
Some Final Thoughts
For those of you who came to WordCamp WarmUp, I appreciate your time and I hope you enjoyed the event. I would have liked to have spent more time getting to know you, but with 50 people present, it wasn't possible.
If you haven't yet attended a WordCamp, please consider it. They can be wonderful experiences for both building your knowledge base and for cultivating some great new relationships. You can visit WordCamp Central to find an event near you.
Here's a snap shot of our event. You'll see WordCamps and their associated events can be lots of fun.
I had planned on taking more pictures, but I stopped myself. People were engaged in conversation and I really didn't want to interrupt that flow of discussion.