Over the weekend, the Diamond Devils won the championship of 8U baseball. Yes I know this statement seems completely irrelevant to this blog and our standard topics. But it isn't.
You see, earlier this year I offered to have Web Savvy Marketing sponsor one of the 8U baseball teams in our local area. This is the league my son plays baseball on and it's the same league where we have spent weeks and week each year for the last four years.
I've always said community and giving back is important. I believe this and if some child approaches me to donate or sponsor their "something" I simply cannot say no. This time was different. I asked to sponsor. Every year at registration I simply state WSM can be a sponsor if needed. This year was the first time the league reached out and said a sponsor was needed. So we did. And fortunately, we were able to sponsor my son's team.
What I didn't expect was the level of pride and excitement this was going to bring to my eight year old. He was ecstatic. He made sure people knew mom was the sponsor and he made sure his new shoes and battling gloves were red, just like mom's company logo.
My small gesture of sponsorship has taught my children valuable life lessons. While I can say it's important to give and be part of your community, showing my children it in practice is invaluable:
My children have learned you can do anything you set your mind to, even if it is launching a start up in the heart of the recession in a state that is extremely economically depressed.
My children have learned it's okay to take chances.
My children have learned that hard work doesn't just offer a paycheck; it provides an opportunity to do good.
My children have learned about the importance of community.
My children have learned success isn't just about how profitable you are at the end of the year, it's about how you spend those profits.
When my CPA sees our sponsorship expense, he will see it marked as advertising. The reality is, we won't see one new customer from this expenditure. The baseball field is not where our customers reside. But that's okay. I didn't sponsor to find new business. I did it, because it was the right thing to do and because we could.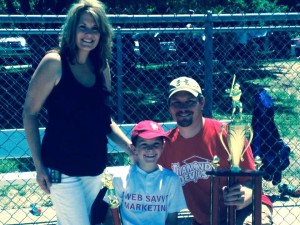 I'm not an athletic person and I don't even understand most the rules of the game. I've been clueless for four years of baseball, but I've sat and cheered the team on at every game. My cluelessness has brought on plenty of laughter to those around me.
When the head of the league called me up at the end of the championship game I looked at him with horror. I had no idea what was going on. Then he pushed a huge trophy in my face and I stepped back, again in horror and with a whole lot of confusion. As the sponsor, I was taking home a trophy. It was a huge trophy that stands three feet tall. It's so big I'm not even sure what to do with it.
I can tell you, I'll save this trophy and store it away. Because one day, my son will be an adult and he will question a decision, taking a chance, or following his heart. I will bring out this trophy and remind him, that some chances are worth taking and that you can do anything you want to if you work hard.
Image Note: If you look at the team picture, you'll see in the middle there is a little boy with his leg wrapped up. That little boy broke his leg the day before playoffs. Still in pain, he asked to come to the game because he wanted to support his team. His parents carried him in and propped him up, so he could sit beside the dug out and watch his friends and teammates. That is perseverance and the true definition of winning.