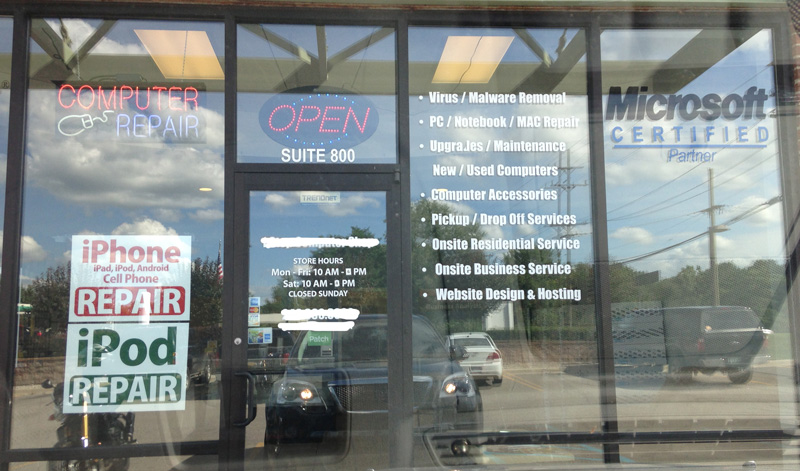 This afternoon I thought I would duck out of work and take my son for "bessert". Bessert is dessert before dinner and it must be done in late afternoon. As we exited the Dairy Queen I looked up to see a storefront window for a computer repair shop. The long list of services with website design and hosting at the bottom struck my interest. Enough so, that I had to snap a shot of it for further investigation.
When we finished our ice cream and errands I returned home to look up the website URL that was listed on the store's door. Oh my heavens! Buyer beware doesn't even begin to cover it.
A quick review of their website shows a number of red flags.  Beyond the promise of the website owner being able to "handle all your needs", I have to seriously question the ability to provide web design or reliable hosting.
A jack of all trades may be fine in some cases, but in internet marketing it is not.
Some Easy to Spot Red Flags
Header slogan is "Why trust a geek when you can hire a professional?!!!!" That statement speaks on it's own.
When I forget to add the www to their website address I received "The page cannot be displayed." Remember in the bullet above they are professionals and not geeks. I think they need to hire a few geeks.
When I do reach the home page I'm greeted by a very fuzzy image of a laptop with a disk drive.  The fuzzy image is bad enough, but the image screams 1995. I swear I used a similar image on my very first website over a decade ago. My Macbook Pro doesn't even have a have a disk drive since Apple pushes all software through downloads.
The copyright in the footer is dated 2010. Yes folks, that is three years ago.
The website consists of less than ten pages.
The support page has a lovely under construction warning (I mean a big yellow warning image) on it.
None of the pages have a meta description or really any SEO for that matter.
There is not one keyword focused page on the entire website.
There are no alt attributes for the images.
The header's logo does not link back to the home page.
The website is using depreciated HTML elements.
There is no conversion form.
There is no favicon.
There is no mention of social media or a blog anywhere.
I could go on, but I'll stop because I think you get the point.  I could have stopped at the slogan, but I thought the rest was entertaining.
The Point of My Dairy Queen Story
In life you get what you pay for and website design is no different from anything else. Sure this company will probably sell you a website for $250, but you're going to get a website worth $150.
Not everyone is capable of delivering quality web design or even basic code. You need to do your research before hiring a web design firm. And, please oh please,  do some of this research online. Don't let your cousin Joe refer you to a web developer he knows unless Joe's developer can provide a decent design portfolio and some happy clients. And of course, a descent website of his own.
Bessert may be good, but buying a website while eating an ice cream cone is not.
If you're interested in learning more about bessert or our web design services, contact us and we'll talk. But remember, it will be over Skype and not an ice cream cone.