Natural SEO represents the planted seed that brings long-term growth and produces endless amounts of nutrients. PPC is the ripened banana you purchase to obtain a quick potassium fix.
I have long believed in the power of natural SEO. I've been preaching it for about a decade and I've been screaming it from the rooftop for over five years.
This isn't just an idea or thought, it is a strong conviction that is rooted in the core of who I am and it is central to what I believe.
This weekend I was asked about PPC (pay per click) and my mind immediately jumped to an overripe banana. No I've not entirely lost my mind, there is a valid path that my creative head took to venture there, so bare with me a minute and I'll explain.
SEO Offers Sustainable Growth and Long-Term Results
When you architect a website and you place SEO at the forefront of a web project, you're doing two things simultaneously. You're making sure your website will be usable by both the search engines and your users. And when I say usable, I mean that real people will search for content, find your website, and learn from it. They will do this because the search engines clearly understand your content, how it is laid out, and they will know what terms would be the best match for a given page or post.
When you incorporate true natural SEO into your website build (or redesign for that matter), you've made a conscious decision to plant a seed, nurture that seed, and help it grow overtime. You've taken the time to lay out the pasture, you've planted seeds, and you've continued to nurture this through ongoing content updates and social media.
You've decided to use a customer-centric method of marketing and in doing so you've written content that is for your users and their specific needs and wants. You've positioned yourself as a trusted business advisor who is reaching out and educating early in the sales or selection process and not at the end where price or timing is the only factor in a decision.
This long-term strategy and effort produces high quality results that come year and year. Natural SEO is a long process of planting, nurturing, harvesting, and the occasional weeding.
PPC is a Quick Fix
PPC, on the other hand, is a quick fix. Instead of making sure you have long-term sustainability, you take your marketing dollars and you spend them on one-time clicks. You could be paying $2 per click or $25 per click depending on your industry and focused keyword phrases.
There is a problem with this approach because pay per click advertising is short-term in nature and it is not sustainable.
Money is spent rapidly and you're reaching potential buyers at the end of their buying process and not at the beginning. You're grabbing for that ripened banana and you have a very short period of time when you can capture it's goodness.
Many PPC consultants will argue with me on this point, but I know it is true. I've talk to many people who claim to have spent thousands in pay per click campaigns and have nothing to show for it. They've pick random words with little focus and the result is few conversions and zero return on investment.
Can SEO Be Quick?
No. For natural SEO to truly work and be sustainable, it needs to include a process of build up. Any SEO consultant who says otherwise is fooling you.
You have to start by planting your seeds in strong product or service pages (I call these anchor pages) that have clearly defined focus keywords or phrases. Then you have to nurture those pages with ongoing blog posts that utilize long-tail keyword phrases. You continue with this while also watering your growing plants with social media activity.
Strong SEO takes planning, time, and effort. It takes an organizational effort that isn't dumped on the marketing department.
Reaching your buyer at the early stages of their selection process, means building your credibility with them when they are beginning to identify pain points that are related to your product or service offering.
You want to get in front of them early on so that they see you as a source of information and they know you will help educate them and provide insight while they continue to identify their needs and articulate their wants.
You want to nurture your prospective customer just as much as you want to nurture your website.
Put Down the Banana
Before you pick up another ripe banana and waste another thousand dollars on pay per click advertising, take a step back and pause for just a minute. Look at your website, map our your keywords, and decide if those keywords truly represent your buyer's needs and wants. Next look at your content and read it.
Does your website and content provide credibility and do they help educate your potential customer?
In most cases, the answer is no. This means you need to make a plan to plant some SEO seeds, water the seedlings, and harvest your fruit.
After ten years of planting and harvesting with organic SEO I can tell you the growth opportunity is there and fruit will come with time, patience, and work.
A Real Life Case of SEO Planting and Harvesting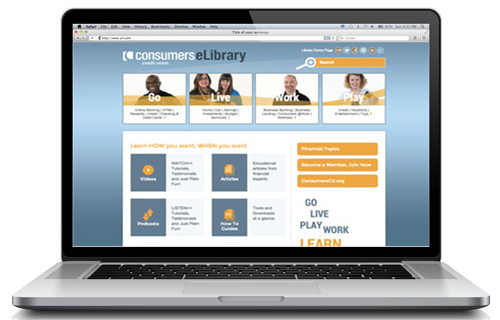 This summer we designed a blog for a credit union in Western Michigan. What I loved about this project was the client's strong desire to educate, help, and support their members.
The marketing team wasn't just concerned about obtaining new credit union members. They were concerned about proving solid information via blog posts. They wanted to educate their current and future members on things that mattered to them.
These "things" included topics like home mortgages, vacation planning, retirement, and planning for college. I care about all of these things and I know their visitors will too.
Our customer took this a step further and they made sure that their content was presented in various methods so it would relate to all types of website visitors. They wrote blog posts, produced videos, recorded podcasts, and they generated downloadable how-to guides. They did all of this with a focus on helping their blog visitors.
I know their new blog will be a huge success because it was built around the end user, their needs, and their wants. This is what drives long-term success through natural SEO.
Sustainable Farm or Fruit Flies?
In the end, what more do you want than being able to serve your users today, tomorrow, and in the future?
High quality content, written with SEO in mind, will let you do that. PPC, and the ripened banana, leaves you holding a brown banana peel and waiting for fruit flies.
If you'd like help setting up your farm, planting your seeds, and watering your plants just let us know. We can assist through all aspects of blog or website design, SEO consulting, and execution.
Contact us today and let us know how we can help build your natural SEO.