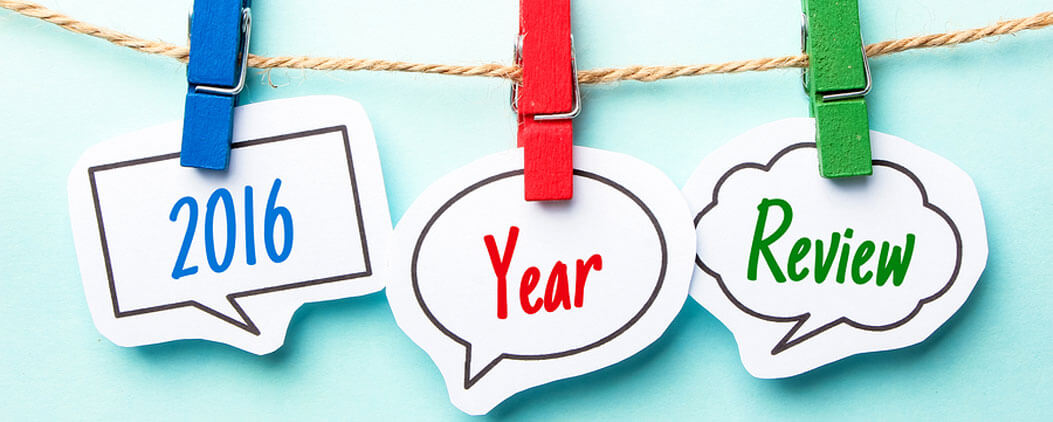 As I sit down to write this year end wrap up, I initially think that we've had a limited year. But as I reflect on activity, I realize that initial impression is my imposter syndrome talking and in actuality we've had a really active and good year at Web Savvy Marketing.
I am our hardest critic and my realization is just another reminder of this fact. The 2016 CY has been very good and I need to celebrate our accomplishments and put my imposter syndrome back where it belongs.
I'm always proud of our team, what we accomplish, and most importantly who we are able to help. This was no different in 2016.
Our Losses in 2016
We really only had two true losses for 2016 and I'll start there, because for me, they were profound. The year 2016 meant the loss of Debbie Saro and Chris Cree. Both were longtime team members and I cared for them deeply.
Debbie took a full-time marketing roll with a local automotive dealer and by the looks of her online postings, she could not be happier. I've watched her from afar and have been very pleased to see her spread her wings with such grace.
Chris and his wife Lisa headed off to Europe to open up a bible school. This has been his longterm goal and while I know it was his destiny, the loss of a valued friend still hurts. Chris is now settling in to his new home and adjusting to his new surroundings. I am eagerly looking forward to watching he and Lisa start up their school and fulfill their calling.
Our Gains in 2016
As I sit and think through our 2016 activity I realize that it was just plain crazy busy. Mary Hanson, our project manager, reminded me of this today. She said our project management software is filled with clients and projects and when she looks back she knows we've done good work. Well said Mary.
Mary is right. It was a busy year and I am surprised at how much our company has accomplished in a little over eleven months.
Our company highlights:
Launched a number of custom websites for mid-market companies across a variety of industries. Each website seemed to grow significantly larger and more complex as the year progressed. It has been fun to see custom post types and templates morph from client concept into PSD and then into live website pages.
Launched diySEOcourses.com and two very successful SEO courses.
Launched SEObootcamp.com and sold a great number of tickets to our upcoming SEO workshop this January.
Created and launched four new Genesis child themes (aka off-the-shelf website templates for sale).
Grew our monthly support and maintenance revenue by over 50%.
Grew our SEO revenue by over 400%.
My personal highlights:
Bought rebeccagill.com and used our Fernando theme the launch a website for my personal brand.
Wrote and published nine+ hours of SEO course content.
Recorded six webinars for our friends over at iThemes.
Recorded five webinars for our friends over at Liquid Web.
Recorded ten guest appearances on industry podcasts.
Spoke at four industry conferences.
Organized and sponsored the first WordCamp WarmUp event at WordCamp Ann Arbor.
I think my greatest achievement was falling back in love with SEO consulting and education. The SEO market significantly shifted in 2016 and I used this to educate as many people as I could on what really matters in today's SEO. I've been training for decades, but this year was the first year since launching Web Savvy Marketing that I was able to dive back in and immerse myself in it. This has been a true blessing for me.
Coming Up in 2017
We're starting the 2017 year strong with our SEO Bootcamp in January. As soon as that is done I plan on launching more SEO courses and producing more educational articles for our readers.
I already have twelve months of SEO webinars scheduled with the folks over at iThemes and these will continue throughout the entire year of 2017.
After speaking with Andrea Middleton this month, I also have a personal goal of getting more involved with the WordPress foundation and helping produce documentation for the WordPress community. I pledged my support to Andrea and I fully intend to dive into this as soon as I wrap up SEO Bootcamp.
At WordCamp Ann Arbor I was approached by a number of local folks asking for a Detroit based SEO Bootcamp. I also had an industry friend suggest a more specialized one day SEO Bootcamp specifically for WordPress developers. I'm open to both, although I'm not able to commit to anything until after we close out the year and I make my way through Christmas and the holidays.
Thank You For a Great Year!
Regardless of 2017's roadmap, I know 2016 has served us well and I do hope we have served our customers just as well.
Thank you for being part of my 2016 and for making it a wonderful year both professionally and personally.