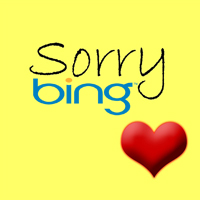 Bing I owe you an apology. As of this weekend, I've realized I owe you one big fat public apology. For years I've dismissed Microsoft and I was a loyal fan of Google. This weekend you made me see a new you. A new, improved and pretty cool Bing.
On Saturday morning I was drinking my coffee, surfing the web, and reading blog posts. Yes I am an SEO (aka nerd) and this is what we do on a Saturday morning. As I explored the web I happen to run across a blog post on Bing's Webmaster Center blog. I'll be honest, I don't even know how I got there but I did and I was happy I did. I started reading a blog post from Duane Forrester. Then I found another and another and I was impressed. I was impressed with Duane and with Bing. It was good content, transparent, and written in a way the average person could digest. All things I love and appreciate.
I've been blogging for a very long time. I like blogs and I recognize good blogs when I see them. Google's blog posts are one of the reasons why I've been such a Google fan. I like to know the rules and what is expected of me as an SEO consultant.
Duane's posts are good and while they are not currently receiving the retweets and likes they should, if he keeps blogging at Webmaster Center, they will in due time.
Recent Bing Webmaster Center blog posts I found of interest were:
All four are things I blog about and care about. I try to get others to read and care about them too. They are elements of good white hat SEO and the big part of what makes the internet awesome.
But why have the SEOs and internet marketers not been tweeting, liking, and sharing this content? I think they are like me and we've kind of gotten lazy. We're getting much to reliant on Google, Danny Sullivan, and Matt McGee. All sources I love, but we need to broaden our horizons a little more and our horizons need to include a little more Bing.
While I am publically apologizing to Bing, I do think Bing still has a huge uphill battle. Bing is still recovering from the MSN flop and still trying to position itself as a true competitor to Google. But it can and I think it will. Competition is good and I welcome it.
Now I just need to get my fellow SEO consultants to pay a little more attention to the underdog.  Goliath (I mean Google), as much as I love it, needs the competition.  In the end, that competition will be good for SEOs, search quality, and the ultimate users.