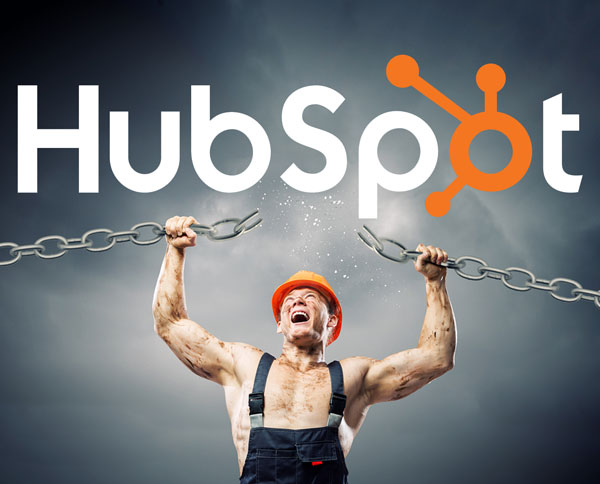 Are you an existing HubSpot customer? Are you thinking about canceling the service? Are you afraid to liberate yourself because you're not exactly sure what HubSpot alternatives are available?
Or maybe you're considering signing up for HubSpot and you're weighing the software's cost versus benefits. Are you concerned that you don't really know what you're getting yourself it and there may be some downside you've not yet considered?
In either scenario, you're not alone. I've talked to a lot of companies in both situations. HubSpot sounds great but a lot of folks are just not sure if it is the right solution for them.
I Like HubSpot But It Isn't For Everyone
HubSpot spends a lot of time producing some awesome marketing content to educate prospective customers about inbound marketing tactics like blogging, SEO, and social media. I've even downloaded their content and shared it on social media, because its just really good stuff.
And I believe that HubSpot is a good service for the right person. It is similar to the New Rainmaker Platform in that it is a perfect solution for the right target market.
Make no mistake in the fact that I think the service does offer a valuable offering for a certain segment of internet users. The problem isn't with the service so much, but with the fact that it isn't a good fit for a large number of organizations, marketers, and bloggers.
People fall into the trap of thinking it will the answer to all of their marketing problems, not realizing it is a huge commitment in both their time and money.
HubSpot is a good solution if:
You are completely new to internet marketing and you need someone to hold your hand through the entire process
You want an all in one solution that has everything you need in one single sign on
You don't care who controls your website or blog
Custom design isn't really that important
You have lots of time to dedicate to writing content
You have a large marketing budget and annual costs are not of concern
HubSpot is a bad solution if:
You don't want to pay a hefty subscription fee year and year
You want to have ultimate control over your own website, data, and contacts
You expect to see growth within your website and you don't want constraints
You want to add advanced functionality like an online store, forum, membership site, etc.
You don't want mandatory training that costs anywhere from $500-$2,000
You have limited time for creating new content and blogging
You're an experienced marketer or have a solid basis in inbound marketing and you don't need the handholding
If you are an existing user and you're considering a HubSpot to WordPress migration, keep reading. You'll be glad you did when you see the annual savings.
Here's Why HubSpot Worries Me
I'm a very independent person. I don't like to be told to do anything. I like to create and invent and discover.
I'm self-taught in marketing, SEO, and social media. I like to investigate, read, and digest. Then I like to jump in and learn by trial and error. I learn best that way.
I fell in love with WordPress because it offered a world that allowed for exploration. I could download, try, play, and research to my heart's content. I started my WordPress journey over six years ago and I still learn something new each day. In today's WordPress community there are videos, written tutorials, and paid courses you can take to further your WordPress education. And all are available to use at your own pace and they allow you to focus on what is important to your blog or business.
With HubSpot you're forced into a predetermined process with specific tools and with a focus that is defined by HubSpot. It's limited to what the company feels is important and it is limited in the functionality offered because it is designed for only a certain segment of the market.
A Review of HubSpot Pricing and Functionality
When I talk to people about HubSpot, they are typically searching for a way to leave the service. They signed up and learned the basics, but they are now ready to move on and they're seeking an alternative. They want to know if a HubSpot to WordPress migration is possible.
If you are one of those people, I'll tell you that WordPress is an excellent alternative! Migrating is much easier than you think and you won't lose functionality along the way. Just the opposite. A HubSpot to WordPress migration gains functionality and a whole lot of it.
Let's start with a review of the cost structure. The below table shows first year costs of HubSpot versus WordPress. This example shows the investment for HubSpot Professional, which is their mid-range plan and it compares it to a WordPress website that uses MailChimp and is hosted under WP Engine 's Professional plan. This example would pertain to small to mid-market businesses.
Comparison of Annual Costs for HubSpot and WordPress

HubSpot
Professional
WordPress +
Gravity Forms, MailChimp,
& WP Engine Professional
Core Software
$9,600
Free
Website Hosting
Included in Above
$1,188
Content Management System
$2,400
Free
Advanced Form Management
Included in Above
$99
5,000 Email Subscribers
$2,400
$600
Dedicated IP Address
$6,000
$60
Mandatory Training (required 1st year only)
$2,000
Not Required
Total
$20,200
$1,947
First year savings is over $18,000! Don't forget that HubSpot is an annual fee, so the savings go on year after year.
The next chart illustrates some of the top features of HubSpot and corresponding features available in the WordPress, MailChimp, WP Engine combination.
You'll see that they are comparable and that WordPress can go head to head with HubSpot functionality. If you ask me, WordPress wins by a landslide.
Hubspot and WordPress Functional Comparison

HubSpot
Professional
WordPress +
Gravity Forms, MailChimp,
& WP Engine Professional
Mobile Responsive
✓
✓
SEO Friendly Architechure
✓
✓
In Content Keyword Suggestions
✓
✓
On-Page SEO Scoring
✓
✓
Social Media Sharing
✓
✓
Call to Actions
✓
✓
Landing Pages
✓
✓
Form Management
✓
✓
A/B Testing
✓
✓
List Building
✓
✓
Email Nurturing
✓
✓
Lead Push to Salesforce
✓
✓
Website Analytics
✓
✓
Conversion and Goal Tracking
✓
✓
Website Staging for Development
✓
✓
Daily Backups
✓
✓
Firewall Protection
✓
Malware Scanning
✓
✓
CDN
✓
✓
SSL
Surcharge
✓
Managed Upgrades
✓
✓
Available Functional Extensions
Unknown
Over 33,000
Note: Some WordPress functionality does include the use of free plugins.
Now here is the important part. Look at the extensions available and notice there is a lack of extensions for HubSpot, but that WordPress offers over 33,000 addition plugins that you can add to expand your website's functionality. And this 33,000 number only represents free plugins. There are far more when you consider the premium plugins that come at a purchase price.
HubSpot to WordPress Migration is Easier Than You Think
Guess what? A HubSpot to WordPress migration is much easier than your think.
There are ways to export content and contacts from HubSpot's COS software.  If you're on their older platform, you can use the RSS feed to import posts into WordPress. And in cases, we can create nifty 301 redirects to preserve your SEO in the process.
Companies like ours will help with the migration and we'll also create a beautiful, custom website design that is centered on your target marketing, planned call to actions, and the pursuit of increasing visitor conversions. We'll also worry about SEO and help get you set up at a rock solid hosting company like WP Engine.
You worry about content creation and saving money. We'll worry about the path to liberation.
When you're ready to leave HubSpot, know that we've got your back and we're hear to help.