Our WordPress web design just got a whole lot better. We're expanding our website design offering to include premium WordPress themes based on the Genesis Framework.
Didn't we always offer Genesis child themes? We sure did, but our websites were only designed for specific clients and their unique requirements. We're still married to StudioPress and we still do a lot of custom Genesis theme design, but we're expanding who can take advantage of our Genesis child themes.
Building a custom Genesis theme for established companies or a big ten university rocks, but we want to do more and we want to help more WordPress users. By offering off-the-shelf WordPress themes, we can spread our Genesis goodness even farther.
Four Premium WordPress Themes Ready for Websites and Blogs
The store is launching with four premium WordPress themes, although I will admit that we already have many more in the works. The initial store themes include two business themes called Rasmus and Soren and two blog themes called Carla Anna and Elsa. While all four themes could easily be used for websites and blogs, they were designed with different purposes in mind.
Two themes are designed for those business users who want to take advantage of WordPress's CMS capabilities and two themes were designed for the mommy bloggers we all know and love. My background is primarily business websites, so creating two really girly blog themes was a lot of fun.
Our premium WordPress themes include different color options, multiple sidebars, widgetized home pages, flexible image rotators, call to action boxes, Feedburner integration, and author boxes for single or multiple bloggers. Because we've designed the WordPress templates for Genesis, they are also designed to utilize Genesis' built in functionality such as multiple page payouts, columns, featured images, latest tweets, user profiles, eNews and updates, and featured pages.
Why the Funny Theme Names?
All of our themes are named after my Danish ancestral roots. My grandparents in Northern Michigan raised me as a child. My beloved grandmother and grandfather were both full Danes and the small town I lived in had a host of Danish relatives and friends. As a small child my grandmother would walk me through the cemetery and tell me wonderful stories of the people buried within. While that may seem strange to many, she did it with love and I remember it fondly. She taught me to be proud of who I was, my roots and the rural town of Grayling where we lived.
My grandfather immigrated to the United States at the age of five. Our Carla Anna theme is named after his mother, my great grandmother. The rest of the theme names are pulled from my family tree. I can certainly thank Ancestry.com and a few kind helpers for providing me the means of tracing my family back seven generations and giving us a slew of very cool names to use for the themes.
I'm passionate about WordPress and the design work we do, so picking theme names close to my heart seemed fitting.
With Growth Comes Growing Pains
So far our designer and coders have not killed me. For this I am thankful. I am particular about our themes and I want them to be perfect. Trying to be perfect delayed our launch some, but in the end it is worth it. And while I know our themes are far from 100% perfect, I also know our team is proud of our initial theme offering.
One of our beta theme users stated "I have to say that so far, it's the easiest theme I've ever worked with. Your instructions are so clear. Your support forum makes it all worthwhile!" That all sounds great and I was thrilled with the feedback, but I know with growth comes growing pains.
We pledge do deliver beautiful and featured rich themes, but we know, even the best can stumble. We believe in adhering to WordPress best practices and coding inline with the Genesis Framework. Something will come up we did not anticipate and not every forum answer is going to be perfect. But we'll learn and mature, just as our designs have matured over the last year.
Welcome, Come In and Browse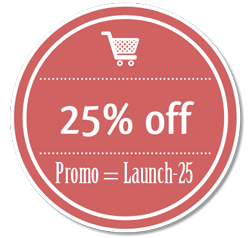 I welcome you to browse the premium WordPress themes, demo a theme, make a purchase, or leave us feedback. If you do fall in love with one of our themes, please use our launch promo code so you can acquire one of the premium themes at 25% off the regular purchase price.
My sincere thanks to all those who helped design, code, test, and build our themes and store. I am grateful to Carla (yes another Carla), Chris, Paul, Larrie, Bejan, Ben, and Todd.  I am also very thankful to the StudioPress team for creating such an amazing framework for us to use.
Our store launch exemplifies everything good in the WordPress community.  WordPress is about collaboration and loving what you do.