We're happy to announce the release of Joshua, the newest blogging template added to our Genesis theme store. This Genesis child theme was designed for bloggers who want to use images to help tell their story. We've set the Joshua theme demo up as a travel blog, but in reality it could be used for any type of blog that places an emphasis on images.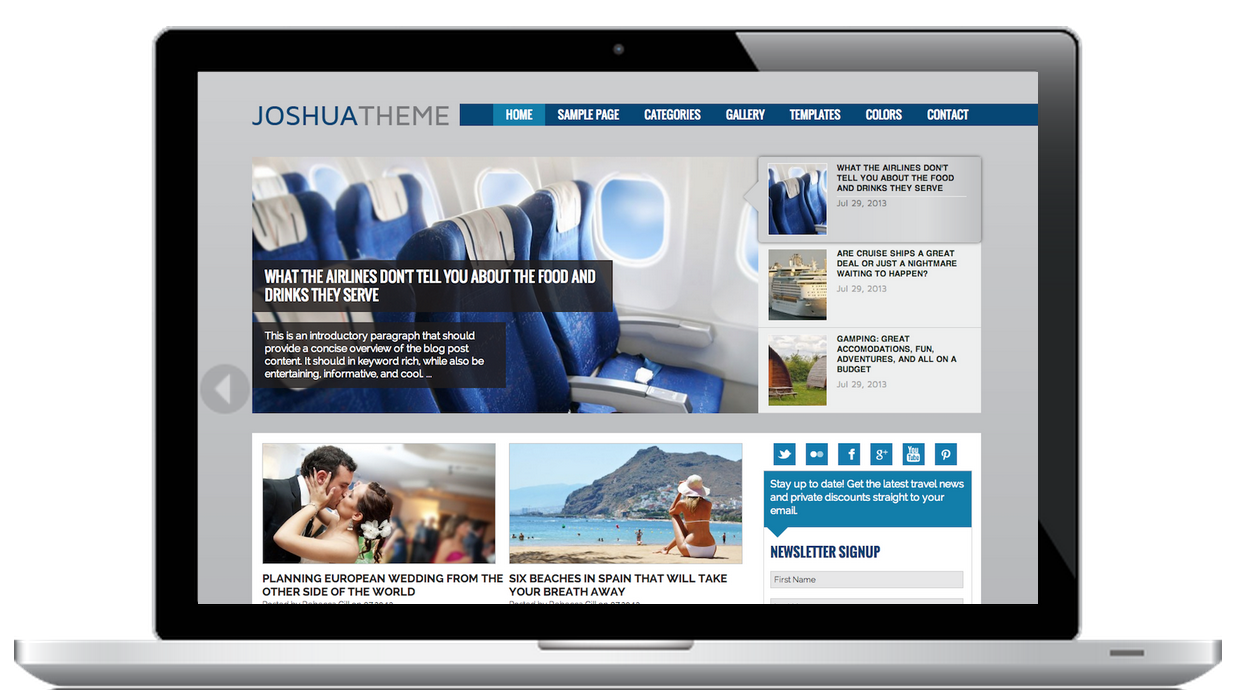 The home page rotator and inner page headers are designed to keep the visitors' eye focus on the images. Similar to our Lisa Marie theme, this blogging theme is designed to draw you in and capture your attention via imagery.
A Stylish Rotator With Options
Joshua is our first theme that lets you pick an image rotator. We've styled our beloved Soliloquy as a slider and included this license in the theme purchase. We've also styled an alternate rotator called Pointelle Slider. This is a premium plugin that goes really nicely with blog type content, as it automatically grabs your latest posts and rotates them at the top of the home page. We were not able to include the Pointelle Slider in our theme purchase, so buyers who wish to use this slider will need to purchase a license from the developer for $9.
Flexible Home Page Content
We've configured the home page content area to use the Genesis – Featured Posts widget. While we are only using one category and widget in the demo's home page, buyers have the option of using multiple Genesis – Featured Posts widgets and giving each content section a text header.
Ad Placement
In the Joshua demo we've placed one 300×250 ad unit in the sidebar. This is just a placeholder to remind buyers of advertisement options. The sidebar is widget based, so additional ad units could be used if desired.
Who's the Real Joshua?
As with our other themes, the name Joshua has a personal reference. Joshua is one of my little cousins. When I say little, I mean younger. Joshua is currently in his thirties and soon to be married. The Joshua in my heart is the little five-year boy who used to sing songs to me, beg for Mountain Dew, and the little munchkin who spent many summer days with me at my grandmother's cottage.
Want to See More of this Genesis Blog Theme?
Then head on over and take Joshua for a spin. If you like it as much as we do, the theme is available for purchase in our theme store.
If you've purchased our developer license, Joshua is already waiting in your account and is ready for download.