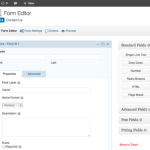 Happy Friday and happy 2014! We're looking forward to another exciting year in the land of internet marketing. With all the changes that occurred last year, 2014 looks like it will be an adventure.
This week was a busy news week. Product updates were released for Genesis and Gravity Forms, while a new WordPress app framework called AppPresser arrived. On the search side of things, Google shakes up the blogger community by wiping away many of those pretty author images in search and Yahoo struggles a Malware snafu. Oh what a fun world we live in.
Web Design and WordPress
Internet Marketing, SEO and Social Media
Upcoming WordPress Events
WordCamp Phoenix – January 17-19
WordCamp Paris – January 17-18
WordCamp Norway – January 25-26
WordCamp Baroda – January 25-26
WordCamp Prague – February 22
WordCamp St. Louis – March 1
WordCamp Lancaster – March 1
WordCamp Dayton – March 7-8
WordCamp Atlanta – March 14-15
WordCamp Charleston – May 17
As always, this is not an exhaustive list. If you know of any posts related to web design, WordPress or SEO then by all means do share! Post a comment below and let us and our readers know what we may have missed.
Many thanks to those of you who have emailed me with suggestions!