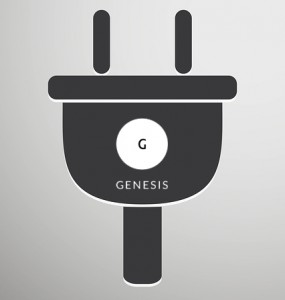 Did you know there are over seventy-five Genesis framework plugins in the WordPress.org repository? Holy WordPress Batman! That's a lot of plugins considering the framework alone is already chalked full of features and functions. While I've been using a few Genesis plugins for quite a while, I had no idea so many more have been developed.
When we build a custom theme or create a stock Genesis child theme, we tend to stick with plugins that we've used already and we've labeled "solid". Knowing a plugin will consistently work and will be properly maintained is priceless. While Soliloquy, Gravity Forms, and Yoast's WordPress SEO are our favorite generic WordPress plugins, we do have a number of favorite Genesis specific plugins as well.
Tried and True Genesis Framework Plugins
Genesis Title Toggle – This plugin lets you easily remove the page title from a specific page, which then allows you to add and position H1 headers anywhere on the page. This is great feature for landing pages. I use this plugin lot, because it is easy for me to use and very easy for my clients to use.
Genesis Latest Tweets – This plugin simply replaces to aged widget inside Genesis. It works upon install, so just load and go.
Genesis Simple Sidebars – This is a great plugin for the average user, because it adds functionality without requiring you t touch  code. This plugin lets you create an endless number of sidebars, thus allowing you to assign sidebars to specific pages within your WordPress installation.
Simple URLs – Simple URLs is a URL management system that allows you create, manage, and track outbound links from your site by using custom post types and 301 redirects. It is simple, easy to use, and oh so handy. I use it for affiliate links.
AgentPress Listings – The AgentPress Listings plugin uses custom post types, custom taxonomies, and widgets to create a listings management system. We've used this in our Hans real estate theme and it works great. It is highly functional and there are a few plugins that are add on's to this one.
Genesis Simple Hooks – This plugin is for more advanced Genesis users and coders. This plugin creates a new Genesis settings page that allows you to insert code (HTML, Shortcodes, and PHP), and attach it to any of the 50+ action hooks throughout the Genesis Theme Framework, from StudioPress. While I don't use this plugin personally, but coding team does.
Genesis Connect for WooCommerce – This plugin replaces WooCommerce's built-in shop templates with its own Genesis-ready versions. A must have if you want to utilize the excellence of Genesis with the awesomeness of WooCommerce. This is another plugin that is for more advanced users. I don't use it myself, but I know it is part of all of our Genesis child themes that use WooCommerce.
If you reviewed these plugins in the repository, you'd find a bit of a trend. There are recurring developers and coding rock stars which are the smarty pants behind the plugins. These include Bill Erickson, Travis Smith, Nathan Rice, Brian Gardner, Ron Rennick, and Rafal Tomal. All of the above coders definitely fall into my "solid" category. If I see code or themes by these gentlemen I'm confident in their code and I know the plugins will simply work. To me, that is an important part of running a growing business based on Genesis.
In typically StudioPress fashion, they've given us a list of plugins they recommend. View StudioPress's list of recommended Genesis plugins->
What's Missing?
I'm a huge proponent of premium plugins. I believe the commercial side of WordPress is growing and it will lead us to new usage levels and expand us well beyond our 20% of internet domination. I wish there were a large number of premium plugins available for Genesis. As a developer,  I would be more than happy to pay for plugins that can support our custom design or stock theme clients. Augmenting theme functionality via premium plugins helps us, our clients, and it helps make the Genesis community stronger.
What's your favorite plugin for Genesis? Leave a comment and let us know what it is and why you love it. If you have a premium Genesis plugin, let me know. I'd love to buy it and try it out.