We're happy to announce the release of Erling, an event WordPress theme that was just added to our stock theme store. This Genesis child theme was designed for event marketing and promotion, so it can accommodate websites for conferences and trade shows.
Erling's Functional Highlights
Six color options
Multiple page layouts
Multiple sidebars
HTML5 markup
Mobile responsive
Optional speaker images
Optional sponsor logos
Call to action widgets
Featured post images
Featured page images
Newsletter sign up box
Tables
Pre-styled for Gravity Forms
Social icons
Latest tweets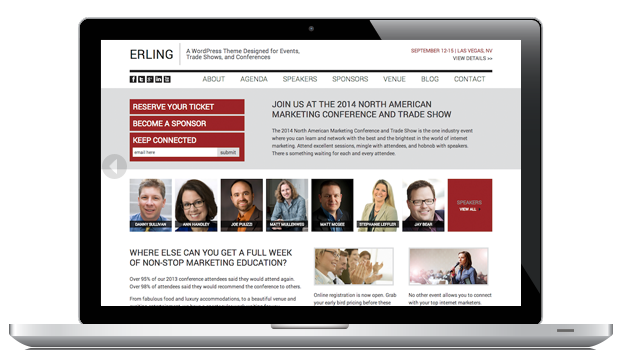 Who's the Real Erling?
As with our other themes, the name Erling has a personal reference. Erling (pronounced ERLihNG) is a Scandinavian named that means "descendent of the jarl", a derivative of the Old Norse word jarl meaning "chieftain, nobleman, earl".
Erling was my grandfather. He immigrated from Denmark to the US as a young child. Erling was a very bright man who loved to bowl and to test his knowledge with TV shows like Wheel of Fortune and Jeopardy.
He, along with my grandmother, raised me from the time I was eleven years old. For many reasons I have great admiration for my grandparents, but the sacrifice they showed in voluntarily raising a teenager in their golden years of retirement is certainly top on my list of reasons.
Want to See More of this Premium WordPress Theme?
We designed this WordPress conference theme to help make event marketing and promotion affordable and efficient. Initial feedback has been great and we can't wait to see the awesome websites our theme buyers will create with this theme.
If you like what you see, head on over and take Erling for a test drive. The theme is officially released and is available for purchase in our theme store.
If you've purchased our developer license, Erling is already waiting in your account and is ready for download.