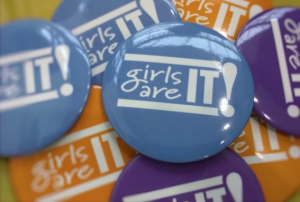 A few weeks ago I had the pleasure of presenting three sessions at the Girls Are IT! conference in Dearborn, Michigan. The event was organized by the Michigan Council for Women in Technology (MCWT), U-M – Dearborn, Lawrence Technological University, and University of Detroit Mercy.
More than 350 school-aged girls arrived to learn about IT and how it can play a role in their lives and future careers. I was presenting about WordPress and how the CMS software can be used to create a free blog and scale to manage the needs of celebrities, universities and large corporations.
Know Your Audience
Prior to attending the event, I had my 14-year-old daughter review my slides. I wanted to make sure my content was age appropriate and that my words and images would resonate with the audience. My daughter patiently flipped through my slides and was kind enough to provide feedback. Even if this meant telling her mom she was a bit boring at times.
Some things I learn from my daughter: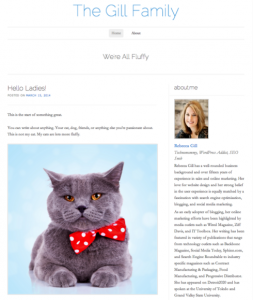 The art of story telling connects you with your audience, regardless of age.
Your personal bio should be personal. If you're taking to kids, this means you tell them you have one very large dog and three crazy cats.
Young girls do not know what the word "firm" means. Company yes, but firm no. Terminology selection is always important when writing content for presentations or websites.
Young girls have no idea who Katie Couric is, but they definitely know Justin Timberlake and Katy Perry. Koby Bryant was hit or miss. Inner city Detroit girls definitely knew Koby, but my daughter and the other girls from the northern suburbs not so much. I found this fascinating.
Bling comes in many shapes and sizes.
It is always best to put bling at the front of your presentation or article and not the end.
It's always best to end your presentation with a cute cat in a bow. Or at least when you're presenting to a bunch of young girls.
My daughter was spot on. The girls in my sessions were very interested in my animals, my age, and my troubles in grade school.  This allowed them to connect with the adult and business owner they would have otherwise ignored. This allowed me to grab their attention and keep it for thirty minutes.
Start With a Conversation
As I walked into the room I realized my attendees were far younger than I had expected. At that moment in time, I was ever so thankful to my daughter and the advice she provided.
I quickly shifted my introduction and started with a conversation about school. I explained that no matter who you are or what age you are, school can be hard. I then confessed that I was an average student and that I had great difficulties in elementary school.
At that point I had them, because it was something that each and every one of them could relate to and could understand. A few small details about myself and a confession gave me the room.
Leave a Take Away
As I closed my presentation I reminded them of who I was as a child and I talked about where I was today.  I explained that technology changed me and the path my life was set to take. I then gave them three thoughts:
Technology can change the world.
Technology can take you anywhere you would like to go.
Dream a destination and let technology take you there.
I truly believe in those three points. Technology has changed my life and opened up paths I didn't think were possible. It has empowered me and it has given me purpose.
Had my daughter not helped me know my audience better, they would never have heard the final comments I so desperately wanted them hear. I would have lost them at hello.