If you don't have a mobile friendly website and you're not overly worried about, you're making a mistake. It's a mistake that is big enough to cause you keyword ranking and a decrease in search traffic from Google.
Think I'm being overly dramatic? I'm not and I'll show you why.
On January 20th I received an email from Google alerting me that an old client website needed to "fix mobile usability issues." Here is a screen capture of the email: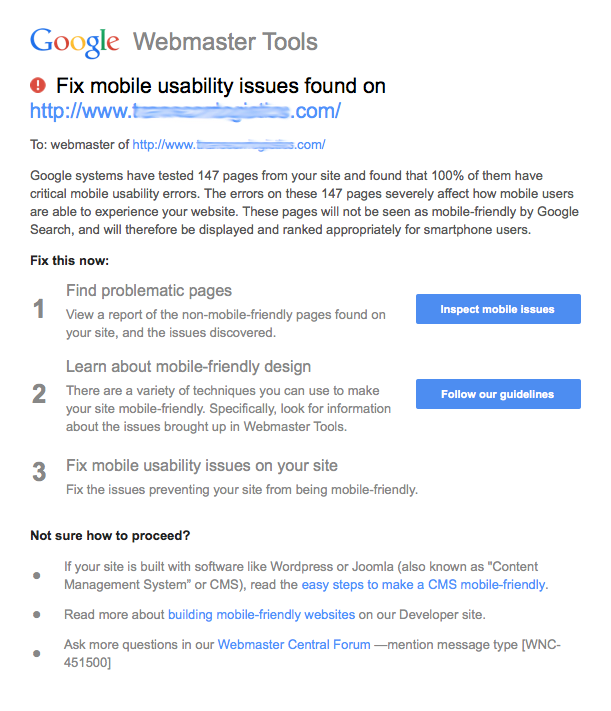 I received another notification on January 27, on January 29, and again on February 5. All of the messages were similar and they were related to client websites that were launched before mobile WordPress themes were commonplace.
When I accessed Google Webmaster Tools last week, Google was again alerting me that these sites and a few others that had issues. What were their issues? They were all related to the age of the website and the fact that they were not mobile friendly.

These emails and warning messages are Google's way of politely telling users that mobile is important and that website owners need to take action quickly.
This need for mobile has been long coming and Google has been blogging about it and releasing algorithm updates for months. This year the search engine just took it one step further by proactively contacting website owners.
Friendly Blog Posts from Google
On November 18, 2014 Google wrote about the importance of mobile friendly websites in a blog post titled Helping users find mobile-friendly pages. In this post it stated it was going to make life easier for mobile users "to find the information that they're looking for" and that it would be "adding a mobile-friendly label" to the mobile search results. Google is doing this to reduce what can be a "frustrating experience" for their users.
On December 10, 2014 Google published another post titled A new wave of mobile-friendly sites. In this post the search engine talks about the new mobile-friendly label and requests users of non-mobile friendly websites "reach out to the site owners or webmasters and let them know about your mobile experience." In other words, tell owners of non-mobile websites to become mobile friendly.
In recent months Google has also provided a variety of resources to help website owners convert traditional websites over to mobile friendly websites. A few of these resources include:
What Does this Really Mean for Website Owners?
This means you can no longer ignore the need for mobile friendly websites if you rely on organic search to drive web traffic. Your search traffic from mobile devices will decline. Based on the ramp up of blog posts and warning messages, I'm guessing the decline is imminent if not already in process.
It also means Google will actively notify website users of your dated technology before they even have an opportunity to click through to your website. Nothing screams run like alerts from Google in the search results page.
What if You Didn't Receive a Mobile Warning?
If you have an outdated website and you didn't receive a warning message, do not dismiss this article. Google can only send you notifications if you have active Google Webmaster Tools account that is tied to a valid email address.
If you don't have a Google Webmaster Tools account, now is the time to get one. It will not only deliver important warning messages such as our mobile emails, it will provide valuable insight on SEO, indexing, and performance.
What Can Website Owners Do?
If you are using an outdated WordPress website, you have options. Lots of them really, so this is a very good thing.
Your first option is to add a mobile plugin to help convert your traditional desktop website to a more mobile friendly version. I am not at all a fan of this approach, because these plugins tend to strip out content, remove branding, and degrade the overall user experience.
Your second option is to pay a WordPress developer to add mobile responsive code to your existing theme. While I think this is better than the first option, I think it is also a bit of a Band-Aid approach. If your WordPress theme isn't mobile responsive, it probably also lacks updated coding like HTML5 and support for schema. This means you're patching something that is already outdated, which is never the best use of your time or money.
A third option is to give your website a refresh with a more current stock WordPress theme. There are lots of great stock themes available from companies like StudioPress or even our own Genesis theme store.
A fourth option is to update your website with a new custom theme design that is specifically created for you and your website. This is the best option if you have branding in place and require a unique look and feel to your existing website.
Regardless of your desired path, know that you need to take action and soon. If you don't you will see a decrease in ranking and traffic associated with mobile searches.
It isn't a matter of if you'll lose search traffic, it is a matter of when it will happen.