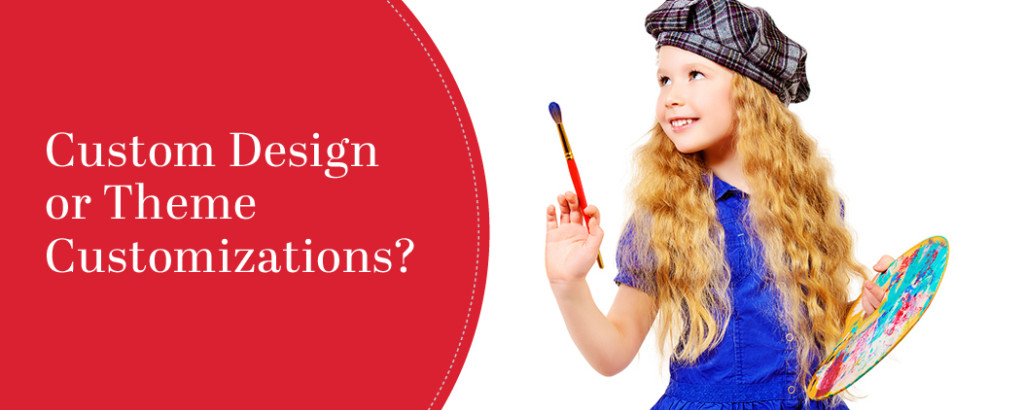 Most WordPress users do not understand the difference between the customization of an existing WordPress theme and the creation of a custom WordPress theme design. And why should they? They're users focused on running their business and not on the jargon of WordPress design.
Each week we run into this area of confusion and each week I feel the frustration from users trying to maneuver through the maze of premium WordPress themes, graphic designers, programmers, and WordPress consultants.
There are lots of WordPress professionals out there and this seems to grow by the day, which makes this whole topic even messier.
Today I would like to help clear up the confusion. Both for our readers' education and so I can point to this post when the question comes up in the next few days.
This subject will come up; it is just a matter of which day the question arrives.
Custom WordPress Theme vs. Theme Customizations
In my opinion, there is one key difference between the customization of an existing WordPress theme and the creation of a custom WordPress theme design – it is the graphic designer.
A true graphic designer is someone who is professionally trained at a university and/or college in the art of design. A professional graphic designer knows colors and fonts are much more than pieces of theme code. A professional graphic designer will see color schemes and typography as part of a brand identity and much more then code within the WordPress theme.
When a graphic designer is brought into the mix, he/she will start from a clean slate and not an off-the-shelf WordPress theme. A graphic designer will work with clients to understand their company, product or service offering, target market, marketing goals and objectives. The graphic designer will then make sure he/she creates a completely unique website design that matches those needs and requirements.
This process is what I refer to as a custom WordPress theme design because a professional graphic designer creates a WordPress theme that is unique to the company that purchased it.
On the other side of the process is an individual who customizes an existing WordPress theme. There are lots and lots of these individuals available for hire in the WordPress ecosystem. They go by different names and titles, but their role is similar.
A WordPress customizer will help a client modify an off-the-shelf WordPress theme to meet his/her specifications. The key here is the client is specifying what should be done and providing the design direction.
In this scenario the client has already picked out a WordPress theme and has a list of tasks that need to be completed. These tasks would include things like changing the color scheme, modifying the fonts, resizing a content area, and styling a plugin to match the theme.
This type of process is what I refer to as theme customizations, because the changes are tweaks to a theme thousands of people are also using. It doesn't equate to a custom design because the majority of the design is not unique to the user.
This type of assistance does not require a graphic designer, because the client already has the base design in hand when the theme was purchased. It simply requires modifications to the existing look and feel.
We receive a lot of inquiries for this type of work, because there is a huge need for this in the WordPress community.
What If You're a Small Business Looking to Update Your Website Design?
Let's say you are a small business who has been using WordPress for a few months. You've outgrown the free theme you started with and you need to update your website to a more professional look.
Maybe you have a new logo and you want to match the fonts and the colors of your WordPress theme to match your new branding. Or maybe you need a whole new layout in addition to changes to fonts and colors.
If you're an average WordPress user and you're looking to update the design of your website or blog, you might feel a little confused about who to ask for help. I don't blame you.
A Google search for "WordPress design" will return 483,000,000 results, which makes the confusion even worse.
So what do you do?
Ask Yourself a Few Questions
Does your business need something unique? If the answer to that is yes, then you absolutely need a custom design. If you answered no, then an off-the-shelf theme might do.
Does your business need to highlight call to actions and direct website visitors to take action? If the answer is yes, you should consider a custom theme design. The reason this is – you need professional help in designing a website that can guide visitors through the right flow and into the action you need them to take. This is a targeted design that is specific to your call to actions and this is very difficult with an off-the-shelf theme.
Do you see any existing stock themes that fit your needs? If you have minimum requirements and really just need visitors to pick the phone up and call you, then the purchase a stock theme might work great. This is many times the case for a small restaurant, small medical offices, or tiny brick and motor stores.
A Few Additional Points
A custom theme design will take many weeks to design and code. If you decide you need a custom theme design created, make sure you allocate time for the process. It takes weeks, not days, to create a professional design and code this in WordPress.
Quality WordPress designers and coders could require a wait time for start. Because of the growth of WordPress and the massive adoption rates most of the good designers and coders are very busy with work. This means you might need to get on a wait list for a good firm. Allow time for this and start looking for your website designer well before you plan to kick off the project.
A reasonable budget for custom theme design will be thousands of dollars and not hundreds of dollars. This is because custom theme design requires a team of people. You have to have someone design the templates and then you need a developer to code the design into a WordPress theme or child theme. At Web Savvy we also have a project manager and a marketer who participate in the process. This team approach creates a great project, but it requires an adequate budget.
Companies like 99Designs.com offer custom theme design packages that starts at only $599, but this is not the true cost. This package is for only one page and it doesn't include the actual coding of the approved design. You really need four different templates for WordPress to work and you need to hire both the designer and developer to create and transfer your 99designs purchase into WordPress. This makes your true cost more like $4,500.
Avoid the low-end pool of providers found in places like Craigslist. They sounds too good to be true because they won't produce viable offers. You won't get a professionally designed website that attracts search engines and users for $500. It just won't happen.
Can We Help?
If you've read through this post and you've realized a custom WordPress theme design is what you really need, we'd love to help.
Learn more about our custom WordPress theme design service offer ->
Learn more about our all-inclusive website design ->
Contact us to get started ->