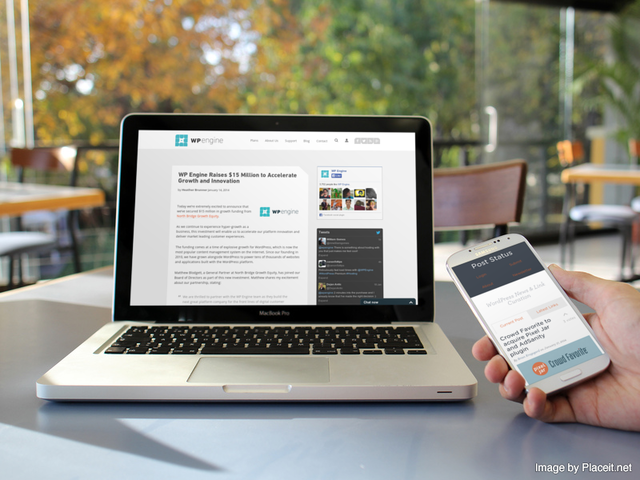 If you keep track of news in the WordPress community, you'll note some big announcements as of late. Besides the rustling of Matt Mullenweg's new position and that his net worth tops $40 million, there have been other things brewing.
Acquisitions Aplenty
The enterprise space has been a bit active. Just a few short months ago the very cool folks over at VeloMedia acquired Crowd Favorite, which led to the new Crowd Favorite announcing the acquisition of Pixel Jar this month.  In the midst of all this craziness, at the close of 2013 10up announced the acquisition of BrainStorm Media.
To outsiders this may seem like insignificant events.  To those of us within the WordPress community, we know this activity has greater meaning. It is a sign of maturity and transition.
A Focus on Funding
Last week WP Engine announced that they raised $15 million in growth funding from North Bridge Growth Equity. In the announcement they stated this was designed to accelerate their "growth and innovation".
Again, to many this is just another announcement. Those of us within the community know this is a bit of a milestone.
It illustrates the change in WordPress adoption and usage. It shows that companies big and small are starting to view WordPress in a new light. It validates the fact that WordPress is more than a blog platform and that it is a true CMS solution. It also clearly states there is a lot of money within the WordPress community.
As a business owner, this has even greater impact to me. In 2013 I started sending our clients to WP Engine and two other hosting companies. I made a concentrated effort to move away from the standard shared hosting providers because they could not provide adequate performance. WP Engine lived up to their promise. Their performance was fabulous and new hosting even came with a nifty little staging area. Hearing this announcement of funding only further solidifies my belief in them as a WordPress hosting company.
As someone who loves WordPress and the community deeply, I am excited about these announcements. It paints a bright future for WordPress software, our community, and our user base.
I can't wait to see what the rest of 2014 unfolds.