Earlier this week we published a blog post about getting started with WordPress podcasts. This post was a how-to Q & A on podcasts with Jason Tucker. I wanted to follow up with a list of the best WordPress podcasts I feel are worthy of your listening time. These podcasts will cover topics from general WordPress education to technical expertise.
Read last week's post titled Tips for Getting Your WordPress Podcast Started ->
Most WordPress podcasts run weekly and are presented in a 30 minute or 60 minute format. Some are hardcore education and some are designed to educate and entertain. Some podcasts are specific to a framework, while others are just good old fashion education on WordPress and news on the WordPress ecosystem.
My recommendation is to try all of them at least once and if you like the first episode, come back for a second and a third.
My List of Best WordPress Podcasts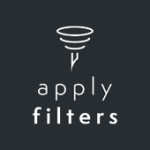 Apply Filters 
Apply Filters is a podcast dedicated to WordPress development. It is brought to you by Brad Touesnard and Pippin Williamson. Discussions include everything from development in the WordPress core to plugins and themes. The hosts share much of their own experiences in the development world, as well as bringing on guest developers to share their stories.
Subscribe on iTunes ->
Visit website ->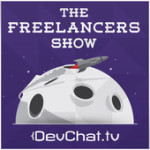 DevChat.tv
This is an audio and video based podcast that delivers content on a weekly basis. It's focused on WordPress programming and business topics like freelancing. Since the programming part is a bit past my level of interest, I'm going to recommend readers check out the freelancing show. If you're a hardcore coder, then browser through their website and review the other podcast options.
Subscribe on iTunes ->
Visit website ->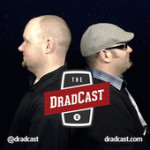 DradCast
Recorded live each week, Dre Armeda and Brad Williams catch you up on the world of WordPress. They're a couple of prior military geeks who like drinking adult beverages and talking about all things WordPress. This weekly video podcast concentrates on the latest news around WordPress, upcoming WordPress events, and the WordPress community. While I've not had the opportunity to meet Brad in person, I've met Dre multiple times and he is one of my favorite WordPress peeps.
Subscribe on iTunes ->
Visit website ->
Mastermind.fm
Join James Laws from WP Ninjas and Jean Galea from WP Mayor as they discuss the trials and tribulations on building a WordPress business. Learn how to go from freelancing to building a business, managing employees, growth hacking and more. This is a relatively new podcast, but a good one.
Subscribe on iTunes ->
Visit website ->
The Matt Report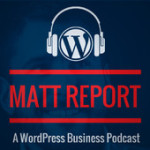 This WordPress podcast is designed for entrepreneurs, startups, and freelancers or really anyone who make a living using WordPress as a service, product or innovative SaaS solution. The show invites people like me on (I've been a guest) to discuss how they built their business, attract new customers and dig deeper into the day-to-day challenges they face. Matt has a great on air voice and always has great questions for his guests.
Subscribe on iTunes ->
Visit website ->
OfficeHours.fm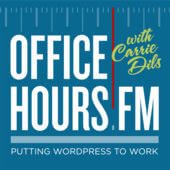 Carrie Dils brings on guests weekly to chat about all things associated to Genesis and WordPress businesses. I love Carrie, because she is rock solid when it comes to coding and she is also very funny. Did I mention she can play a mean harmonic and can sing a great little tune that she makes up in her head? Yep, she is absolutely multitalented and I'm happy to call her a friend. If you're a Genesis fan, then this podcast is an absolute must watch. Carrie records weekly on Thursday afternoons.
Subscribe on iTunes ->
Visit website ->
WordPress Breakdown With BobWP
Bob Dunn uses his experience in WordPress and marketing to help beginners and average WordPress users who are learning how to do it, wrap their brain around why they should do it. I've listened to Bob's podcasts before and they are very good. Recently I was listening to episode nine in my car and all of a sudden my daughter perks up and asks if Bob just mentioned our firm. Yes, yes he did, but that's not the reason I think Bob is awesome. He's great because he has a true desire to help everyday WordPress users and that is why we all love him so.
Subscribe on iTunes ->
Visit website ->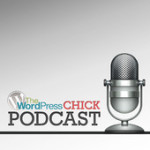 WordPress Chick
Kim Doyal, "The WordPress Chick" shares her journey in the world of blogging, life and entrepreneurship on the internet. Kim discusses her insights on crafting the business and life you want using her platform of choice, WordPress. Whether you're new to WordPress or consider yourself a more advanced user, these blog building and online tips will make you more successful with your business. Unlike other WordPress podcasts, Kim publishes twice per month.
Subscribe on iTunes ->
Visit website ->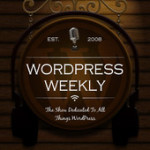 WordPress Weekly
The WordPress Weekly is hosted by Jeff Chandler of the WP Tavern. WordPress Weekly is a live, weekly podcast that talks about all things WordPress every Wednesday evening at 9:30 PM EST. The show specializes in covering the news throughout the WordPress community as well as special interviews with all of the smart people that make up the WordPress community. Jeff's a good guy and he always manages to know the latest news in the WordPress community.
Subscribe on iTunes ->
Visit website ->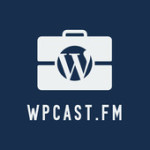 WPCast.fm
This podcast is geared towards designers, consultants, developers as well as end users that run their businesses on WordPress. It is operated by Doug Yuen and David Hehenberger. Topics include WordPress plugins, security, and even tips for hiring a great developer. It is a newer podcast with only ten episodes recorded.
Subscribe on iTunes ->
Visit website ->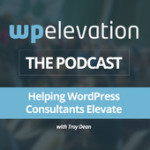 WP Elevation
The WP Elevation podcast brings you interviews with successful entrepreneurs in the WordPress industry to help you build a successful WordPress business. Guest include well known WordPress business owners like Pippin Williamson, Lisa Sabin-Wilson and Jennifer Bourn. iTunes offers fifteen episodes ready for you to listen to and use to get your WordPress business skills up to snuff.
Subscribe on iTunes ->
Visit website ->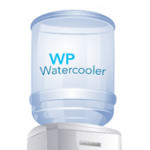 WPWatercooler
The show creators describe the show as "WordPress from Install to Publish" although I think it is part education and a whole lot of funny. I should know – I've been on the podcast a number of times. Officially, the WPwatercooler is a live video roundtable discussion from WordPress professionals from around the industry who offer tips, best practices, and lively debate on how to put the content management system to use.
Subscribe on iTunes ->
Visit website ->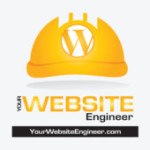 Your Website Engineer
Your Website Engineer is hosted by Dustin Hartzler. It focuses more on coding and usage and less on the business side of things. Dustin shows you how you can take charge of keeping your website maintained and always up to date. This show focuses on WordPress and how it is the best solution for small businesses looking to create a website.
Subscribe on iTunes ->
Visit website ->
Grab Your Coffee and Relax
As I said in my prior blog post, I've avoided WordPress podcasts for quite a while. That was a mistake on my part, because they do have a lot of great information and news available for listeners.
If you're like me and time is limited, just download an podcast app to your iPhone and listen to the audio files while driving. Or, if you don't have a commute, grab your iPad and listen while you're cooking dinner. Those are my favorite times to embrace the words of WordPress and it offers a quick way to catch up on things you may have missed.
If I missed any recordings in my list of the best WordPress podcasts, please drop a comment below so our readers are aware of any I failed to cover.
Updated: February 28, 2016