This year I've rekindled my love for podcasts. It started when I began listening to ZenFounder and only increased once I found Entrepreneur On Fire and Online Marketing Made Easy With Amy Porterfield. As I push through my gym visits and long car rides, I've truly come to love plugging into a podcast and listening to smart people talk about the things I love.
With each episode, I've found my desire to listen only grows. This has been great because podcasts have helped me power through a number of trips to the gym and it has helped me improve my own SEObits.fm podcast. I've also discovered some cool tips and software along the way.
I wanted to take a moment and share my favorite podcasts with you and explain why I love them as much as I do. The trick of embracing
The trick of embracing podcasts isn't finding the time to listen. The trick is finding the right podcasts for you and your needs. My list today includes what I consider to be the best podcasts for entrepreneurs and small business owners.
The Four Best Podcasts for Entrepreneurs and Small Business Owners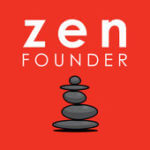 ZenFounder is by far the top of my list and this isn't because I personally know the host, Sherry and Rob Walling. I love this podcast because it reminds me that I'm not the only square peg living in a round hole world. Sherry is a licensed clinical psychologist who is wicked smart and funny. Her husband Ron is a serial entrepreneur who has founded crazy successful companies like Drip and MicroConf.
ZenFounder combines psychological theory and science with years of experience in the entrepreneurial trenches. It is an ideal podcast for small business owners who struggle with the emotional challenges of leading a company and growth.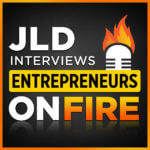 Entrepreneur on Fire is my second favorite podcast and this is primarily because of the energy John Lee Dumas brings each week. He frequently reminds me that this Entrepreneur and small business life is supposed to be fun and rewarding. I tend to forget that at times and I need JD to give me some subtle hints on this and boost me back up to my perky self. Each week be brings guests on that share his energy and they help keep the show lively and informative.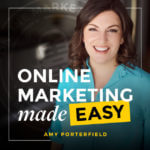 Online Marketing Made Easy With Amy Porterfield is my third favorite and this is because Amy interviews super smart folks who will throw out some information nuggets that are true goldmines of data.
While there are a lot of episodes that don't apply to me or my small business, there are many that do and it's those episodes that I find invaluable. One episode has helped me grow my private Facebook group faster than I believed was possible.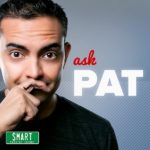 The Smart Passive Income podcast from Pat Flynn is also a great podcast. His mini episodes, called Ask Pat, are stellar podcast episodes that are perfect for both entrepreneurs and small business owners. Pat spends time answering marketing questions from everyday people and these answers are on point and actionable.
If you have a marketing question, Ask Pat is a perfect spot for getting it answered and with actionable insights you can use in your business.
Ten Additional Podcasts I Like and Recommend
Just Start Listening
If you are not an active podcast listener, I highly recommend you give it a try. Do what I do and listen to episodes as you do other tasks like exercise, drive, or even grocery shop. They'll not only maximize your time, you'll find some amazing bits of information that can help you energize your business and your soul.
While I've listed what I think are the best podcasts for entrepreneurs and small business owners, this is my list. You need to dig in and find your own pool of listening goodness.
There is a lot of great podcaster and series available, so take the time to try a few out.