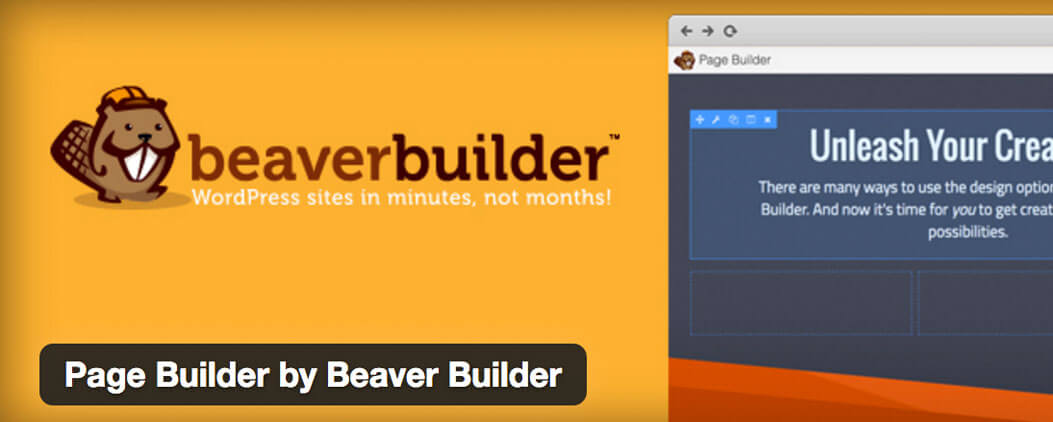 Last fall I attended a small WordPress conference called CaboPress. While there I met a gentlemen named Robby. I did not know Robby prior to Cabo and honestly I don't even know if I had known of him. I had briefly heard of his product Beaver Builder but I didn't know the man behind the plugin.
Since I liked Robby immediately upon meeting him, I made a mental note to try out Beaver Builder upon my arrival back to the states. I hate to admit this, but I never did. Life caught me up and propelled me towards other work activities.
Over the last year I have heard Robby's product mentioned a ton. I when I say a ton, I mean it seemed like every time I turned around, someone was mentioning this must use WordPress plugin.
Giving Beaver Builder a Whirl
The plugin came to mind last week because I was headed to WordCamp Toronto to speak. I saw Robby's name on the attendee list and I thought, now I really need to try it out.
Guess what? I feel totally and utterly ashamed that it took me this long to try Beaver Builder. I even stated this openly on Twitter so my peers could be aware of my shame.
I normally don't work on client projects and I leave this to our team. I recently had a SEO coaching client ask me for help in setting up his new website in WordPress with our James theme. I felt emotionally tied to him, so I've been working on his project personally. Shh, don't tell anyone that because it is rare for me.
Anyway, I thought this new WordPress website was a good opportunity to install the plugin and see how it works. Throwing it into a basic and new website seems logical for giving it a spin.
Oy. Was I surprised by the functionality and just solid nature of the plugin. I could now see why so many people are Beaver Builder junkies.
The Ideal User of Beaver Builder
I am not the ideal user for Beaver Builder. I have a graphic designer and a team of coders. I don't need to design pages myself. So I'm not Robby's target market.
But my client – the end users of WordPress – are the target market. Beaver Builder is a perfect solution for them. This is especially true if they are buying stock WordPress themes and setting everything up themselves.
Why? Well it allows end users to manipulate regular WordPress pages and posts in a manner that normal WordPress doesn't allow. It offers design and coding options without the designer and coder. Not all options, but a lot of nice add on features.
I think it works great for clients of our custom design and development websites too. We are designing custom templates and coding these out to their specifications, content, and messaging and I don't see this changing. But life happens after go-live and websites need to be modified – enter Beaver Builder. Beaver Builder will allow our end users to have greater flexibility in changing their basic page templates and making more advanced ad hoc templates based on the needs of that moment.
The WordPress customizers (not actual developers, but more implementers) are also an ideal candidate for this plugin. And this is because the plugin offers flexibility without the need to code HTML, CSS, or PHP. These implementers can create websites for their clients and use Beaver Builder to help mold the stock theme pages into more unique presentations.
Do You Need Beaver Builder Free vs Pro?
I tried the free version of Beaver Builder out on my client site and I thought it was super cool. When using it, I had not even thought about the decision of Beaver Builder free vs pro, because I thought the free version alone was killer.
Then I went over to Robby's website and I started looking at the options available in the pro version. I realized that this package offers even more options and it was even better then the free version what I was testing out.
Let's review Beaver Builder's free vs pro options by features and functions.
Beaver Builder Free
Content modules for HTML, photos and images, the regular WordPress text editor, audio files, videos, are sidebars
Full-width and column-based layouts (without the need of remembering shortcodes or div codes)
Images, color, and video backgrounds for rows
Mobile-friendly, responsive layouts
Supports WordPress shortcodes
Works with pages, posts, and custom post types
Beaver Builder Pro
Accordions
Blog posts
Buttons

Callout module

Call to actions
Contact forms
Galleries
Pricing tables
Maps
Sliders
Subscribe forms
Social icons
Tabs
Testimonials
WooCommerce drop ins
Pre-made layout templates
Reuse full-page layouts, rows, and modules
That's a whole lot of goodness right? Yep, it sure is.
So I can't tell you if you need Beaver Builder free vs pro, as I think this decision is going to be user dependent. What I will suggest is for you to try out Beaver Builder free like I did so you can see the base functions and get a fee for the plugin and it's core level offering. I think you'll like it just as much as I do.
You can download Beaver Builder for free by accessing the WordPress plugin repository. If you love it as much as I did, you should head on over to the Beaver Builder website and review the pro version in more depth.
You can also view the Beaver Builder demo before installing anything.
If you're new to Beaver Builder or an experienced user, I'd love to get your feedback in the comments below. Tell me what you like and use on a regular basis. I'd love to hear it and I know our readers would too.