We're happy to announce the release of Elbe Blake, the twenty-fourth template added to our premium WordPress theme store. We believe WordPress marketing templates should be designed for real-world marketers and this one certainly was. If you've been to our website before, this template might look familiar. It was used on Web Savvy Marketing's website.
We recently updated the look and feel of our own website and we decided to convert our older theme into a WordPress template for marketers. It worked great for us and we had a ton of positive feedback on it from visitors, so we thought we would make it available for sale. So many people asked to buy our theme, we gave in and wrapped it up for purchase. After all, if it worked for us, it should benefit other marketing consultants, freelancers, or agencies.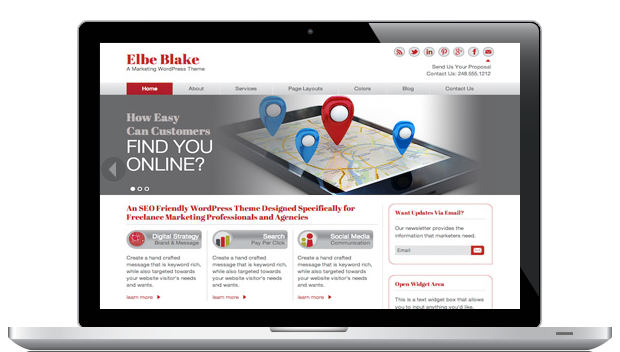 Who is Elbe Blake?
As with our other themes, the name Elbe Blake has a personal reference. Elbe is one of my older sisters. As a child I thought she was the cat's meow and I wanted to be just like her. When we were children she was artistic, outgoing, and seemed to be able to master anything she tried. As an adult she is funny and loving. She works at a nursing home in Pennsylvania and spends her days taking care of and loving people who need it the most. While we have much different adult lives, I'm super proud of the adult my sister became and her unwavering effort to care for people day after day.
Lots of Cool Built-In Features
Elbe Blake comes equipped with a number of cool features and functions built right into the theme:
Configurable call to actions on the home page. Use our icons or upload your own.

A flexible image slider supported by Soliloquy. It's not only easy to use, it's mobile friendly.
Support for Gravity Forms, the most robust form plugin available for WordPress.
Support for contextual related posts with titles, excerpts, and featured images.
Featured page and featured post widgets.
Social icons prominently displayed in the header.
Phone number easily found in the header so your theme not only encourages prospects to reach out to you, it supports local SEO efforts.
Elbe Blake has seven color styles, multiple layout options, custom menus, featured images, and an integrated blog. The Genesis child theme is mobile responsive so it automatically adapts to devices like iPhones and iPads.
What to see more of this fun WordPress marketing theme? Then head on over and take Elbe Blake for a test drive. It's the first step in creating your new website with WordPress.
If you've purchased our developer license, Elbe Blake is already waiting in your account for download.