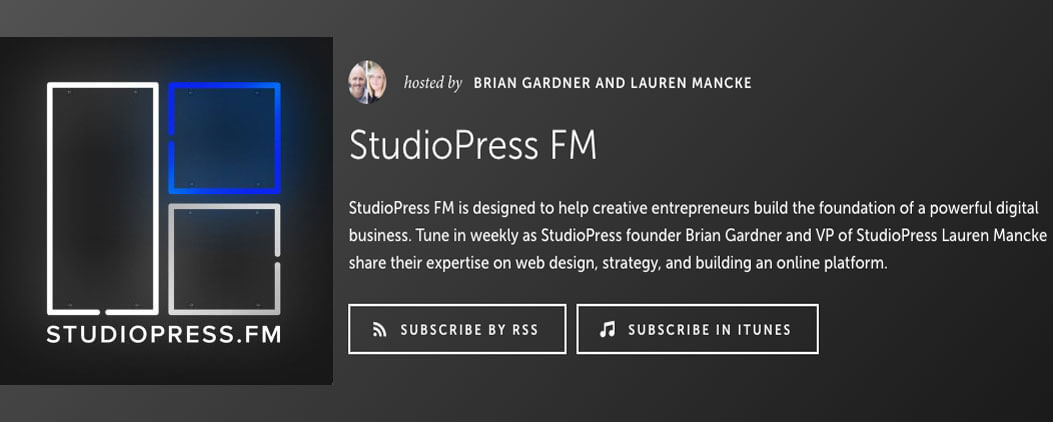 I recently had the pleasure of recording a podcast episode of StudioPress.fm with Brian Gardner and Lauren Mancke. This is a brand new podcast series from the Copyblogger team and I was fortunate enough to be their first guest. I'm not sure how that happened, but I'll admit I jumped at the chance when asked.
The podcast covered a wide range of topics ranging from website design and SEO to my struggles in running an agency.
Here is a full list of topics we chatted about:
My path to getting started as an entrepreneur (I call it being an accidental entrepreneur)
Web Savvy's path to getting started with Genesis
Things I struggle with as an agency owner (spoiler alert it's the mental challenge of managing operations and administration)
Why I've been so focused on SEO training and education this year (empowerment is the magical word)
My holistic approach to SEO
How website owners and bloggers can avoid risky black hat tactics
The the most important elements of SEO
The importance of content first in design (Lauren shared my views here)
Longtail search terms
Long-term SEO strategies
Common mistakes website owners and bloggers make with search engine optimization
My upcoming SEO bootcamp training workshop
You can listen to the podcast below:
Brian and Lauren have some great episodes in the works and already have some of my favorite WordPress friends scheduled, so you'll want to head on over to the podcast and subscribe. I always love what the Copyblogger team produces and this new podcast is just more goodness.
Side Note: The StudioPress.fm site is operated on Copyblogger's new Rainmaker platform, which is a great software solution for launching multimedia websites.