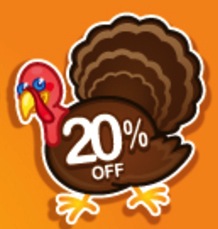 In honor of America's crazy Thanksgiving tradition of Black Friday and Cyber Monday shopping, we are offering a limited time coupon for 20% off  any of our premium WordPress themes.
We've had a lot of people inquire about a possible Black Friday sale, so we're just going to break down and do it.
Here's How to Grab Your 20% Discount
First, put down the turkey leg and stop eating that pumpkin pie. I know it is hard, but you really can do it.
Next, step away from the table and walk slowly towards your computer. We say slowly because you might be in turkey overload and this can cause disorientation.
Browse through our Genesis themes and add your favorite theme to your shopping cart.
Finally apply a coupon code of GOBBLE13 at checkout. Coupons are case sensitive, so make sure you don't forget the capital letters.
This discount expires on December 2nd, so hurry up and use it before it's gone. We rarely offer discounts, but this week we just couldn't help ourselves.