Social media is everywhere and everyone thinks that he/she is an expert. The local dry cleaner, your lawyer or dentist, even the defunct SEO agency. These days everyone is into social media. Even my mother-in-law.
But Are All These People Really Experts and Can They Truly Execute a Social Media Campaign?
Well I think many agencies and people are just natural social media experts. Take my client Detroit Garden Works for example. Deborah, the owner, is a self-taught blogger and she is great at social media. Deborah claims to not know what she is doing, but she is really good. She connects with people and she posts unique and interesting things. My favorite was this week when she posted pictures of her employee's new shoes. If you knew Jenny (the gift recipient), you'd see her shoes and the post are as unique as she is in real life.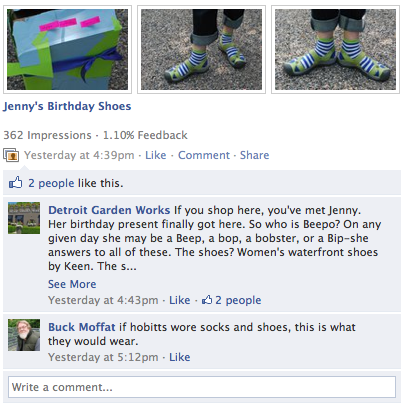 Others, well, not so much. We've seen examples of horrendous tweets from Chrysler's social media agency to Kenneth Cole's ill fit use of the Cairo hashtag to the goofy politician who tweeted pictures of his underwear (while wearing of course). These very large
social media blunders
clearly show social media isn't as easy as some people may think. Let me rephrase that – it can be easy but you need to understand the rules of engagement before you start to participate. The three examples I just gave show a clear lack of understanding of basic social media rules and acceptable practices.
Good Social Media Makes Me Happy and It Works
In months past my client asked about the rules of engagement and she listened. When I showed up at her store today for a meeting, she told me she thought the shoes would make me happy. They did make me happy. The shoes were perfect and they showed everyone on Facebook that the garden store is ran by someone who was both real and interesting. Deborah, her store, and her people are all very interesting.
But does it work? I think so yes. Deborah was recently interviewed on Martha Stewart radio and has been featured on their website in months past. That is certainly real. And in Deborah's world, Martha Stewart is the holy grail of publications. Okay in anyone's world Martha is pretty darn cool. So yes, blogging and Facebook pages and tweeting do work. But it only all works if it is done right and by someone who is passionate about what they do. Passion is at the heart of social media. Deborah is passionate about gardening and this is illustrated in her online activity.
If you love gardening or what to know more about gardening, I'd encourage you to check out Detroit Garden Work's Facebook page. You certainly won't find any gardening tips on my blog.
If you want to know more about social media, I have a Social Media Boot Camp that is perfect for getting your team on track. I may not be able to tell a weed from a flower (for some reason Deborah still likes me), but I can teach you about Facebook, Twitter, LinkedIn, and Google+. That's my passion.