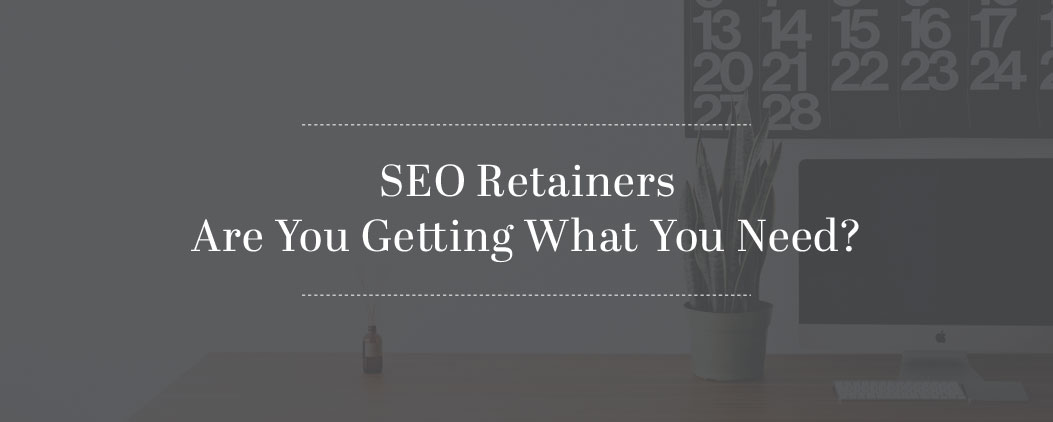 Time and time again I talk to companies who pay for a monthly SEO retainer, but can't actually tell me what their digital agency is doing for their money. Let me start by saying this is wrong. Actually, let me scream it from the top of a building – this is really really wrong.
If you are paying a freelancer, consultant, or agency for SEO work, you should know exactly how they are spending their time and your money.
Sadly, this is rarely the case and it gives the entire SEO industry a bad name.
Let's clear this up and go back to basics.
What is an SEO Retainer?
An SEO retainer is a monthly fee you pay to a freelancer, SEO consultants, or digital marketing agency. The phrase SEO retainer is frequently exchanged with SEO maintenance because they are in fact very similar.
SEO is a journey and not a race. It's also not a one-time event. Today's SEO services simply don't work that way. You have to continue to make incremental improvements to your website to rank in search.
My favorite quote on SEO is directly from Google and it states this:
Search engine optimization (SEO) is often about making small modifications to parts of your website. When viewed individually, these changes might seem like incremental improvements, but when combined with other optimizations, they could have a noticeable impact on your site's user experience and performance in organic search results. You're likely already familiar with many of the topics in this guide, because they're essential ingredients for any web page, but you may not be making the most out of them.
Notice Google's mention of incremental improvements and knowing how to make the most out of these tweaks? That is what an SEO retainer provides you. You get a trusted partner to help identify what needs to be done, how it should be done, and then assist you in getting it done.
When SEO retainers and maintenance are collaborative they are done right and that becomes the heart of the agreement. The primary goal is to work together to help Google better understand your website and best use your content in search.
How Do SEO Retainers Work?
The SEO industry is a bit different than others because we require clients to pay for a block of time at the beginning of each working month. This block of time can be anywhere from 5 hours up to 50 hours per month.
A good rule of thumb is: The larger the website, the larger the mess, the larger the monthly retainer.
As the client, you'll be invoiced at the start of the month for your designated block of time. Your SEO consultant should use up all of this time and alert you if they begin to run out of time. This means they should be tracking time per month and have a strong grasp on how much time is used per task.
Some retainers are based on a predetermined set of tasks to perform each month. Years ago, I would base my retainers on this practice. I no longer do this, because it is impossible to manage maintenance this way while also making improvements in rank and conversations. SEO is so involved and diverse now, you can't focus on just 3 or 5 tasks per month. Tasks must be flexible and ebb and flow with the shifts within Google, your business, and your competition.
That all said, your retainer should have a plan and a roadmap. This roadmap will allow you to work through research, strategy, and execution in a methodical manner.
What's Included in SEO Maintenance?
The elements of an SEO maintenance plan will vary from client to client and consultant to consultant. However, if done right, the engagement should include SEO research, strategy, and planning, as well as execution through technical SEO, on-page optimization, advanced SEO techniques like structured data and schema, reporting, and live consultations. A good retainer will include a whole bunch of things that work together to produce results.
While I have a typical flow I like to progress clients through, this plan gets tweaked for each and every client.
Here is a sampling of SEO activities that can be managed in monthly retainers and maintenance:
Competitor research and review
Keyword research and prioritization
Review existing website content for opportunities for improvement
Review keyword cannibalization (everyone has it)
Optimize existing content for SEO best practices
Optimize meta title and descriptions for SEO best practices and click-thru-rate optimization
Review website templates and provide feedback and instructions for SEO best practices, adherence to E-A-T, accessibility issues, and coding support for semantic HTML5 header usage
Review and image file name and alt text for accessibility and SEO
Execute an internal link audit and cleanup link anchor text to adhere to SEO strategy and keyword plan
Schema implementation via structured data with follow up testing and management
301 redirect review, management, and execution
XML sitemap review and management within Google Search Console and Bing Webmaster Tools
Technical SEO audits
Local SEO review and management (NAP)
In most cases, I like to have my retainers broken out into two phases of foundation building and on-going efforts.
Here is a sampling of SEO activities within the foundation phase:
Base project plan set up in Basecamp
Kick-off call with the client
Client questionnaire received and reviewed for competitors, possible keywords, and known website personas
Access set up for existing client report review (Google Analytics, Google Search Console, Bing Webmaster Tools)
Initial strategy session with the client to review and discuss questionnaire and reports
Base audit reports run to review existing state and activity
In-depth website audit performed for technical issues, usability, and on-page SEO
Website personas and pain points defined
Customer journey mapped (or patient journey if healthcare)
Competitor ranking prepared for client review
Initial keyword seed list prepared and cleansed for client review
Search volumes and competition metrics pulled for full keyword seed list
Client review of keywords, feedback, and sign off
Mapping to keywords to specific URLs
Action plan created for updates and content creation
Map and/or edit content silos where applicable
Editorial calendar planning for future blog posts and pages
Below is an example list of common items worked on within ongoing SEO engagements, but note this is not designed to be an all-inclusive list:
Monitoring of Google Search Console, Google Analytics, and Bing Webmaster Tools
XML sitemap submission and monitoring
Ongoing website crawls for technical SEO issues
Creation, testing, and review of Structured Data and Schema
Competitive research and reporting
Keyword research, analysis, and recommendations
Content audits
On-page optimization of content for SEO best practices, semantics, etc.
Meta title and description optimization for SEO and increasing click-thru-rates
Internal linking
Reports creation, review, and analysis
NAP audits and citation management
Ongoing live consulting sessions to validate activity to the client's business goals and objectives
The key is to keep the going engagement fluid so the agency can quickly adapt to the organization needs and industry shifts within the digital marketing space. This allows the agency to provide a strong mix of strategic support, tactical support, and execution. Consecutive months of activity are not the same and this is by design.
How Much is an SEO Retainer Per Month?
The price of an SEO retainer will vary greatly based on geography, consultant experience, and project deliverables. This will also be influenced by executing being performed by an agency vs. freelancer. Agencies tend to be much higher because they will have higher overhead costs of office space, benefits for staff, etc.
According to an SEO pricing poll done by the Credo team, the average rate of an SEO agency is $149/hour. The lowest rate was around $50/hour and the highest hourly rate was about $500/hour. The poll also indicated that monthly SEO retainers generally range between $1,000 to $5,000+ per month.
I've been doing SEO for over 15 years and I'm experienced enough to train other consultants and agency in SEO, so my rates will be much higher than someone practicing SEO for only 1 or 2 years. If you were to opt for someone with a fraction of my experience and knowledge, you can find a freelancer for a quarter of my rates. I don't advise that, but that is the reality of the situation. As with any service, you get what you pay for. Although in this case, poor SEO work can do severe, long-term damage to a website and revenue stream.
Here are examples of my SEO retainer pricing:
10 Hours Per Month = $2,000
15 Hours Per Month = $3,000
20 Hours Per Month = $4,000
25 Hours Per Month = $5,000
My minimum retainer for websites new to SEO is 10 hours per month. This is because I do not feel I can make a sufficient impact with an hour block lower than that amount.
I've encountered some organizations with large messes and lofty goals. I've also denied services to these same organizations, because they wanted the bare minimum time block of 10 hours per month, but results at the top time block of 25 hours per month. To me, this will signal red flags and mismatched expectations, so I always decline the engagement. I have a firm rule of only accepting clients I feel I can provide ROI.
Why Do Agencies Refuse to Provide Service?
I think this is an important point. Your future SEO consultant should be interviewing you as much as you are interviewing them. If they are not, you have a problem.
Entering into an SEO retainer or maintenance agreement equates to at least a six-month relationship. It also means you'll be working together for a common goal. You have to be in sync on expectations, goals, and level of commitment.
A reputable firm will closely review your goals, ability to commit, and your willingness to serve as a partner. If those elements don't align with their own process and belief system, then you'll be an awkward fit and you should not engage with each other.
I've been in this situation many times. I've either drawn a hardline or I've declined the engagement. It isn't easy, but I know it is best for both parties.
SEO Success is About Striking a Balance
The key takeaway here is that SEO success is all about balance. You have to find the right mix of experience, budget, and expectations for it to come together and work well. And it really can do just that.
Today's SEO is constantly changing and things simply do not stand still for long. Google alters the search algorithm many times per day and it is difficult for any in-house marketer or small business owner to keep up.
This is why it's imperative for you to find a trusted SEO advisor that can help you make those incremental improvements Google loves. And when they are done right, they'll not just help your rank and traffic. They'll also help convert website visitors into tangible revenue and measurable ROI.
If you'd like to chat about finding our own balance and working together, reach out and let's discuss your goals and objectives. I'm currently accepting new retainer clients and I'd love to help you and your business.