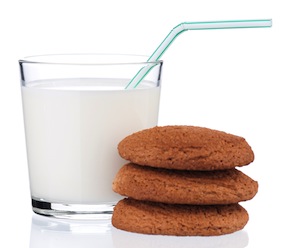 When I think of SEO, I think of milk and cookies. Pretend you're back in preschool and on the carpet at reading time. You remember – the bright colored rug full of red, blue, and green colors that has a distinct smell of Play-Doh.
Now think about what you were instructed to do by your teacher? What will ultimately bring the best reward? You were most likely told to sit nice with criss-cross applesauce legs, keep your hands in your lap, think about those around you, and simply follow the rules.  If you do all of that, you know you'll get your milk and cookies at snack time.
Ranking in Google is the milk and cookies. It is the reward for playing nice and doing a good job. It is the end goal of all webmasters and SEO consultants alike.
Google gives us it's Search Engine Optimization Starter Guide to make sure we know the rules and we know what is expected of us. Google gives us knowledgeable people like Matt Cutts to alert of us of important algorithm changes so we can stay up to date between updates to their PDF guide. Google leaks information to top SEO experts like Danny Sullivan or Matt McGee so we know what changes are coming and so we can make sure we pay attention and clean up anything that may be considered suspect.
I believe Google and Bing are trying to help us do the right thing. They are trying to help us be the best SEO or webmaster we can be. I believe it is our job to listen and to play by the rules.
I use this analogy with our clients every day. Whether we're working with someone on web design, ongoing SEO, or presenting an SEO boot camp – my instructions don't change. I tell our clients to always ask themselves one question and they'll never go wrong. Is what you want to do beneficial for someone in Google's search results page and for the ultimate visitor of your website? If the answer is yes, it is white hat SEO and a reward will be waiting. If you have to think at all about the question or second-guess what you have done or are about to do, you're moving towards grey or black hat SEO tactics. In that case, I scream "Just don't do it!"
If you think about what is right for the website visitor, you'll never go wrong. If you put your focus on the user experience, both on your website and within Google's search results, you'll always get your milk and cookies. And in my opinion, you'll be successful.