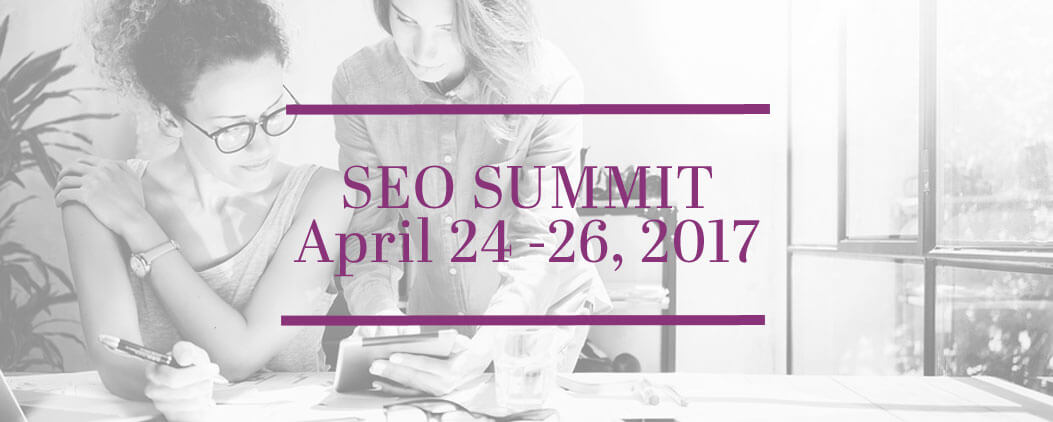 SEO Summit will deliver virtual SEO training and homework exercises that will teach SEO best practices and show you how to immediately apply SEO to your website or blog. Information will be presented in an easy to understand format with actionable steps. All education materials and information will follow my proven SEO formula for driving results that are tangible and long lasting.
Registration for SEO Summit Includes:
9 hours of intensive SEO training
Two weeks of homework before the summit begins
Three hours each day of online training
Nightly homework assignments to reinforce training topics
A special invitation to a private Facebook group dedicated to SEO
Access to webinar video replays and course materials
The SEO Summit Schedule
Day One: Competitive Review and Keyword Research
Training Agenda:
Setting Expectations
The Recipe for SEO Success
The Anatomy of a Search Engine Results Page (SERP)
The Keyword Research Formula
Researching Your Competition With SEMrush
Growing Your Seed List of Keywords
Using KW Finder
Reviewing Search Volumes and Data
Prioritizing Your Keywords
Reality Check of Keyword Selection
Exercises and Homework:
SEO Goal Documentation
Homework Review & Reality Check
SERPs for Your Industry
Preparing a Seed List of Keywords
Competitive Review
Pulling Search Volumes
Keyword Ranking for Relevance
Day Two: Content Audits and Site Mapping
Training Agenda:
Why Site Mapping is Critical to SEO Success
Understanding Search Intent
The Magic of Content Silos
Executing a Content Audit
The Formula for Mapping Keywords to Content
Exercises and Homework:
Searching for Content Silos
Content Review and Audit
Keyword Assignment and Content Reconciliation
Writing SEO Friendly Content
Day Three: On-Page and Off-Page SEO
Training Agenda:
SEO Plugins and Website Optimizers Are Not Enough
Content Optimization in WordPress
Creating Strong Page and Post Titles
Optimizing Heading Tags (H1-H6)
Using Keyword Variations
On-Page SEO Grading
Optimizing Images
Creating Meta Titles and Descriptions
Using Internal Links
Off-Page Ranking Factors
Social Media Optimization
Exercises and Homework:
On-Page SEO
Off-Page SEO and Link Building
Social Media Realty Check
Ready to Sign Up for SEO Summit?
We've partnered with iThemes for SEO Summit so just head on over to their website to read more about the event and sign up. Registration is now open and you can save your spot while seats are still available.
Use coupon code SEOSUMMIT and save $50 on the event. This savings opportunity will expire on February 28th, so grab your ticket and savings while they are available.