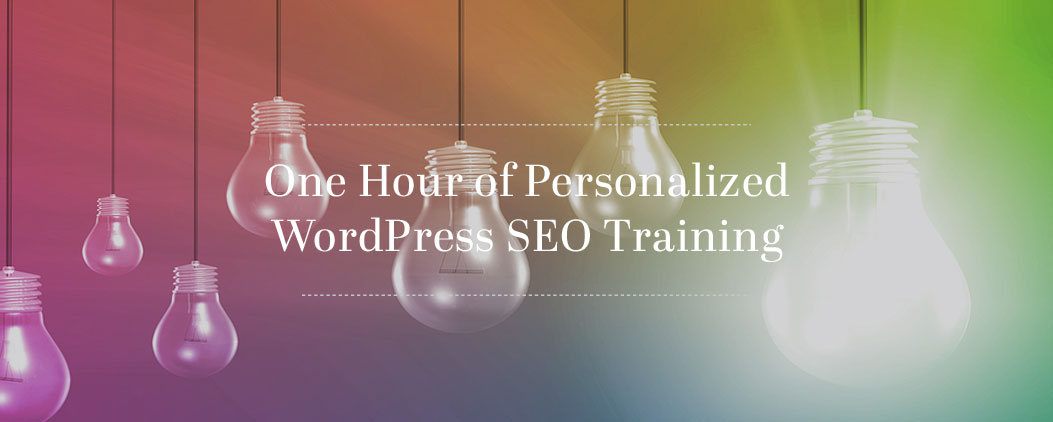 One hour of WordPress SEO training can have a major impact on your website or blog. If you can allocate sixty minutes, I promise I'll change the way you think about SEO and how it applies to your WordPress website or blog.
I've been educating people on WordPress SEO for over six years, so I see the impact quality training can have on a website owner. It's impactful because it's one-on-one training that is highly personalized and it is presented using your content and your existing SEO efforts and activity.
You might question if one hour can really make an impact, but it can. The reason is the hour is dedicated to you and your website or blog. It isn't generic SEO training that may or may not apply to your current activity. Instead it is professional SEO education that is entirely focused on you, your offering, target market, and industry.
Instead of giving you generic best practices, an hour with me will give you specific advice and education that will help you learn WordPress SEO in a manner that you can relate to your real-world activity.
That's the different and the secret sauce for making just one hour of WordPress SEO training so meaningful.
Ask Yourself These Questions
Do you feel like there is so much information on SEO that you don't know what is relevant?
Do you feel like every WordPress developer calls himself an SEO expert and you don't know who to trust?
Have you installed a WordPress SEO plugin, but have no idea how to use it?
Do Penguin and Panda make you want to run and hide?
Are you tired of chasing links and thinking about "link juice" and how that so called juice helps your website or blog?
Have you installed Google Analytics, but forgotten to look at it?
Have you signed up for Google Search Console (formally Webmaster Tools) and been utterly confused by the data presented?
Do you know what keywords relate to your product or service, but you have no idea how to apply it to your website?
Are you blogging and blogging and making no real impact on your traffic?
If any of these questions pertain to your current state, then an hour of SEO training can help. I'll explain what works, what doesn't work, and what you need to stay away from.
A Different Approach to WordPress SEO Training
Lots and lots of SEO consultants want to "do" the SEO for you and have you pay monthly for this activity. That is not my goal. While I can perform monthly SEO tasks, I'd much rather educate you.
I want to provide WordPress SEO training so that you are empowered to perform your own optimization, but do so in the way that will generate real traffic and that keep you penalty free.
We won't be talking about off-site link building. I promise. And if you bring up "link juice" in our call, I will break down and cry.
Instead of chasing off-site links, we'll talk about what you're currently doing right and what you're currently doing really wrong. We'll focus on what really matters in today's world of SEO, content marketing, and social media.
Once we walk through the list of issues, we'll create a actionable list of tasks you can work on to correct your WordPress SEO and make your website shine.
How Can Anyone Cover So Much SEO Training in an Hour?
It's because I'm going to do my homework and review your website or blog before our call. I'll even peak inside your WordPress admin panel if you let me.
In doing so, I'll create a list of the problems we need to discuss which will allow me to dedicate our entire coaching hour to educating you on the right way to maximize your WordPress SEO.
We can cover a lot of ground in an hour. And I always leave room at the end of the call for an open Q and A session, so come prepared with questions.
Ready to Schedule Your Training Session?
Hosting a WordPress SEO training call is one of my favorite parts of the work day. I love it because my clients leave happy. They feel in control, educated, and empowered to take action.
I've helped a lot of people from business owners and bloggers to other WordPress agencies and developers. I'm happy to help whoever needs it, as long as the individual comes with an open mind and a willingness to learn.