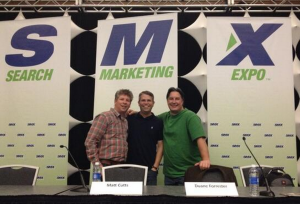 Happy Friday! We're back again with a quick update on this week's interesting articles on WordPress, SEO, social media, and usability. It's been a bit of an action packed week, so I have a few more links that normal.
The WPwatercooler continued to mix up education and entertainment for online viewers on Monday and two days later Sucuri further educated and protected the world of CMS with an excellent article on recent brute force attacks. On Thursday Carrie Dils launched out a new Genesis focused Google Hangout, while Rae Hoffman was live tweeting from the Search Marketing Expo.
If you're interested in knowing where Google and Bing are headed, reading through Rae's tweets (@SugarRae) from Thursday will give you some great insight. Some highlights from SMX include:
Matt Cutts said if you're aware of bad links to your site you should probably disavow them even if you're not penalized.
According to Duane Forrester Bing doesn't give out a lot of penalties -and stated that you'd have to seriously, seriously spam to get one.
Matt Cutts said Google is working on the next generation of Panda – which may make Panda appear softer.
Duane Forrester stated Bing places a priority on ranking as content, usability then social then link building.
Web Design and WordPress
This week WordPress.org announced that version 3.9 is in beta and Nielsen Norman Group published two great usability articles designed to bring out the UX master in each of us.
Internet Marketing, SEO and Social Media
Nothing in search and social media stays constant. Google deployed a redesigned search results page while Facebook began changing up the design of pages. I'm particularly happy with the later announcement, because I've not been a fan Facebook's latest page design.
Entrepreneurship, Business and Plain Old Fashion Goodness
This month Chris Lema started a new business series called the 40 Mantras. If you're a business owner, executive, or manager, this series is a great no nonsense read. Visit 40 Mantras ->
Upcoming WordPress Events
As always, this is not an exhaustive list. If you know of any posts related to web design, WordPress or SEO then by all means do share! Post a comment below and let us and our readers know what we may have missed.
Many thanks to those of you who have emailed me with suggestions!