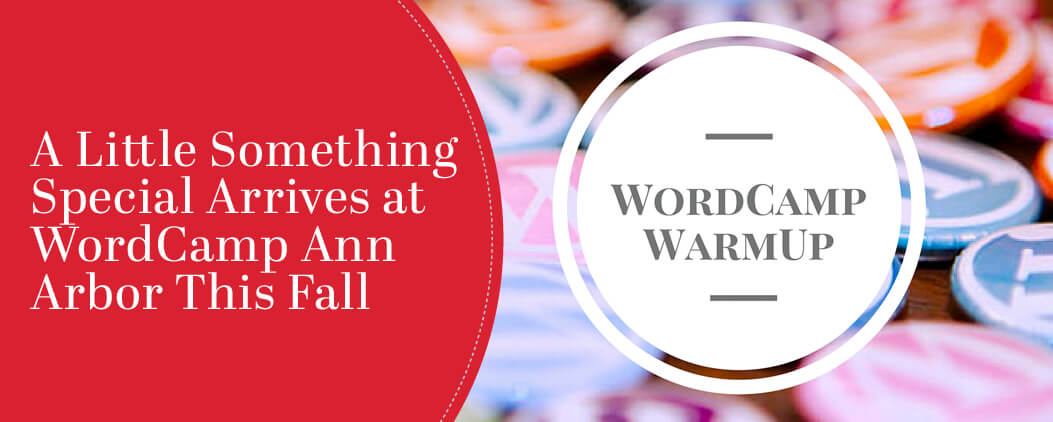 WordCamp Ann Arbor is coming this fall and tickets are now on sale. This year I'll be speaking and I'll also be leading a special event prior to camp called WordCamp WarmUp.
WordCamp Ann Arbor
The main event is taking place October 14th and 15th. I'll be presenting a session called WordPress, SEO, and You on Saturday at 10:15am. If you are in the area, I'd love for you to join me.
But I'm not alone. There are so many really great speakers this year. And I'm fortunate enough to call many of these people friends.
If you're coming to the event, I would suggest you consider listening to the following folks:
Keynote presentation – Cory Miller (he's a dear friend who I always find inspiring)
Local Development Workshop – Marc Benzakein (if you knew Marc's personal story, you'd know he and his wife are simply amazing people)
DIY Design: Think Like A Designer When Creating Your Site – Michelle Schulp (informative mixed with funny)
How to Train Your Clients With Empathy! – Joe Casabona (everyone loves Joe and you'll see why when you listen to him)
Your Theme Does Not Dictate Your Business – Russell Aaron (the man who can always make me laugh)
Where to Find the Right WordPress Help For You – Rich Robinkoff (the community's lead for keeping people at the forefront)
What's a REST API and why should I care? – Topher DeRosia (I like him almost as much as his lovely wife and daughters)
I ❤️ Code Reviews and So Can You – Brad Parbs (coding rockstar)
Getting Off the Factory Floor: Doing What You Love and Getting Paid for It – Adam Warner (father of the cutest kids alive)
WP Battles: Webmaster vs. Hacker – Kyle Maurer, Adam Silver (if this is anything like last year it will certainly entertain you)
Insider Secrets For Getting Timely Support For Premium Themes & Plugins – Justin Ferriman (king of WordPress learning systems)
Immediately Practical Ways to Use the WP REST API – Brian Richards (similar to Topher, I like him almost as much as his lovely wife and kiddos)
Amp it UP! Using Google Accelerated Mobile Pages with WordPress – Mike Hale (a cool friend from the Genesis community)
Rockstar Support – Andrea Rennick (exceptional grandmother, queen of support, and quilter of beautiful things)
WordCamp Ann Arbor has tickets available for 400 attendees, however that number is already down to 300 and the event sells out each year. If you'd like to come, you really need to head on over and buy a ticket before they're gone. It happens with virtually every WordCamp and this one is no different.
WordCamp WarmUp
So this year we are offering something new. On Thursday night there is a small gathering for anyone who would like to have a welcoming meet and greet before the camp. This optional event will take place on Thursday night.
Event Overview
We'd like to make your WordCamp experience as enjoyable as possible. In doing so, we'd like to present an opportunity for you to expand your WordCamp event by participating in a brief survey and attending a small group icebreaker. Don't be intimidated by that icebreaker part. It is going to be a fun event where old time attendees will welcome you, introduce you to others, and make sure you are introduced to attendees with similar interests and who would love to share the experience with you. This activity is designed to help take the pressure off and allow you to meet new friends and have a few familiar faces when you arrive to WordCamp on Saturday.
The Backstory
When I was at PressNomics (a WordPress conference for developers) this year, someone said that I was a "cool kid" and one of the "popular group" which made it sound like high school. He also said that it was very hard to break into the WordPress community if you are new because many of us know each other and are friends (see my list above which illustrates his point) and that entering into this group can be intimidating.
My verbal response was that we "cool kids" didn't at all feel like we want to exclude anyone and that we truly want to meet anyone and everyone we can. Which we do. Or at least I know I do. I love meeting knew people at conferences and look forward to each encounter. I may forget your name (names are not my strength) but I very much value the interaction and I enjoy meeting other WordPress developers and users.
My mental response was I needed to fix this in whatever way I could.
As I started to think about our community, I realized that we had a lot of coders and designers and end users who are all introverts. Oh my must it be hard to attend conferences and start introducing yourself to others. You can read the comments on WP Tavern's article to see first hand what I mean. This thought process and the internal anxiety I started to feel gave me the idea for WordCamp WarmUp.
I wanted to create an event that would help those who wanted help. And I really really do. High school was hard and I don't want to back. I also don't want anyone to feel like a WordCamp is high school all over again. I'd much rather it feel like a family reunion you actually want to attend.
My Personal Invitation
So if you are coming to WordCamp Ann Arbor and you find it challenging to meet others, please come to WordCamp WarmUp. Meet me and let me introduce you to others.
I promise it will be worth your time and it will help make WordCamp more meaningful.
You can learn more about the event and register at the WordCamp WarmUp page on WordCamp Ann Arbor's website.