Another year, another WordCamp here in Detroit.  I was excited for it to arrive and I'm definitely sad to see it go.  I love WordCamp almost as much as I love WordPress.  It brings together my favorite things: WordPress and my fellow like-minded geeks.  This year I was able to bring along my possy, which included my assistant Jen (and long time BFF), my fellow internet marketer Rachel, and our collective friend Megan who is completely new to WordPress.  Good times.
This year's WordCamp was hosted at the Detroit RenCen building.  Yes from the image below, you can see the building(s) are as cool as the name.  Not only was the RenCen luxurious, the staff was superb.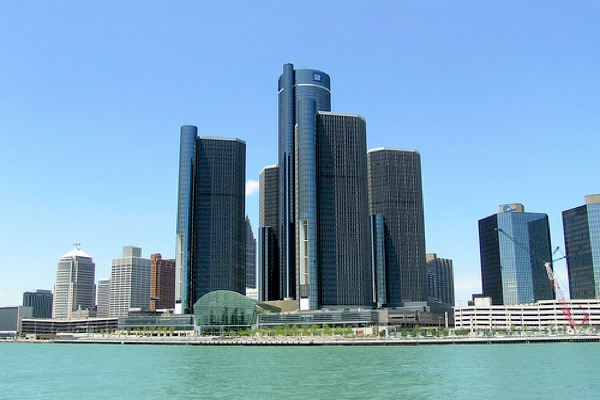 Jen and I arrived to WordCamp Friday night.  We come from the burbs where husbands and children are plentiful, so sneaking down to Detroit (aka the D) Friday night was an opportunity neither of us wanted to pass up.  While WordCamp's awesome organizers were setting up the conference, Jen and I had a wonderful dinner at Joe Muer Seafood in the RenCen. Why is this tidbit relevant? Because it shows you we viewed this weekend as a treat and not work.  Being able to hang out with fellow WordPress lovers is something we look forward to and value.  We decided to start it out right with a great dinner.  And it was fabulous.  The restaurant had only opened a month or so ago, but it was true to Muer traditions and the friendly people of Detroit.
The conference started Saturday morning.  Name tags and WordPress "stuff" were everywhere.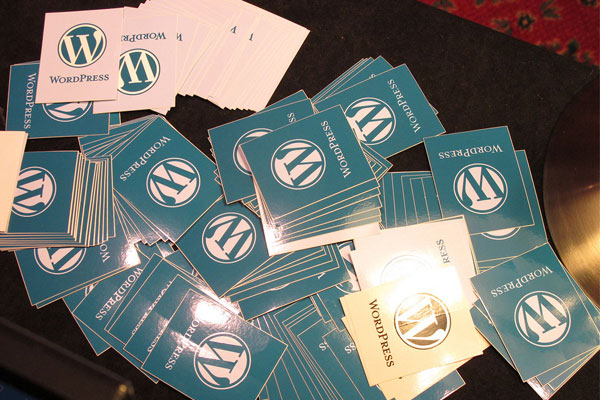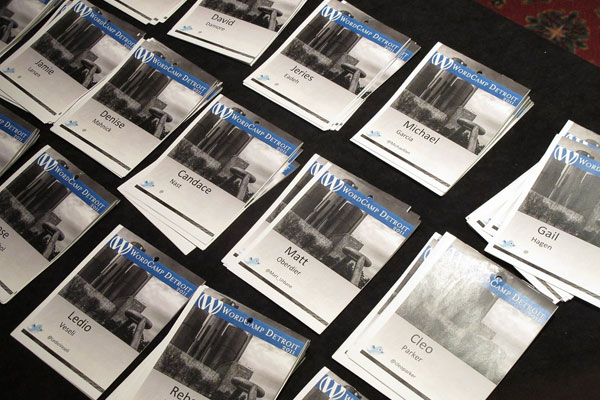 The organizers started the event by thanking the sponsors.  You'll see a familiar red logo, since Web Savvy Marketing was a business sponsor.  Actually the first sponsor to sign up if I recall correctly.  I was eager to become a sponsor and I truly believe my money was well spent.  StudioPress and TechSmith are two of my favorite companies and I was thrilled to see them both involved by offering prizes and free licenses to participants.  Without question, I will sponsor next year's conference.  It is about giving back to the WordPress community that has given so much to me.
After thanking the sponsors, Anthony kicked off the conference in true geek style.  Some 80s music and smoke filled the room to wake us all up and get us all excited.  It worked.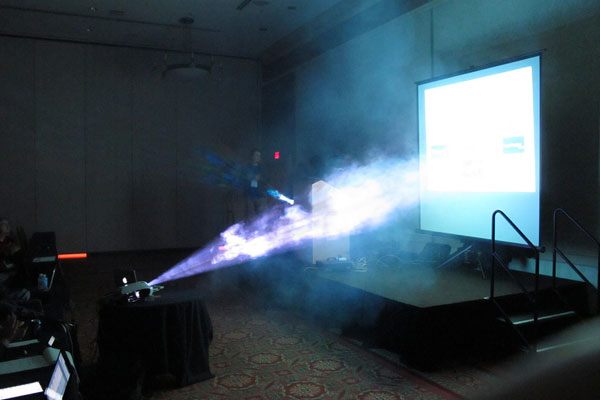 Once started, the conference was filled with speakers and interactive opportunities.  The WordCamp team did an excllent job getting us engaged and keeping the conference light and rewarding.  I thoroughly enjoyed talking with others about WordPress.
The four women in the front row are me and my girls.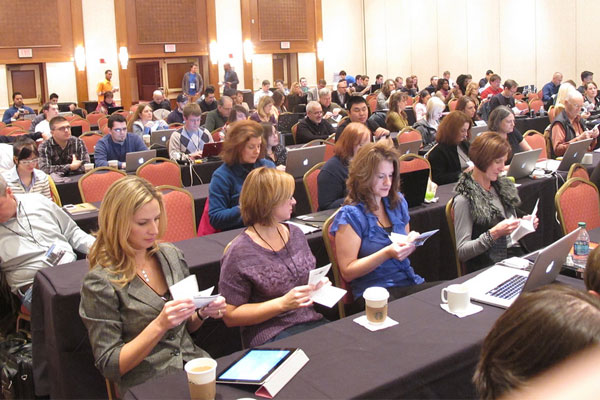 WordCamp attendance was up significantly from last year and you can see we had a pretty full house.  I hope to see the conference expand even further next year as the business community continues to adopt WordPress as the premier platform for websites and blogs.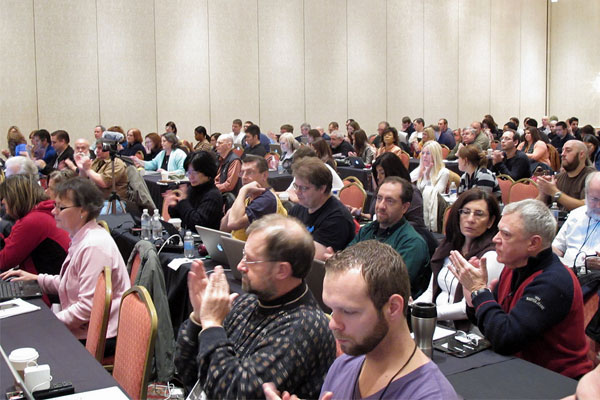 Day two of the conference wrapped up with a great presentation on custom posts.  To me, this was worth my attendance and my sponsorship.  While I have helped tackle everything from custom themes to BuddyPress to Facebook integration, custom posts are an area I had not yet taken on.  I'm happy to say it is on my agenda this week.
WordCamp Detroit reminded my that I am thankful for both WordPress the software and the community behind it.  Seeing Deb tweet her heart out, watching TJ's cheerleading efforts, or giggling as Anthony struggles to be Alex Trebek, I know aligning myself with WordPress and this community was the right decision.  I'm not exactly sure how I fell into WordPress, but I'm always very happy I did.
Many thanks to the WordCamp organizers and the sponsors.  Can't wait to see you all again next year!