In our theme support forums I've recently had a few people ask for one click theme installation and set up. This means they want to be able to click a button to install a stock WordPress theme and to set up their website to look exactly like the theme demo. I honestly had not thought of this and I was surprised people wanted it. I've pondered this concept over the last few weeks and I've realized I'm 100% against it. It goes against everything I believe in and I don't feel it is inline with marketing best practices.
Why I Don't Believe One Click Theme Installs Are a Good Idea
Let's take a look at a popular stock theme we sell that was originally designed for lawyers. Let's walk down the path of creation:
The concept of Frederik, the lawyer theme, came to me after we created a few custom websites for multi-attorney law firms. I realized the solo attorneys would benefit from a stock theme because they most likely cannot afford a custom designed website. I like to build themes for niche industries when I see a need exists.
With this concept I created a design request for our graphic designer Carla.
Carla whipped up some initial design comps and she and I fleshed out the final theme design.
I then handed Carla's layered PSD files over to one of our Genesis programmers to code the Genesis child theme.
Once coding was done it is back to me to populate the demo and to create a demonstration website.
Finally we launch the new product in our theme store and we're off and running.
You're probably asking yourself what's wrong with this process. There's nothing wrong with it really, but it is my process. At no time did I consult with potential theme buyers to discuss their individual marketing plans, needs, or messaging. Therefore it is my idea and this may or may not fit within a buyer's marketing objectives.
By Design It's a WordPress Template and Not an Actual Website
Frederik is a stock theme and a template by design. WordPress theme and WordPress template are used interchangeably and for good reason. We build stock themes to be a template for a given website. We are not creating a website, we are giving buyers the tools to create a solid website that is pretty, secure, and SEO friendly. As the creator of the template, I have no idea what type of law a potential buyer practices, how many practice areas he or she supports, or what differentiates the buyer from the attorney down the street. Thus I cannot begin to craft a marketing message for the buyer and this is critical for internet marketing success.
You, the theme buyer, need to configure your template and base it on your offering and your own unique differentiators. I'm trying to give you the tools and my configuration instructions are there to guide you through the process. I've assumed and hoped you will consider your services, specialties, differentiators, and desired call to actions along the way. I've designed the stock theme to support these core elements.
In our support forum we give theme buyers steps to configure the theme to look like the demo. When we launched the theme store I thought this was sufficient to help a buyer set up their own website based on their own needs. Today, a year later, I think the same. The configuration steps are there to guide buyers through the process, but it is their process. Buyers need to determine what pages, images, and marketing message they need and want to present to website visitors. As they build out their website, they use my WordPress template to present the messaging in a visually pleasing manner. That is the goal. The goal is not for buyers to duplicate our demo site in its entirety. It is to give them a starting point, inspiration, and a good design.
Now lets consider the fact that Frederik, a theme designed originally for attorneys, is being used for lots of other types of businesses. To date I've seen it used for accountants, usability experts, insurance agencies, counselors, and non-profits. Those are the ones I've noticed and I'm sure there are plenty of other variations. They are doing it the right way. They are using our theme as a template and not as the ultimate website. That is the goal of stock WordPress themes.
Just Walk Away From the Easy Button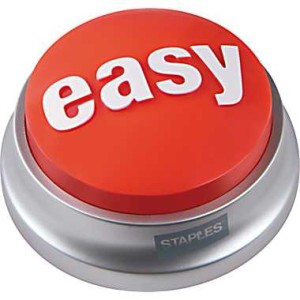 Marketing does not come with an easy button. Ordering office supplies does or at least that is the really cool marketing message they've presented to us to get us to buy into their services. It worked, it stuck, and people liked the idea of the easy button.
While that was a good marketing campaign, it isn't the right way to execute any type of marketing. Good marketing takes work. More thought, introspection, and observation than anything. It also takes some effort. The easy button will make you look like everyone else and it will not present you in the best possible light to your website visitors and future customers or clients.
Over ten years ago I began teaching myself marketing. I learned right away that internet marketing is work and you have to be vested in it for the long haul. It offers endless opportunities and rewards and I love it. But there is absolutely no easy button.
Thank You for Loving Your Website
To all of my theme buyers who take the time to create something unique with our themes, I thank you. I enjoy seeing your websites and I love knowing that our themes have served you well. It is why we started creating stock themes and it is a part of our work that makes me really happy.