We are happy to announce the release of Augustus, one of our newest Genesis child themes. Augustus is an ideal solution for financial advisors, planners, and firms who need a DIY option for WordPress website design. Augustus is a premium WordPress theme that overlays on the Genesis Framework so it is feature rich, functionally robust, and very secure.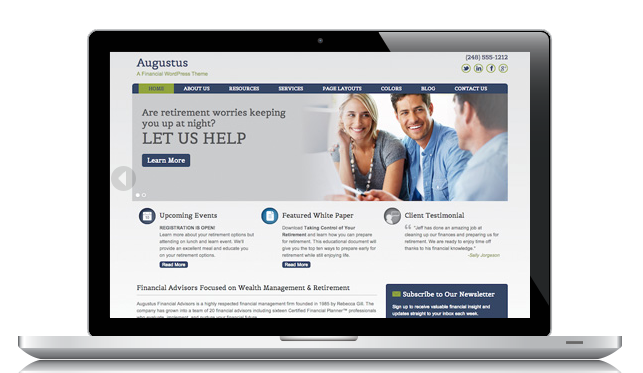 WordPress is a perfect solution for financial planners and advisors, because it allows tech savvy financial professionals to manage their own websites and online presence.
Premium WordPress themes allow for website set up and configuration in a matter of hours or days.

WordPress gives financial professionals the ability to own their website and not just rent it so they're always in control.
Themes are flexible and allow advisors to add functionality at their own pace. WordPress' repository of 22,000 plugins gives virtually unlimited options for adding cool features and functions.
WordPress allows you to easily add subscription options for popular email campaign managers like MainChimp, Constant Contact, or AWeber.
WordPress provides a search engine friendly basis which supports both local search easily.
WordPress allows for easy social media integration and sharing of content to your favorite social network.
Augustus comes with multiple color styles, multiple layout options, custom menus, featured images, and an integrated blog. The WordPress theme is mobile responsive so it automatically adapts to devices like iPhones and iPads.
What to see more of this uber cool financial WordPress theme? Then head on over and take Augustus for a test drive. It's the first step in creating your new website with WordPress.
If you've purchased our developer license, Augustus is already waiting in your account for download.