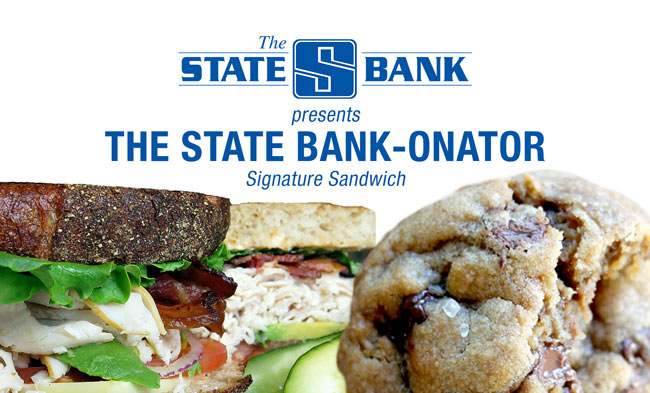 Last week I visited a local Michigan restaurant to celebrate my mother-in-law's birthday. As soon as I walked through the door I was greeted a life size cut out of a gentlemen in a suit handing me a sandwich.
This overly large cardboard advertisement was for a local financial institution promoting their services – in the lobby of a restaurant. And best yet, the sandwich was named after the bank.
Think I'm kidding? I'm not. Look to the right to see the ad from the bank's website.
I could not make this up if I tried.
Is this good marketing or just totally cheesy? My reaction was negative and I immediately questioned the money and effort spent on development and printing that huge piece of cardboard.
Here is why – a sandwich named after a bank is not going to entice me to use their services. I am not going to hand over my personal checking and savings accounts to this cheesy cardboard character. And I'm certainly not going to move my business checking account, credit line, and credit card over to a bank because they have a sandwich named after them.
This type of marketing completely missed the mark because it did nothing to service my needs and wants:
I need a financial institution that is reliable and safe.
I want a financial institution that is focused on servicing my financial needs and educating me along the way.
I don't care at all about a bank or credit union's food selections.
That type of marketing might have worked in 1910, but it does not work in 2015. Today we are digital consumers and we expect to be marketed to with education via financial websites and other digital channels.
The Importance Launching Credit Unions Blogs
While credit unions have long marketed through websites, they were not quick to embrace blogging and social media. This is starting to change, but it is a slow and upward battle for many credit unions.
Or at least the Michigan credit unions I've investigated as part of our client projects. I have witnessed a number of really bad attempts at credit union blogs and I'd like to help change this for the better.
First let's look at some core reasons why all credit union marketing programs should include an blog:
A blog is designed to highlight your credit union knowledge and expertise.
A blog allows you to position yourself as a financial expert in the eye of existing and future members.
A well-executed blog provides an avenue for reaching new members while also staying in touch with existing members.
A well-written blog offers a more informal way of presenting content, while simultaneously building trust.
Optimized blog posts will support efforts of your search engine optimization campaign.
Blogs with frequent post updates will provide the perfect content for nurturing your social media accounts.
I listed six reasons blogs are important to modern marketing, but I could have easily listed twenty or even fifty more. In today's age of digital marketing, you cannot be successful without having fresh content. A blog is the perfect way to provide such information.
Ten Best Practices for Credit Union Marketing and Blogs
Tightly integrate your credit union blog and website. You want to make it easy for users to effortlessly move between the two digital properties. You can easily do this by providing navigation links for both the sites on the main navigation menu.
Provide a cohesive experience for visitors by making sure the blog design matches that of your main website. Many credit unions will throw up a blog based on an off-the-shelf WordPress theme. This practice provides a disjointed experience for the user, so it should be avoided. Invest in a custom blog theme that is professionally designed to match your main website and corporate branding standards.
Write blog posts that are written for your target demographic. Select topics that your existing and future credit union members care about. Educate them and inform them, but don't try and sell them. Blogs are supposed to be conversational and not a sales brochure, so make sure you write blog posts about your member needs and help them reach their goals of a new car, college education, or that first home.
Post new content as often as feasibly possible. Maintaining a blog with infrequent posts makes your credit union look uninvolved, out of touch, and lacking in knowledge. The key to credit union marketing success is to set realistic goals for publishing content and then simply make it happen.
Remember to use keywords when creating new blog posts. If you're going to take the time to write educational blog posts, make sure you research these topics and use keywords. You don't have to use a keyword phrase in every blog post, but you should have a keyword focus on at least half of your blog posts.
Include a proper call to actions where applicable. A call to action is simply a request or encouragement for visitors to take action. This can be a request to sign up for a newsletter, attend an event, apply for a loan, or become a new credit union member. Encourage your readers to take action and you'll be surprised at how many actually do.
Set up bios with profile images for each blogger. Readers want to know who wrote a given article and they want to know more about the author. Write a brief, but informative author bio and include it at the bottom of every post. This will allow your current and future members to emotionally connect with your staff and writers.
Share new blog posts via social media. All blog posts should be shared on the credit union's social media accounts. These should include Twitter, Facebook, LinkedIn, and Google+. Do so right away and then interact with those who are kind enough to repost your content.
Add social sharing buttons to each post to encourage liking or reposting of content. While people will be eager to like and share your content, they won't do it if you make it difficult on them. Make it easy on visitors by including easily recognizable share icons at the bottom of each blog post. Make sure you include the four most popular social networks: Twitter, Facebook, LinkedIn, and Google+.
Include an option for members to subscribe to email updates. Your posts, if well written, give visitors a reason to return to your website or blog. Make it easy on visitors to return by giving them a quick and straightforward way to subscribe to updates. Keep the subscribe box simple and automate your process via tools like WordPress, Gravity Forms, and MailChimp.
Two Examples of Strong Credit Union Marketing
As I stated earlier, credit union blogs are becoming more and more prevalent and I could not be happier. These financial institutions have been a little slow in embracing blogging, but it appears this is changing.
I'm absolutely thrilled that we've had an opportunity to be part of this digital transformation of traditional credit union marketing.
We've recently designed and launched custom blogs for two different Kalamazoo, Michigan credit unions. Both blogs were built on WordPress and use the Genesis framework.
Both blog launches included custom WordPress themes that were specifically designed for these financial institutions. The "custom" portion of this is important, because the custom WordPress themes allow the credit unions to maintain their branding while also focusing on usability.
Example One: Consumers Credit Union
What I loved about this project is the internal marketing team did a great job of closely matching the branding of the credit union blog to that of their main website and traditional marketing programs.
Consumers CU uses go, live, work, and play throughout their marketing efforts and you'll see this repeated on their blog at the very top of the main page. This then links to lower level topical areas within those subjects.
The Consumers CU team also uses a variety of content presentations to reach their audience. They have a nice mix of text posts, videos, podcasts, and how to guides. This allows the content to reach all visitors by allowing the visitor to pick the content format they like best.
Working with this team was awesome and I loved helping them bring this marketing program to life.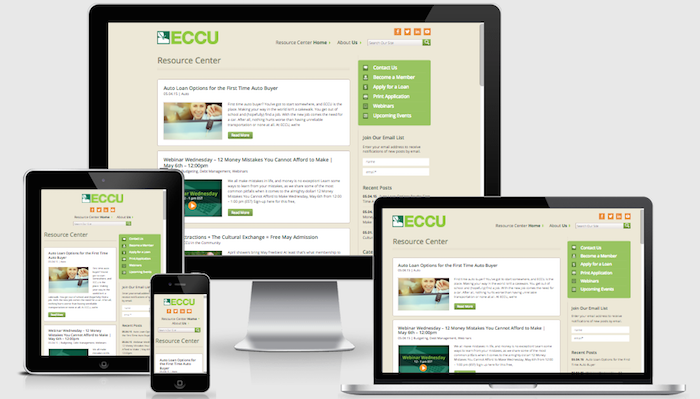 Example Two: Educational Community Credit Union (ECCU)
My next example is a more recent launch, but one that received a credit union marketing award this last month. The ECCU blog launched in December of 2014 and received the CUNA Marketing & Business Development Council award just a few months later.
What I like about this blog is it is active. The team is doing a great job of pumping out content frequently and this content is a great fit for their target audience. They are discussing savings accounts for young people, home mortgages, auto loans, and insurance. All things their target demographic cares about and would want to read about.
The other thing I like is the clear call to actions in the sidebar. Existing credit union members can easily get to key information, while new members can quickly locate member information and applications.
The team was nice enough to email me this last week to inform me about their marketing award. I thought it was very timely considering I had just run into the cardboard banker at the restaurant. The email reinforced the principle of good marketing working wonders and bad marketing just being a waste of money.
How Can We Help With Your Marketing Efforts?
If you're a credit union and you need help with your online marketing efforts, we'd love to help. We can provide assistance with branding, website development, blog design, and content marketing coaching. Want an onsite blogging boot camp? We can help with that too.
Just head on over to our contact page and let us know how we can help your team bring life to your blog and posts.