Open Up Your Browser and Take a Good Look at Your Online Presence
Immanuel Kant defined enlightenment as "The emancipation of the human consciousness from an immature state of ignorance and error."   The term enlightenment reminds me of the small business owner and his undeveloped view of internet marketing and more importantly, how he and his company fit within today's internet dependent culture.
Now don't take that comment as a negative view on the small business owner or small business in general.  I love the average small business owner.  I am a small business owner and this segment is my client base.  More importantly, small business marketing and in particular, internet marketing, represent all that is possible in a free market such as the United States.  Anything is possible.  A newly created or existing small business can obtain substantial sales growth, reinvent a brand, or simply achieve market penetration just by successfully marketing over the internet.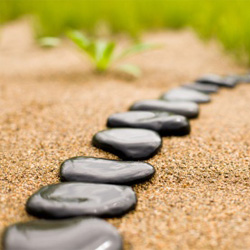 If all of my pro-internet ramblings are true, then why do so many companies struggle with branding themselves on the internet and bringing in tangible sales?  A lot of prospects I talk to claim to have little or no website traffic and no real financial gain from their internet marketing efforts.  But why?  Why do so many make this brutally honest claim?  Because they are not yet enlightened!  They remain ignorant of the true meaning of internet marketing and they are immature.  They cannot see the true state their website's or how this website compares to the gazillions of other websites on the internet.
I do my best to enlightened people with my overly frank assessment of their website, SEO, and competitive position.  Yes my phone conversations are as unfiltered as my blog posts.  Even with my openness, I many times fail to reach the small business owner because he/she is not yet ready for self-reflection.  They are not yet ready closely review the true nature of their marketing efforts or even look to see what the perception of others might be.
If you are a small business owner and you are still reading my post, good for you.  You have stepped onto the path of enlightenment.  You have taken the first step.  You've accepted my harsh comments as "passion" and not "arrogance".  My unfiltered assessments are meant to provide value and my passion exists because I truly believe in what the internet can offer for those who embrace it.
When performed correctly internet marketing can liberate a company.  It liberated me and it has liberated my clients.  It can take transform or even create a business in a relatively short period of time.   But small business marketing on the internet takes effort and it takes knowledge.  You just can't whip a WordPress website or blog up and call it good.  You have to extend you reach and touch your audience.  You have to work at it and do so in the right manner.
So now the question must be asked – have you embraced internet marketing?  I didn't ask if you had a website, I asked if you've embraced the internet and all that it offers you as a small business.  I don't know is not an acceptable answer.  Self-reflection can be both power and painful.  But the journey of browser-based enlightenment will end with a large reward.
Enlightenment Begins With Ten Simple Questions
Where do you show up in the SERP (search engine results page)? Think about what keywords or phrases people would use to locate your website and Google these terms to see if your website shows up on page one of the search results.  Please don't tell me you are on page three, because page three does not matter.  Very few searchers ever look past page one.  And please don't search for some obscure term a crackpot SEO consultant told you to optimize for back in 1985.
How many websites (other than your own) link to your website? If you have a Google account and can use Google Webmaster Tools, the answer is quick and obvious.  Since I know most small business owners have no idea what I'm talking about, we'll go about it the old fashion way.  In Google's search box insert link:yoururl.com.  Does anything come back in results?  Google won't show all links, but you'll quickly see if any exist.  And some should exist.
How many websites (other than your own) mention your website? You can view this on Google by simply inputting your full URL in quotations.  And how many did we find?  Five or ten is not stellar performance, so please don't start smiling yet.
How valuable are the links or URL references that you found? Hopefully you discovered something tangible and not a bunch of outdated or irrelevant information.  Or worse yet, a bunch of negative reviews you didn't know existed.  Inbound links and website references should exist in quality website properties and be relevant to your target market.
How is your company and website listed in local search directories? Here I am referring locally focused websites like Google Places, Yahoo Local, Bing Local, Foursquare, MerchantCircle, etc.  Do you have a listing and if so, is it accurate?  Remember, if you don't claim your local search listing, someone else can and will.
Are you active on any social media websites? Social media refers to Facebook company pages, Twitter, LinkedIn, YouTube, etc.   Do you have an active account and when was the last time you updated anything?  Is your Facebook page filled with spam or is it filled with content your target market would actually want to see?  And the most important question – do you interact with your online community?
How is your blog looking? Yes I said blog, because the world loves blogs and Google does too.  Blogs provide a means to communicate with website visitors in a conversational manner.  Proper blog management is critical to internet marketing success.  So do you have a blog and if so, how often are you posting fresh and worthwhile content?   Do you provide an easy method for visitors to share your blog posts to social media or content tagging websites?
How healthy is your RSS feed? An RSS feed is a listing of your recent content and/or blogs, which is used to distribute your blog posts to other websites.  Do you have one and is it active and accurate?  How about an XML sitemap for that matter?  Similar concept but used my search engines.
When was the last time you commented in a forum or on another website's blog post? Again, blogging is conversational.  Conversation requires two-way dialogue.  This means you to your visitors and your readers' comments and/or feedback back to you.  It also means other bloggers to you and your feedback to the blogger.
10. Think about your industry's overall presence on the internet. Are you and your company visible? To be considered an industry leader or even a local industry hero, you have to participate.  You have to be seen and you have to engage.  While your target market may not be visiting your industry's benchmark websites, the search engines do and they should find you there when they visit.
Most likely you've read through this list and realized your internet marketing activities can be greatly improved.  Brace yourself, because we haven't even looked at your competition yet.  I can only pick so hard and for so long at you without feeling a little guilty.
For right now I'll let you stew over my ten questions and in my next blog post we'll take a look at your competition.  And while you may tell yourself you are as good as your competition, you will be surprised to know you are wrong.  Dead wrong.